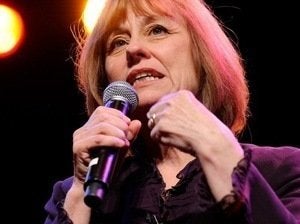 Nevada Senate candidate Sharron Angle proved to be camera shy once again when she declined to take questions from reporters at a media-friendly event organized by her campaign on Wednesday.
The Republican hopeful's camp described the Reno, Nev. gathering as a "press conference" held to publicize Angle's signing of a pledge to repeal the "death tax" -- better known as the estate tax -- if she were to be elected to the Senate.
When local reporters attempted to ask Angle questions, the GOP hopeful all but ignored their presence. At the end of the event she bolted quickly.
As she left the press conference a local television reporter called after her: "Sharron, will you answer some questions really quickly." Angle did not turn around and a member of her staff responded, "We're running behind, I'm sorry."
In a previous interview Angle outlined her press strategy.
"The whole point of an interview is to use it like they say, 'earned media,' to earn something with it," Angle recently told CBN's David Brody. "And I'm not going to earn anything from people who are there to badger me and use my words to batter me with."
WATCH: Sharron Angle Runs From Reporters At Her Own Press Conference
Popular in the Community