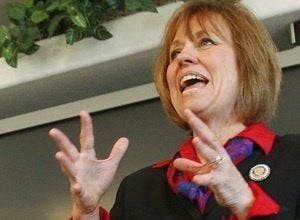 Republican candidate Sharron Angle privately took aim at the GOP establishment and expressed doubt over her ability to win Nevada's Senate race last week in a closed-door meeting, Jon Ralston at the Las Vegas Sun reports.
During a discussion with the other conservative Senate candidate Jon Scott Ashjian -- who will appear on the Nevada's ballot with the affiliation "Tea Party" next to his name -- and Tea Party of Nevada Chairman Sid James, Angle criticized the integrity of Republicans and establishment efforts to direct the trajectory of her campaign.
"The Republicans have lost their standards, they've lost their principles," charged Angle in a thirty-eight minute audio recording obtained by the Sun. "Really that's why the machine in the Republican Party is fighting against me... They have never really gone along with lower taxes and less government."
The GOP hopeful went on to address the tense relationship that has evolved between herself and the Republican establishment.
"The one thing you said about the machinery that has endorsed me, they have no choice," she told Ashjian of her campaign against Senate Majority Leader Harry Reid. Angle suggested she reluctantly accepted the support because she understands "third parties can't get traction," but it has nonetheless been problematic for her political operation.
"You gotta get my armor off and let me pick up this sling," she said drawing a comparison between her fight and that of David and Goliath. "That's exactly where I am right now, is trying to get them to leave me alone for long enough so I can get my sling and go after this guy. There are just these issues."
Angle asserted that Republicans on Capitol Hill don't want her "back there." She explained, "They know I'll shake this mess up" and added that "there was no one more shocked than they were when I won that primary. When I went back to Washington, DC, they were still moaning and groaning and weeping and gnashing teeth over [defeated primary candidate] Sue Lowden...I said I am what ya got, this is it."
The critical comments should come as no surprise in the wake of reports highlighting friction between Angle and some members of the Republican community.
Shortly after Angle's general election campaign got underway, Texas Sen. John Cornyn, who chairs the National Republican Senatorial Committee, offered this harsh assessment of her campaign:
"While running for election is not rocket science, it does require knowledgeable people," the Texas Senator told Hotline on Call. "It does require some discipline and that's always a struggle for any first time candidate. While she's not a first time candidate, I think when you're running against the incumbent Majority Leader ... it's the Super Bowl and they're gonna come at you with everything they've got and it would be a challenge for anybody to withstand the negative attacks."
CQ Politics reported around the same time:
Senate Republicans quietly acknowledge that Angle's controversial views on some issues remain a political liability. But the former Nevada Assemblywoman's larger problems are a progression of unforced errors stemming from a lack of campaign experience and an amateurish staff incapable of offering her the necessary guidance...

Republicans are reluctant to openly criticize Angle, not wanting to cause their nominee more problems.
Last week, reports surfaced suggesting there's concern within Angle's camp that Ashjian's candidacy could threaten to derail her campaign. In the meeting between Angle and Ashjian, the GOP candidate didn't attempt to hide her aprehension.
The Sun relays the exchange that went down:
Angle: "I believe you (Ashjian) can do some real harm, not to Harry Reid but to me...I'm not sure you can win and I'm not sure I can win if you're hurting my chance and that's the part that scares me."

Ashjian: "You have to understand, it's not personal."

Angle: "Everyone say it's not personal but then Harry Reid wins."
In the candid discussion that ensued, Angle shared her outlook for other Tea Party-backed contenders running for U.S. Senate -- including Joe Miler in Alaska and Christine O'Donnell in Delaware. For those remarks and more, click here.
Popular in the Community