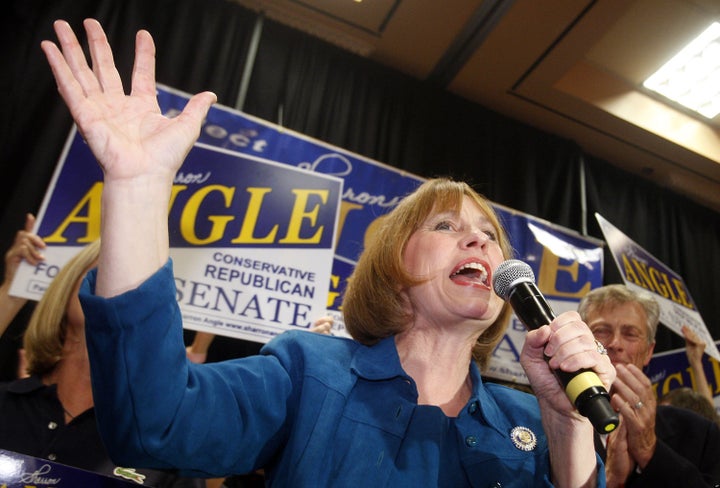 Nevada GOP Senate candidate Sharron Angle told a crowd of Utah Republicans that she needs their help in order to "take out" her opponent, Senate Majority Leader Harry Reid (D-NV), before quickly realizing that she had slipped and made a poor choice of words. From The Salt Lake Tribune:
"In Nevada, we understand we have the opportunity to take out -- to defeat," she said Saturday, laughing and inspiring a laugh from the crowd. "I really have had to find a whole new vocabulary since the primaries."

She concluded: "The first thing we need to do is to defeat Harry Reid. That defeat will send a shock wave through Congress. It will let them know that this train is coming. They can either get on board or get run over by it."
Approximately 400 conservatives showed up to Saturday's event, which was hosted by a coalition of "pro-Republican" organizations called Utah United. The conference was billed as "Utah's Freedom Conference: Reclaiming Our Constitutional Heritage," and Utah Republican Reps. Rob Bishop and Jason Chaffetz also spoke.
Utah's Freedom Conference spokesperson Lee Rech said Angle's comment was "just a slip," noting it came at the end of a long day.
The rhetoric was interesting, however, since it was not the first time Angle found herself in hot water over almost identical comments. In June, she went on a conservative talk radio show and floated the possibility of armed rebellion to "take Harry Reid out":
ANGLE: You know, our Founding Fathers, they put that Second Amendment in there for a good reason and that was for the people to protect themselves against a tyrannical government. And in fact Thomas Jefferson said it's good for a country to have a revolution every 20 years.

I hope that's not where we're going, but, you know, if this Congress keeps going the way it is, people are really looking toward those Second Amendment remedies and saying my goodness what can we do to turn this country around? I'll tell you the first thing we need to do is take Harry Reid out.
Angle later apologized for the remarks, stating, "I meant take him out of office, and taking him out of office is a little different. I changed my rhetoric." As the Huffington Post's Sam Stein noted, Angle had also previously floated this idea of "Second Amendment" remedies during the campaign.
*************************
What's happening in your district? The Huffington Post wants to know about all the campaign ads, debates, town halls, mailings, shenanigans, and other interesting campaign news happening by you. E-mail us any tips, videos, audio files, and photos to election@huffingtonpost.com.
Calling all HuffPost superfans!
Sign up for membership to become a founding member and help shape HuffPost's next chapter