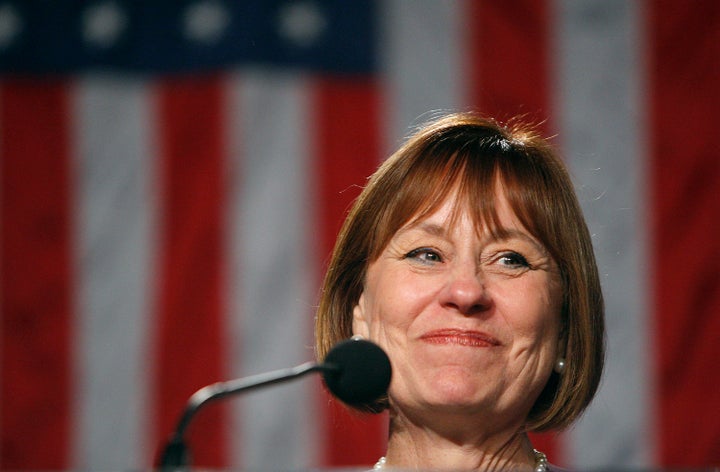 WASHINGTON-- The wild west of post-Citizens United campaign finance regulation has a new frontier in Nevada.
Controversial former Republican Senate candidate Sharron Angle is pushing the limits of the law as she launches a Super PAC to collect unlimited funds from individuals and corporations to spend on current and future elections.
The Supreme Court, in its landmark Citizens United vs. Federal Election Commission ruling, stated that independent expenditures made by outside groups did not meet the anti-corruption principle underlying much of the current regulation of campaign finance. The Court argued in a 5-4 decision that corporate contributions to political action committees did not create an appearance of corruption because the funds did not go to a specific candidate but rather promoted or opposed an issue.
Contribution limits for candidates and bans on corporate and union contributions to candidates were both upheld by the Supreme Court in Citizens United. But a subsequent ruling allowed for the creation of Super PACs, political action committees that only spend money on independent expenditures and that can accept unlimited funds.
Angle's Our Voice PAC, however, comes close to blurring the line that divides corrupting activity from non-corrupting.
While Super PACs are popping up everywhere in the wake of Citizens United, Angle's is unique in that it is directly tied to an individual who has stated an interest in running for office in the future. Angle's Super PAC strategy could augur a further shift in campaign finance rules, or lead to a backlash as the implication of the Supreme Court's ruling becomes increasingly clear.
"If [Angle] does indeed decide to run for federal office again, she is a prime candidate for these concerns about corruption," Paul Ryan, an attorney at the Campaign Legal Center, a nonpartisan non-profit group working in the field of campaign finance, told HuffPost.
"The legal status is really critical here," Ryan said, and it is "certainly not legal for a candidate to set up a Super PAC."
Angle's Super PAC raises two key themes that are at the heart of debates over post-Citizens United campaign finance regulation: coordination and solicitation.
Candidates and outside groups are not allowed to coordinate without the coordination being deemed an in-kind contribution, which would be governed by campaign contribution limits. Since Angle is not a candidate, she is able to operate a Super PAC; however, the connection between her campaign committee, which still exists, and Our Voice PAC skirts rather close to the coordination line.
According to the Sunlight Foundation Reporting Group, who first reported news of Angle's Super PAC, the group's treasurer, William Rasavage, is Angle's former press secretary. Rasavage is also the treasurer for Angle's campaign committee, Friends of Sharron Angle. Rasavage's dual role as treasurer to both Friends of Sharron Angle and Our Voices PAC also raises potential concern about coordination.
The FEC has a three-prong test to determine whether a communication is coordinated. One prong is a provision that amounts to a ban on the outside group paying an employee or independent contractor to the campaign committee who has worked for the campaign in the previous 120 days. Rasavage could wind up failing this test.
In terms of solicitation, there are unanswered questions as to whether a candidate for office or a political party can solicit for funds on behalf of a Super PAC. In this case, Angle's campaign committee website hosts a direct link to the Our Voice PAC website, which includes a large "donate" button on the landing page, along with an offer for a signed copy of Angle's forthcoming book in exchange for a donation.
But it is unclear whether a link from a principal campaign committee website to a Super PAC website constitutes illegal solicitation.
In both cases the FEC appears unlikely to block Angle's activity. The commission's recent partisan deadlock, even on minor enforcement matters, makes it increasingly unlikely that it could come to the required majority ruling on whether a specific communication is coordinated.
The commission is also currently reviewing a request for an advisory opinion from Democratic-linked Majority PAC and House Majority PAC on the issue of candidate solicitation. The request is to determine whether candidates and political parties are allowed to direct donors to contribute to Super PACs.
The request stems from a declaration by the Republican Super PAC that the committee would only raise money from candidates and political parties, directing donors who wanted to donate more to individuals than the maximum allowed to contribute that extra money to the Super PAC. The opinion request by Majority PAC and House Majority PAC was seconded by Republican Super PAC.
Campaign finance reform advocates, including Americans for Campaign Reform and the Campaign Legal Center, submitted a letter to the FEC opposing the request from the trio of Super PACs. The letter insists, "It is illegal for federal officeholders and candidates to solicit unlimited contributions for Super PACs."
Calling all HuffPost superfans!
Sign up for membership to become a founding member and help shape HuffPost's next chapter