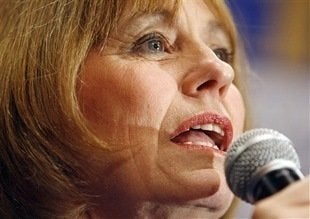 Nevada Republican Senate candidate Sharron Angle is stepping up her offensive to ensure that content deleted in the redesign on her campaign website remains under wraps.
On Wednesday, the Tea Party-backed contender threatened to take legal action against Democratic opponent Senate Majority Leader Harry Reid in the aftermath of the now-erased material -- which outlined some of Angle's most controversial views -- resurfaced on the web a second time since its removal compliments of the Democratic Party of Nevada.
An expressive Angle warned of her intention to take legal action against Reid during an interview with a Nevada radio station. "Well your website is like you, it's your intellectual property," she said. "So they can't use something that's yours, intellectual property, unless they pay you for it or get your permission... And he didn't ask me for it, and he didn't pay me for it. I would have sold it to him."
Greg Sargent at the Washington Post points out that Angle left unspecified how she plans to mount a legal challenge against Reid.
"Well we are going to pursue it," Angle asserted. "I don't think that Harry is above the law. He needs to obey the law if you and I need to obey the law. Harry isn't immune. He needs to obey the law as well."
Meanwhile, Reid appears to be undaunted and worry-free amid the battle being waged by his Republican opponent. In response to Angle's threat, Kelly Steele, campaign communications director for the Nevada Democrat, countered, "The fact that Sharron Angle intends to go to court to suppress publication of her extreme agenda from Nevada voters should tell them everything they need to know about her dangerous plans for Nevada's future."
Listen to Angle threaten to take legal action against Reid here.
REAL LIFE. REAL NEWS. REAL VOICES.
Help us tell more of the stories that matter from voices that too often remain unheard.