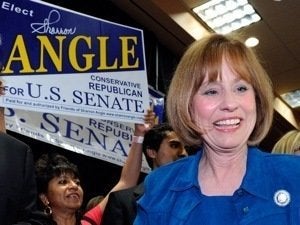 The YouTube hits keep coming for Nevada Republican Senate candidate Sharron Angle -- who, despite ducking everything but conservative media, remains a must-watch figure among 2010 contenders.
The Tea Party favorite was en route to a softball interview with conservative radio host Roger Hedgecock on Thursday when a local Nevada television station swept in and posed very basic questions about some of her more controversial statements. Asked about calls to privatize Social Security and end the EPA, Angle accused the reporter of echoing Harry Reid's talking points. Pressed later (during her walk through the parking lot) about her predilection for "Second Amendment remedies" to deal with Congress's tyrannical ways, Angle refused to comment. Instead, her campaign called up the reporter after the questioning to call him an "idiot" and another term that, apparently, couldn't be repeated.
Angle has been seeking to avoid these types of uncomfortable media moments by forgoing formal interviews with actual journalists. National Republican Senatorial Committee John Cornyn is on record saying she won't be ready to face the press for "a few weeks" -- meaning that she's likely to be noncommittal on major questions about her policy platform and personal politics until she has a bit more seasoning.
But there has certainly been enough old footage to keep the spotlight focused on her. On Friday morning, for instance, Reid's campaign posted footage on its YouTube page in which Angle is quoted as saying that unemployment benefits actually make the unemployed "selfish."
"We have put in so much entitlement into our government that we really have spoiled our citizenry and said you don't want the jobs that are available," she said.
This is, of course, considered a philosophical truth among some conservatives -- though often said in more diplomatic ways. It's still a fairly jarring statement for a Senate candidate to make (Angle said it during the primary), especially when Nevada has one of the highest unemployment rates in the nation.