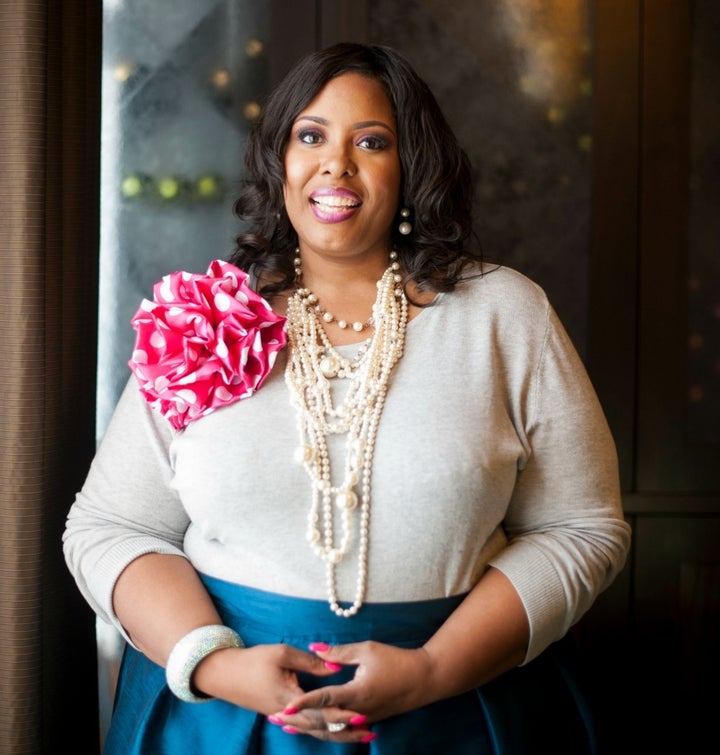 CP: Introduce yourself and tell us your profession.
SM: I am Sharvette Mitchell and I help female entrepreneurs who want to attract attention and exposure for their brand and want to build their online platform. In working with me, my clients generate more revenue and increase brand awareness. I do this by providing web design services, social media coaching, online marketing consulting and hosting conferences!
I have a weekly talk radio show, The Sharvette Mitchell Radio Show, that airs on three internet radio stations, iTunes and on my mobile app. I have had the opportunity to conduct over 300+ shows including guests such as Bern Nadette Stanis (Thelma from Goodtimes), Daphne Maxwell Reid ( Aunt Viv from Fresh Prince of Bel-air), Grammy Award winning songwriter- Harold Lilly, Tamela Mann- Meet the Browns, Co-Pastor Susie Owens, Dr. Cindy Trimm, Chief Apostle Olive Brown, Dr. Jamal Bryant, Dr. Medina Pullings and artists such as Melba Moore, Wess Morgan, Shirley Murdock, Anita Wilson, Preasha Hilliard, Crystal Aikin, Maurette Brown Clarke and many more.
Lastly, I am a co-author in the book, Mogul In the Making. This empowering masterpiece is a compilation of 6 gifted Moguls that impart in the areas of online marketing, branding and image, executing vision, industry vs ministry and much more.
CP: What made you pursue this area of interest?
SM: I started the web design business because another friend was starting a business and she needed a website. So sitting in her kitchen, I said…"I can figure that out!". I created her website and then people started asking me if I could help them with a website. After a while I realized I should be getting paid for this service and so I started the web design business!
The web design business led me into the radio show because I started a show to showcase and interview my web design clients. Well the show took a life of its own and now 300+ shows later, I am still along for the ride.
SM: My mantra is my favorite quote by H. Jackson Brown Jr., "Opportunity only dances with those already on the dance floor." Opportunity is not going to come pull you off the sideline. It is not going to look for you at your table or at the bar. You must already be on the dance floor… So I am just keeping my dancing shoes on!
CP: What advice would you give for others who want to be an entrepreneur?
SM: Start now. Start imperfectly. Start small or big. Start unsure. Start scared. Start informed. Start.
CP: How do you manage all that you do?
SM: I juggle things and decide what takes priority for that day or week. I give myself GRACE if something gets prioritized to a lower spot on the list.
SM: WOW! A big question. I am excited to host more conferences and continue making strategic partnerships.
CP: How can others connect with you?
Coach. Web Designer. Speaker.
Let's Build Something Amazing!
The Sharvette Mitchell Radio Show
Motivate. Excite. Influence.
Support HuffPost
The Stakes Have Never Been Higher
Related
Popular in the Community