Authorities in Ohio are searching for clues in the disappearance of a young woman who disappeared after telling her family she was pregnant.
Shasta Himelrick, 20, was last heard from by her grandmother, Shirley Himelrick, on Christmas day. The two were visiting that evening when Himelrick received a text message and said she had to go, but would return later.
According to Shirley Himelrick, her granddaughter had announced she was pregnant on Christmas Eve and was in good spirits when she left her Ross County home.
"She was with me that day [and] she was happy," Shirley Himelrick told The Huffington Post.
Shasta Himelrick had also announced her pregnancy to her Facebook friends on Christmas Eve.
"I'm actually excited for Christmas this year," the Facebook message reads. "Not because it's Christmas but because I'm really happy. I love my man and am so excited about us being pregnant."
Shasta Himelrick never returned to her grandmother's house that night and the following morning, at about 7:15 a.m., the Ross County Sheriff's Office located the young woman's car abandoned by some railroad tracks in a rural area of southeastern Ross County. The vehicle was reportedly out of gas and the battery was dead.
"All of her belongings -- her cellphone and stuff like that – was in it," said Shirley Himelrick.
The grandmother also claims police told her that an unknown quantity of blood was found inside the vehicle.
Authorities on Tuesday did not return a call for comment from HuffPost.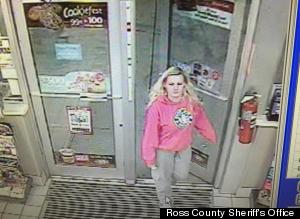 Himelrick on video prior to her disappearance.
Since the discovery of the vehicle, the sheriff's office has been able to determine that Shasta Himelrick had exchanged various text messages with friends up until about 2:30 a.m. on December 26.
Detectives also obtained video footage from a local gas station that show's the young woman there at about 3:15 that morning. Where she went after that is unknown.
The sheriff's office has conducted several searches of the area where Shasta Himelrick's vehicle was located. However, what, if anything, has been found is not yet known. Those searches are reportedly ongoing today.
Shasta Himelrick's grandmother said her disappearance is out of character given that she is pregnant and always maintains close contact with her family.
"She would not go this long without contacting me," said Shirley Himelrick.
The distraught grandmother added, "She is a caring person. She will help you in any way that she can."
CASE PHOTOS: (Story Continues Below)
PHOTO GALLERY
Shasta Himelrick Missing
According to Shasta Himelrick's Facebook page, she is dating a man named Michael Owes. Contacted by HuffPost Tuesday, Owes said he was unable to discuss the case.
"I'm speaking to two detectives as we speak right now," he said. "Maybe call me back tomorrow and I can discuss it."
Owes, who has not been named a suspect or person of interest in his girlfriend's disappearance, also maintains a Facebook page. The profile indicates he was in a relationship with Michelle Frankel, a 26-year-old woman who "died unexpectedly" on April 28, 2014, according to an online obituary.
Shasta Himelrick is described as 5 feet, 4 inches tall and 120 pounds. She has blonde hair and green eyes. Anyone with information about her whereabouts is asked to contact the Ross County Sheriff's Office at (740) 773-1185.
Asked by HuffPost if she knew of anyone who would want to harm her granddaughter, Shirley Himelrick replied, "I would hope not, but you never know."
Calling all HuffPost superfans!
Sign up for membership to become a founding member and help shape HuffPost's next chapter
BEFORE YOU GO