Snowboarder Shaun White chose an unfortunate Halloween costume this year.
Over the weekend, the Olympic gold medalist, 32, posted a now-deleted photo on Instagram of himself dressed as Simple Jack, an offensive character from the 2008 film "Tropic Thunder."
HuffPost took a screenshot of the image before it was deleted on Monday afternoon.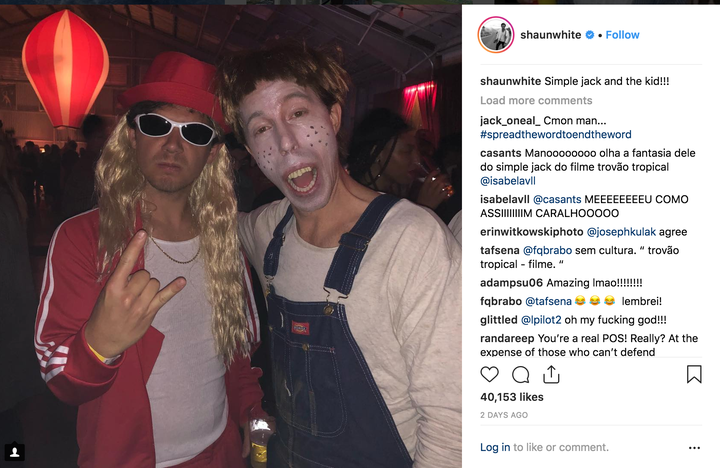 In "Tropic Thunder," Simple Jack (played by Ben Stiller) is the title character of a movie within the movie that makes fun of people with intellectual disabilities. It was probably meant as a jab at Hollywood's tendency to tell disabled people's stories as Oscar bait.
When "Tropic Thunder" first came out, disability advocates protested the film over its ableist portrayal of an intellectually or developmentally disabled person.
Soeren Palumbo, senior director of global youth engagement at Special Olympics, told HuffPost in a statement that the organization was "truly disappointed" in the Olympian.
"We are truly disappointed that Shaun White, an acclaimed Olympian, would choose this costume which is so offensive and causes so much pain. Disability is not a joke nor should it be a punchline. We hope that Shaun White and others learn that this just continues stigma, stereotypes and discrimination."
Instagram users also expressed their frustration about the costume in comments on White's post.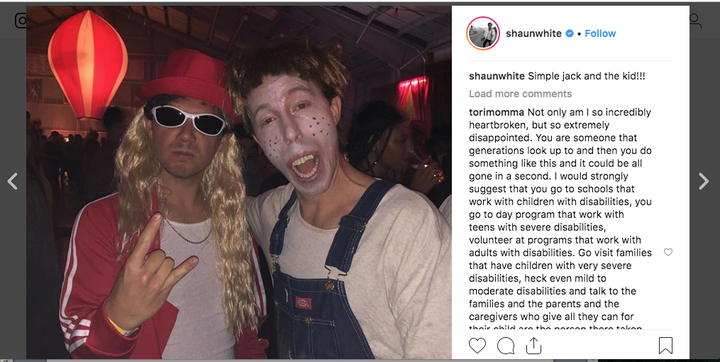 "Not only am I so incredibly heartbroken but so extremely disappointed," said one commenter. "You are someone that generations look up to and then you do something like this and it be all gone in a second. I would strongly suggest that you go to schools that work with children with disabilities."
"You're a real POS! Really?" wrote another.
White posted an apology to Instagram on Tuesday night, saying he owed "everyone in the Special Olympics community an apology."
In February, White was also in hot water when he dismissed as "gossip" a privately settled sexual harassment allegation against him after it resurfaced during his winning performance at the Winter Olympics in Pyeongchang, South Korea.
The snowboarder later apologized for his flippant language.
White and the Olympics did not immediately respond to HuffPost's request for comment.
This post has been updated to include White's apology.
CORRECTION: Soeren Palumbo is not the co-founder of the Special Olympics as previously stated. He is the co-founder of the Spread the Word to End the Word campaign and the Special Olympics' senior director of global youth engagement.