On Friday, Obama broke from his golf-gym-motorcade-gym-golf routine for a date with daughters Sasha and Malia. The three first visited an aquatic park where they caught a dolphin show, then the party continued over some shave ice, a local specialty, at Kokonuts Shave Ice and Snacks.
And while we're on the topic of Obama's lunch, Obama befuddled the world when he ordered of spam sushi, or spam musubi earlier in the week. Read more about it.
But back to the Obamas' love affair with shave ice.
Here they are eating it in Hawaii in August.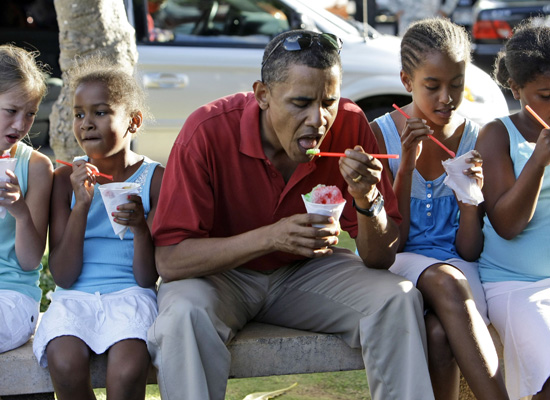 Obama joked with reporters traveling with him that he would eat his lunch first, to set an example for his daughters. The president-elect then ordered a mound of shave ice, colored orange and green.

He laughed as the children and family friends ordered their snacks, which included flavors such as pina colada, vanilla and cherry.

"I'm not arguing anymore," Obama said in faux exasperation when one of the group's young members asked for a complicated blend of flavors poured on her midday dessert. "I gave up."

He also offered to buy journalists a plastic bowl of the slush -- a second offer this week, coming after he offered beer to reporters waiting while he played golf last Sunday.

"Guys, here's your chance," he said. "No? I'm telling you, this is really good."

No one took him up on the offer.
So what's all the fuss about?
Shave ice can be found everywhere in the Hawaiian Island - in coffee shops, mom and pop stores, shave ice stands, lunch wagons, crack seed stores, and especially at any and all public events. In Hawaii, shave ice is thought of as a snack and a thirst quencher. No trip to Hawaii is complete with tasting shave ice.

Mainlanders call them snow cones, but locals in Hawaii call it shave (not shaved ice). Unlike a mainland snow cone, shave ice is not ground ice. The shave ice is so fine that flavorings are absorbed into the ice rather than settling to the bottom of the cup as with a snow cone. In other words, it is the gourmet's snow cone in tropical flavors. In Hawaii, shave ice is sold in cone-shape cups.

An authentic shave ice starts with a block of ice that is spun across a razor-sharp blade (which shaves the ice creating a soft snow-like texture. Then it is packed into a paper cone, and flavored syrup is poured over the ice. Just as everyone has a favorite store, there are favorite flavors, too. Strawberry. Coconut. Lime. Li hing mui. Bubble gum. Liliko'i. Of course, if you can't decide on just one, go with the ever-popular rainbow shave ice.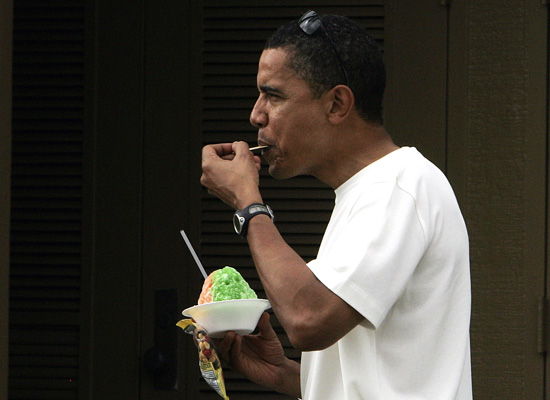 December 26th
So how does a mainlander make it?
Snow Shakes - Fill a 16 ounce cup full of shaved ice. Add 3 to 4 ounces of your favorite shaved ice syrup along with 3 to 4 ounces of evaporated milk. Stir or blend well! Add more ice for thicker snow shakes. Snow shakes are a great treat year round!
See a shave ice shop in action below:
Related