Most recently seen opposite Kevin Bacon in Fox's "The Following," Shawn Ashmore told IGN that having Bobby Drake, or Iceman, come out as gay would "probably be the most interesting thing that could happen" to the character. 
"If they decided to take the story that way, it'd be incredibly dramatic, it'd be an interesting storyline, and it would give Bobby a great character arc," Ashmore said. Although he'd "definitely be open" to that character development, the 36-year-old actor is aware that the films have departed from the specifics of the comic book series a good deal. 
"Obviously the comics and movies are separate," he said. "I wonder what the transition would be because we've sort of established Bobby as having a love interest in Rogue and having a love interest in sort of Kitty Pryde, but I think it'd be really interesting. ...I'm not sure if they want to take the character in that direction." 
A teenage version of Iceman/Bobby Drake, displaced in time, made the surprise revelation about his sexuality in All-New X-Men #40 which was released in April. The plot line raised questions among fans about how that development would connect with the character's present-day self, who presented himself as heterosexual. But in Uncanny X-Men #600, which hit newsstands on Nov. 4, the young Iceman came out officially as a gay man while confronting his older self.
"As a young person reading comics, starved to see my own life experience reflected on the page, I remember thinking it seemed only possible for that to happen as a one-off story relegated to a D-List character," he said. "I don't know that I would have believed it if I was told that years later, this story would be presented in the flagship 'X-Men' title, featuring an A-list character who has been a mainstay of the franchise since the beginning." 
We'd love to see a gay superhero on the big screen, and we've already got Ashmore on board. Your move, Hollywood!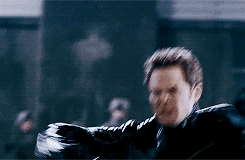 PHOTO GALLERY
X-Men: Days of the Future Past
Calling all HuffPost superfans!
Sign up for membership to become a founding member and help shape HuffPost's next chapter