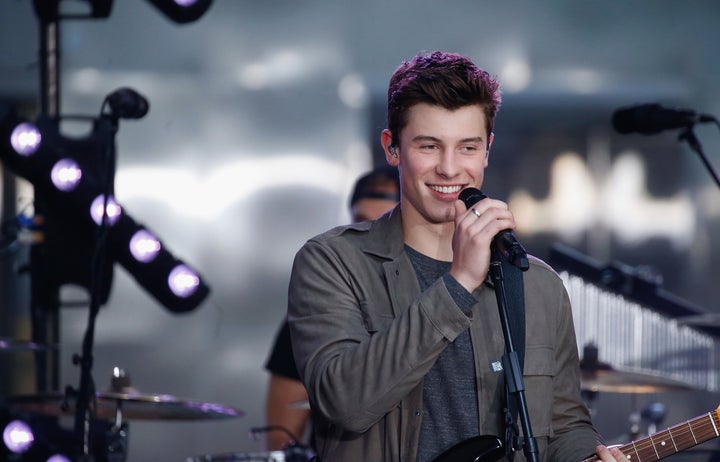 Mendes, 17, opened for the 26-year-old pop star last summer on her "1989" stadium trek, an experience he calls "phenomenal." And along the way, he became most impressed by Swift's work ethic.
"The major thing I learned, aside from just the singing and production and the performance, offstage she was just so sweet and works so hard," Mendes told The Huffington Post. "She was just doing interviews and meet and greets. It seemed like she never stopped ... It was cool to see that somebody at that level of fame and success was still working so hard to be there. It showed me that there's no amount of success that allows you not to work hard, which is a really cool thing to learn at a young age."
During his own world tour this year, Mendes not only plans to work hard but he's also dedicated to helping "spread joy" as part of his partnership with the Paper Mate InkJoy initiative, which encourages fans to share notes with others to help brighten their days.
When asked what brings him the most happiness, Mendes said it comes down to the simple things in life.
"No matter what, I'm trying to have fun and, depending on the mood, fun can be on a roller coaster and playing onstage, or fun can be sitting in a room with three of your best friends talking for two hours," he said.
Mendes, known for the hit singles "Stitches" and "Life of the Party," said he feels lucky to be able to use his visibility for something bigger. 
"It's extremely important just to keep things positive and happy as much as we can ... I think it's important that singers, actors or whatever use our voice to spread positive messages as much as we possibly can," he said.
Mendes will preview songs off his sophomore album, "Illuminate," due out Sept. 23, in concert ahead of the album's release. Compared to his debut, "Handwritten," Mendes says this new album will take things up a notch —from the lyrics and vocals to the instrumentation and melodies. 
"It's so much more done by me. For 90 percent of the songs, I was standing by the producer the entire song … People are going to feel that cohesiveness throughout the album," he said. The stories are more mature. The concepts are so much more deep." 
He's already unveiled the video for "Treat You Better," a new track that addresses domestic abuse and includes a domestic violence hotline number at the end of the clip. 
"I think it was really important for me to create something that wasn't too dark for fans but also to get a message across," he said. "We did a good job of keeping the video on the lighter side but also putting across a serious message ... I think it was super impactful and I hope it helps a lot."
Armed with new music and some inspiration from Swift, Mendes feels ready for this next phase. 
"I think, for me, it's been the best point of my career yet. I feel like I've had a moment to settle into the type of artist I want to be," he said. "The album came together beautifully. I think I've never been as proud of a piece of art in my life ... I think the fans will walk away feeling really happy about it."
There will also be Spread Joy Stations at Mendes' upcoming concert stops where fans can go and hand write notes and share them socially.  For more info on how to meet Mendes, check out spreadinkjoy.com and follow @ShawnMendes on Instagram.
The Huffington Post receives a percentage from the purchase of tickets bought via a link on this page.
Calling all HuffPost superfans!
Sign up for membership to become a founding member and help shape HuffPost's next chapter
BEFORE YOU GO