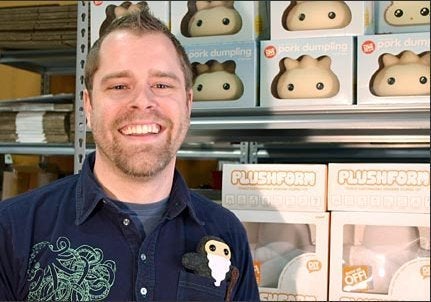 As a kid, Shawn Smith was obsessed with cartoons and video games. He also loved to draw. Fast forward to Illinois State University, where he would meet his future wife, Jen Brody. As a hobby, the two would turn his simple, humor-driven character sketches into hand-sewn plush dolls. And the idea for Shawnimals, a Chicago-based character design studio, was born.
Smith and Brody officially launched their mail-order business in 2002, and today, their designer toys, lifestyle accessories, apparel, and comic books can be found in more than 100 stores worldwide. Their 400 or so characters inhabit worlds like Bean Village, Hotdog Kingdom and Ninjatown, and each comes with its own story. Along the way, Shawnimals has designed custom ninjas for rapper Lupe Fiasco, who name-dropped them in a song, and a strategy game based on Shawnimals' Ninjatown brand was released for the handheld Nintendo DS in 2008.
So how did the Ninjatown game for Nintendo DS come about?
I used to be an editor at Electronic Gaming Monthly magazine, so I still have a lot of friends in the industry. When I heard that videogame publisher SouthPeak Games was looking for unique IP, we brainstormed a bunch of game ideas with Ninjatown, and came up with a really solid pitch for them, and they licensed the Ninjatown brand for development. We've had a great boost of exposure from the DS game. Maybe it wasn't as lucrative as we expected in terms of royalties, but our site traffic is still up 400 to 500 unique visitors per day since the game was released.
Are there other games based on your characters in the works?
We have a variety of game ideas we'd like to pursue, but the most real and exciting of the bunch is a Ninjatown iPhone game app. Thanks to the self-publishing model Apple has, and the highly collaborative spirit we have with the DS game developer Venan Entertainment and our rep in games, Pickle King Productions, we've been able to work closely and create something really entertaining for the platform. I don't have a solid release date yet, but it should be within the next couple of months.
You seem to have taken advantage of Chicago's small business resources. How have you benefited?
The Washington, D.C.-based Institute for Justice Clinic on Entrepreneurship has a satellite office at the University of Chicago law school. We applied to work with them, and since we're dealing with international licensing and IP issues, they thought we'd be an interesting fit for their students. They've also helped us with basic permits and licenses, and with the beefy contracts for the Nintendo DS game. They're a great organization. Working with the director and students there has probably saved us tens of thousands of dollars in legal fees.
And how about your studio and office space? How did you end up there?
The ICNC [Industrial Council of Nearwest Chicago] runs a small business incubator, and they offer these spaces for really competitive amounts. We found out about it because we had a friend renting in the building, and Jen and I actually had our wedding reception in a loft space here. It's not a co-op necessarily, although we share some office equipment with other companies in the building, and they offer free business development services and resources. We have 40-foot ceilings and amazing natural light. With Internet and utilities, we're paying less than $1,000 a month, which is crazy. As creatives, it's easy just to think of ourselves as artists in a studio. This gives us a real home base as a business. How has the recession affected business?
Well, this is a form of entertainment for people with disposable income, and when you have to choose between buying a plush toy and paying your bills, bills will probably win out. So we've had to scale back some pet projects, and we're trying to stay creative. We know people want ninjas, so for 2010, we've started Ninja of the Month, a subscription-based service [which costs $400 for a year]. We make 100-piece limited edition handmade plush Ninjas, and so far, we've had great sell-through. It's all in-house and labor-intensive, but creatively it's really fun, and something we have total control over. The latest is Aqua Ninja, guardian of all things wet.
Other than the economy, what has been a challenge for you?
Striking the balance between business development and creativity has been really difficult. While the overall vision of the company is collaborative, a lot of it falls on my shoulders, and I wonder, how can I utilize the creative part of brain, which is my strength, and maintain that level of creativity while still making a profit? We don't want to be bottom line-driven, necessarily, and as soon as we start thinking strictly about numbers, and not about what fans love, it gets tricky.
What's coming for Shawnimals down the road?
There may be a point when we'll have to adopt a more traditional business model, with a CEO to handle the business end for us. As we grow, we need to figure out how to get into more stores and deal with increased productions runs. Other questions: Are we really trying to target the mainstream market? What's the ceiling? How big are we going to get? Are we going to make a big retail marketing push, and get into Target and every museum shop and Urban Outfitters and mom-and-pop toy shop? And how do we mitigate that growth? The answers will reveal themselves, but we do know we need more product that's easily attainable and relatively affordable. We have some people who aren't aware of the designer toy status, so they're more into buying Ninjatown zipper charms for $4. Those and other low-cost high-profit items, like stickers and buttons, offer some novelty for new customers.
Which of your characters do you relate to the most?
Lately, it's been Ol' Master Ninja. He thinks he's all-knowing, but he's often napping!
Name: Shawn Smith Company: Shawnimals Age: 34 Location: Chicago Founded: 2002 Employees: 4 Revenue: Undisclosed Web site: www.shawnimals.com
The original version of this article appeared on AOL Small Business on 5/10/10.
REAL LIFE. REAL NEWS. REAL VOICES.
Help us tell more of the stories that matter from voices that too often remain unheard.