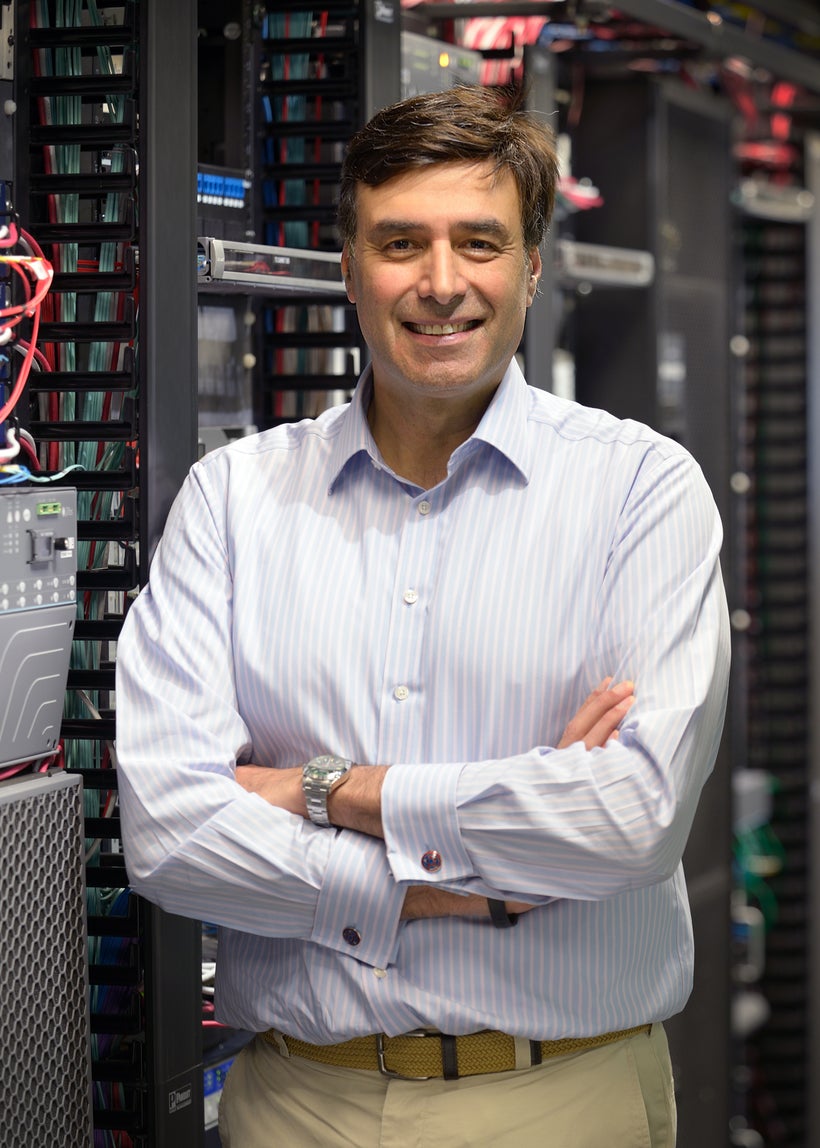 With the goal of harnessing the untapped potential of Iranian-Americans, and to build the capacity of the Iranian diaspora in effecting positive change in the U.S. and around the world, the Iranian Americans' Contributions Project (IACP) has launched a series of interviews that explore the personal and professional backgrounds of prominent Iranian-Americans who have made seminal contributions to their fields of endeavor. We examine lives and journeys that have led to significant achievements in the worlds of science, technology, finance, medicine, law, the arts and numerous other endeavors. Our latest interviewee is Shaygan Kheradpir.
Shaygan Kheradpir has been a global transformational leader in business for 30 years. He is a great believer in people's capacity to achieve the seemingly unachievable, and in the great power of diversity that brings together the varied experiences of people critical for breakthrough innovation. He is currently the Chairman and CEO of Coriant, a packet-optical focused company, where with his colleagues they are revamping how telecommunications & data center networks are built around the world -- from proprietary vertically integrated, to open hardware with disruptive "lowest-cost-per-bit", hyper scale, software agility and customer applications focused on 5g wireless, super high-speed Clouds, Industrial Internet and "Smart Everything."
Shaygan was a member of the Executive Leadership Committee of Verizon, and eventually the head of Technology for the company. Shaygan helped transform Verizon from a phone company to a telecommunications powerhouse. He was instrumental among other things in revamping the largest network in the US from a "copper based", legacy telephony infrastructure to a high-speed fiber-to-the-home multi-media network called FiOS with associated first-of-a-kind applications such as interactive TV, visual voicemail, 4G/LTE wireless applications, merging of the computer & telephony hardware & apps. Shaygan then joined Barclays Bank in the UK, where he eventually became the global Chief Operating Officer of the bank and a member of Barclays Group Executive Committee, embarking to transform the bank for the 21st Century; a noticeable part of the current innovations in financial services was set by Barclays earlier this decade, such as "mobile money", instant customer servicing via secure clouds, big data & AI analytics applied to both individual and institutional banking. In recent years, Shaygan moved back to high tech in Silicon Valley, becoming CEOs of Juniper Networks and Coriant, respectively.
Shaygan received his B.A., M.S. and Ph.D. from Cornell University, with his doctorate thesis being on autonomous control of robots and vehicles with a focus on "obstacle avoidance." He is on a number of company boards, served on advisory board of United States National Institute of Standards & Technology (NIST), was elected to the global CIO Hall of Fame, and awarded the Ellis Island Medal of Honor. He lives in Silicon Valley with his wife Leela, and has two children, Tara and Shaya.
Tell our readers where you grew up and walk us through your background. How did your family and surroundings influence you in your formative years?
I was born in London where my father was doing his medical residency in head and neck surgery. After my father completed his residency, my parents moved back to Iran when I was a toddler and I grew up in Tehran. At the time, my mother was attending dental school at Tehran University and we were living on the same street as the university. As a child, I still remember saying goodbye to her every day before she left for school. I had 14 uncles and aunts and everyone was either a medical doctor, engineer, or a professor; they constantly encircled us, emphasizing the importance of education, hard work, and being fearless in impacting positive change.
What has been your personal key to success? What were the biggest inspirations for your career?
I have been CIO, CTO, COO, and CEO across multiple companies, variety of cultures, and different industries in communications and media, financial services and high tech. I have had team sizes of 8 people early in my career to 80k in later years.
When I reflect back in my career, the overarching theme has been that the human capacity to achieve is actually way beyond all expectations: it all depends how inspired people are, how hands-on skilled they are, how collectively synchronized they are -- and how fearless they are to drive big change. I have found that the key to success is to create the conditions so that people can thrive and surprise everyone with their achievements, including themselves.
My father was the fearless type - a freestyle wrestling champion of Iran, a fighter for democracy and social justice, a pioneer of head and neck surgery in the country. and a man from the people for the people. He once shared with me a poem by Rumi that captured his philosophy of life that he lived in practice; it has stayed me ever since: "Keep walking though there is no place to get to ... don't try to see through the distances; that is not for human beings ... move within - but not the way fear makes you move." So, I would say my father has been my biggest inspiration.
What is the one thing you have to have to be a CIO in your opinion?
Knowing the art-of-the-possible -- on how to get from where things are to where they could be. Some of it is technology, some of it human sociology of how to create big change happen. The former you learn in college and work practice; the latter in observing what makes people build confidence, one step at a time, toward ultimately achieving big change that may seem impossible and scary at the onset.
You have been named to CIO magazine's hall of Fame. Why did they choose you to enter CIO's Hall of Fame? What are your most significant accomplishments that brought you to this point?
I guess it's due to a streak of impacting big change through innovation. A few examples were the transformation of the internet experience in the US via revamping the telecom infrastructure and associated multimedia services via the Fiber-to-the-Home (FiOS) initiative; the transformation of cash transactions in the UK via first-of-a-kind instantaneous "mobile money" transfer (Pingit), cracking the robotics automated "obstacle avoidance" riddle, massive automation of processes through IT; etc.
What is the biggest obstacle you've faced along your career path? How did you overcome this?
Some days are really good and exhilarating, and some days are awful and you think the world has come to an end. I've had my share of setbacks but I've always had peace of mind about doing the right things in the right way. The world isn't always fair and can be quite cruel, but it's also true that it is in your power to get up early next day, dust yourself off, and go at it again and again.
A friend recently shared with me this saying that really says it all: "smooth roads never make a good driver; clear skies never make a good pilot; a problem free life never makes a strong person; so don't ask life 'why me?' Say 'try me'. Good Morning!"
What project are you the proudest of?
A learning for me over time has been that it is not the 'what', but the 'who'. I am most proud of the teams of people I built in my career and have had the fortune to work with. Many of them started as young and out-of-college bright-eyed talent, now senior executives at some of the premier companies and institutions around the world. I am very proud of that.
You hold over many U.S patents in the areas of technology, telecom, media and financial services. Can you tell us about the three most important patents that you have had so far?
Some of the fundamental patents were in the areas of real-time control of telecom networks, mobile money, visual voicemail, real-time multi-mode messaging across telecom & internet, and interactive TV.
At Barclays, you wanted to increase staff mobility and flexibility by enabling tablet use in the office with a Barclays app cloud that provides everything staff need to work and communicate. Could you tell our readers about this?
It is all now common place; back then it wasn't. The insight we had was that we could radically transform the employee experience at the bank by having them use "consumerized" hardware and applications - the same way the employees did in their personal life. So, we rebuilt the bank applications as cloud services and delivered them on iPads and iPhones. They became not only hugely easier to use, but also were able to deliver customer experiences not possible otherwise, like allowing customers to get their debit cards at the bank branch at the same time of opening their accounts (vs much later mailed to them), getting loans instantly on the Barclays app on their iPhones vs filling long applications and having to wait weeks, moving money instantly from person-to-person via smartphone address book, and many other applications, etc.
Is there anything you would have done differently looking back at your career path?
Carving out more time to build personal relationships with stakeholders outside immediate line of daily work. If people get to know you personally, they will go out of their way to help you get there: your life becomes a lot easier then. But it does take deliberate effort, and it also gives you a broader context of what people are thinking and why beyond your immediate circle of work.
Even more importantly - actually a lot more, throughout my career I was so focused on work that I missed out on precious time with my daughter (Tara) and son (Shaya) as they were growing up, and with my wife (Leela). What I found out later in life that there is no "rewind button" — your kids grow up and leave home and is then too late to say "hey, wait, I am ready now". So, spend the time with your loved ones - I assure you work will always be there and won't miss you for an hour, a day, a week.
What advice would you give to the next generation of professionals aspiring to become a IT leader?
It is a mouthful, but here is the "magical formula" I have witnessed: be hands-on technically, be inquisitive, dream big on what matters most to your stakeholders, inspire people to believe in your vision, get on with execution in rapid stepwise fashion, course correct as you go. In fact, the sooner you get going, the sooner you will get to course correct -- which always happens for even best laid plans when they hit reality — so you can get to your ultimate destination. Where a lot of IT projects fail is they take too long to start, too long to get to course correction, by which time it's too late. Finally, be sure to enjoy the ride it as you go: it is all actually in the journey that Rumi said.
Can you share your thoughts on your Iranian-American identity? What does it mean to be an Iranian-American to you?
I am proud of my heritage and have tried to pass on that pride to my children as well. I have been fortunate to live in a country that allows you to be who you are and judges you by your character and abilities. I came to the US as a freshman in college, the same year coincidentally of the Iranian revolution. It is no secret that Iran and the US have had a difficult history -- yet knowing both people of Iran and the US, I feel an obligation to do what I can to act as a bridge between two people's that are a lot more alike than they are different - decent, kind, hardworking, and striving to make their world a better place. I have an optimistic view of the future, for while the arc of history is long it will bend toward truth and justice.
REAL LIFE. REAL NEWS. REAL VOICES.
Help us tell more of the stories that matter from voices that too often remain unheard.
This post was published on the now-closed HuffPost Contributor platform. Contributors control their own work and posted freely to our site. If you need to flag this entry as abusive,
send us an email
.