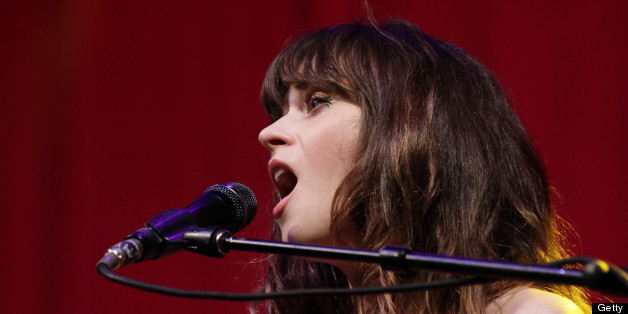 Zooey Deschanel and M. Ward, the she and him of She & Him, hit a sweltering New York on Saturday night to play the first of their two concerts on Central Park's SummerStage.
"Is anyone here from Ottawa?" Deschanel asked at one point in the show, a reference to where She & Him played on July 5, and the kind of of course non sequitur fans might expect from the "New Girl" star and empress of all things quirk. Yet despite Deschanel's de rigueur bangs, made(well)-to-order attire and an overall sense of twee emanating from the stage, She & Him put on a very solid, low-key show, one that the band's fans seemed to enjoy even while sweating out of pores they likely didn't realize existed. (It was such a hot night in New York on Saturday that even the late Sidney Lumet would have said, "Too much.")
"Enjoy the show they have put together in 3D," stressed signs posted around the venue, urging attendees to put their phones away during the She & Him performance. It didn't work: despite those warnings and a pre-show announcement asking fans to avoid photographs, the hipster-y, all-ages crowd found plenty of opportunity to fiddle with their smart phones. Perhaps that's expected: At their best, She & Him play music that could qualify as the most chill dinner party soundtrack this side of Rilo Kiley or Regina Spektor. Indeed, with bougie food stations like Asia Dog and Lonestar Empire BBQ circling the venue, that's what the concert turned into: an excuse for cool people to sit, eat and fan themselves (with fans provided by AT&T; a lifesaver) while listening to She & Him play through their catalog of hits and covers. That Deschanel's voice sounds as good as it does on the band's albums only lent to the jukebox feel; while the singer had trouble with some of the lower-range tunes (a cover of "Hold Me, Thrill Me, Kiss Me" was a particularly tough one for Deschanel), her voice purred on "I've Got Your Number, Son."
Which may have been the most notable thing about the She & Him show: No longer is this the work of an actress moonlighting with the rock kids. Deschanel has become a singer who also happens to act. (She & Him did not play the theme song to "New Girl," much to this writer's disappointment.) In fact, she kept the banter at a minimum -- there was the aforementioned Ottawa question, some comments on the weather, and a shout out to the band member who had "the awesome whistle solo earlier" -- a sign that maybe Deschanel was content to let her performance speak for itself. It did: Even in the sleepy middle portion of the show, when She & Him played slower tracks and covers like "Unchained Melody," Deschanel was working it up on stage; on the higher tempo numbers (like "Never Wanted Your Love"), she was legitimately jumping around, smacking her tambourine with vigor -- no small feat on a night when merely sitting still felt akin to running a 10K.
She & Him closed their show with a cover of "I Put A Spell On You," a somewhat fitting cap. Deschanel, after all, has already won over She & Him fans; next up is bewitching the non-believers, something performances like Saturday night's on Central Park's SummerStage will make a tad easier.
She & Him will play on Central Park's SummerStage on July 8. More show dates can be found on the band's website.
PHOTO GALLERY
Zooey Deschanel