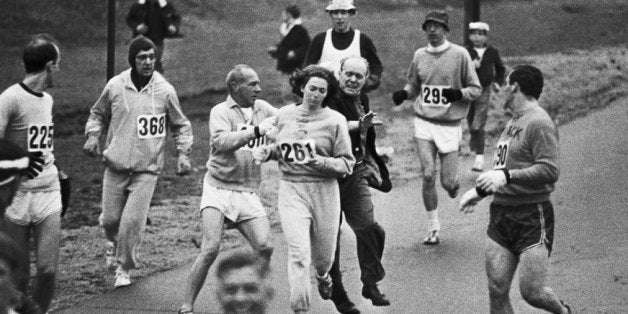 The National Football League recently announced that Sarah Thomas will become the first full-time female official in the league in 2015. This first in sports follows in the footsteps of other women's firsts in athletics through the twentieth and twenty-first centuries. Match the following women, all of whom have been inducted into the National Women's Hall of Fame, with her accomplishment:
____ 1. The first woman to enter the Boston Marathon (1967), she worked for many years to have the women's marathon become an Olympic event.
____ 2. The first African-American to win tennis tournaments at Wimbledon and the U.S. Nationals (1957), she smashed racial barriers.
____ 3. An Olympic medalist in 1924, she was the first woman to swim across the English Channel (in 1926) -- breaking the record of all previous male swimmers.
____ 4. In 1993, the first woman jockey to win a Triple Crown race.
____ 5. The first American woman to win three gold medals at the Olympics (1960), this runner overcame polio to achieve this feat.
A. Gertrude Ederle
B. Wilma Rudolph
C. Althea Gibson
D. Kathrine Switzer
E. Julie Krone
After winning gold and bronze medals at the 1924 Paris Olympics, Gertrude Ederle decided that she wanted to swim across the English Channel. Although her 1925 effort was unsuccessful, she became the first woman to cross the English Channel in 1926. Her time broke the record held by a man by over two hours and was not broken by another woman for 35 years. At the time, it was believed that women could not swim the English Channel; Ederle proved them wrong -- and broke down barriers for women in doing so. Later in her life, she worked on techniques for teaching individuals with hearing impairments how to swim.
Not much in her early youth would indicate Wilma Rudolph's future prowess as a runner. Diagnosed with polio, Rudolph didn't begin to run until she was in public high school. At age 16, she won a bronze medal at the Olympics. In 1960, she won three gold medals at the Rome Olympics which were televised and led to public knowledge of her inspirational story. The recipient of numerous honors, she created the Wilma Rudolph Foundation to train young athletes.
Known today as "Marathon Woman," in 1967 when K.V. Switzer signed up for the Boston Marathon, women had never run a marathon before. But Kathrine Switzer had trained and knew she was ready. The race organizer tried to physically throw her out of the race, but she successfully completed the marathon. A huge advocate for women's right to run around the world, Switzer worked for many years to have the women's marathon as an Olympic event; it became such in 1984. Today, her clothing line, 261 Fearless, is named after the bib number she wore at that fateful first marathon.
A significant role model for athletes everywhere, Althea Gibson didn't pick up a tennis racquet until she was 13 years old -- and received one as a present. At age 15, in 1942, she won the first tennis tournament in which she played in the American Tennis Association (the U.S. Tennis Association did not allow African-Americans to play). In 1957, she became the first African-American to win the tennis tournaments at Wimbledon (England) and Forest Hills (U.S.). She won both again in 1958. Later, she became a professional golfer and the first African-American to earn her LPGA card.
The first woman to win a Triple Crown Race (in 1993 at the Belmont Stakes), jockey Julie Krone has more than 3,700 career wins. The leading female Thoroughbred horse racking jockey of all time, Krone won her first horse show when she was 5 years old. After setting her sights on becoming a jockey, Krone made her debut at age 16 and won her first race in 1981. She was also the first woman to win a Breeders' Cup event and the first woman to win at the Pacific Classic. Krone was the first woman inducted into the Museum of Racing's Hall of Fame.
Learn about more she-roes and celebrate amazing women. Almost all of these athletes are profiled in the book Her Story: A Timeline of the Women Who Changed America. We salute their accomplishments and admire their commitment and dedication.

(answers: 1-D, 2-C, 3-A, 4-E, 5-B)
Popular in the Community