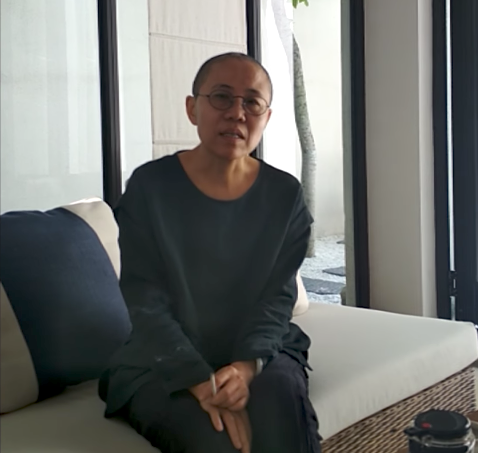 Last weekend, a video surfaced of Chinese poet Liu Xia asking for "time to mourn" in the wake of the death of her husband, esteemed writer and activist Liu Xiaobo, who died in police custody on July 13.
Liu Xia, who has been under house arrest without charge since the 2010 announcement that her husband had won the Nobel Peace Prize, has not been seen in public since Liu Xiaobo's funeral on July 15. Officials claim Liu Xia has voluntarily retreated from the public eye to grieve, a claim the new video would seem to bolster. But it is widely suspected among human rights advocates that the Chinese government is keeping her detained and locked away from the outside world: Friends have been unable to reach her, and journalists and diplomats who have attempted to visit her Beijing home have been forcibly stopped by security agents. Liu Xia's international counsel has filed a complaint before the UN Working Group on Enforced or Involuntary Disappearances, and foreign governments and the UN have appealed to the Chinese government to release her from her apparent detention.
The Chinese Communist Party commonly uses staged videos as a core element of its propaganda. Liu Xiaobo's last days were, heartbreakingly, mined for propaganda as the CCP tried to convince the world that they were taking good care of the writer, who had been released on medical parole—he was serving an 11-year sentence for "inciting subversion of state power"—only weeks before his death from late-stage liver cancer. The German embassy in China blasted a video featuring a German doctor treating the dying writer as "leaked selectively to certain Chinese state media outlets." The embassy went on to say, "It seems that security organs are steering the process, not medical experts." Liu Xiaobo's funeral was similarly staged, with Chinese secret police masquerading as friends of the deceased for photos shared with press.
Liu Xia's recent "grant me time to mourn" video fits squarely within the pattern of Chinese propaganda videos in which individuals give coerced statements that promote the party narrative. Televised "confessions" to crimes against the state have become increasingly commonunder the rule of President Xi Jinping, many of them from human rights lawyers and activists who bitterly "repent" their actions. This includes Swedish activist Peter Dahlin and Hong Kong bookseller Lam Wing-kee, who have later explained that they were ordered by Chinese authorities to read from a pre-written script.
A November 2016 report by PEN America on Lam Wing-kee and his four kidnapped colleagues—known as the Causeway Bay Bookstore Five— noted that various cases of human rights activists and other dissidents "confessing" to crimes had several clear commonalities: "In all such cases, the subjects were in Chinese custody at the time their confessions were made, and they did not have access to an attorney or to family members. In virtually every instance [. . .] they were first disappeared and held incommunicado by the Chinese security apparatus before reappearing on Chinese TV with their confessions. Also in these cases, the Chinese government exerted considerable leverage over the suspects, all of whom were either Chinese citizens or had Chinese family members or other loved ones vulnerable to the reach of the Chinese security state."
While Liu Xia's video is not a "confession," this description otherwise fits her circumstances to a T. Liu has been in state custody for seven years. She has been prevented from meeting with her attorney, her friends, or her family members outside of brief contact with her in-laws during her husband's funeral. The Chinese government not only controls Liu Xia's movements, but they can assert control over her family members. This is something Liu Xia knows better than most. In 2013, her brother Liu Hui was convicted of fraud in a case that many believed was brought only to punish Liu Xia and her husband. When she attended her brother's trial in 2013, Liu Xia famously shouted from a car to nearby reporters and diplomats, "If they tell you I'm free, tell them I'm not free!"
Scripted confessions have often made a point of rejecting international intervention. In her August 2016 "confessional" video, prominent human rights lawyer Wang Yu rejected a human rights award offered by American and European groups during her disappearance, stating "I am Chinese. I only accept the leadership of the Chinese government. I don't accept the award now and won't accept it in the future." Gui Minhai, a member of the Causeway Bay Five and a Swedish citizen, asked Swedish officials not to advocate on his behalf, saying that he hoped they would "respect my personal choice, rights, and privacy and let me solve my own problems."
The posting of Liu Xia's recent video to YouTube, a site popular around the world but blocked within China, suggests that it is intended to reach an international, not a domestic, audience. Why would Liu Xia, who speaks Chinese in the clip, choose to send her friends and family in China a message on a platform that they cannot legally access? Like those before her, Liu Xia's video fits a pattern of staged statements aimed at dissuading the international community from engaging in forceful advocacy.
We're not buying it. If we believed that solitude was truly Liu Xia's wish, we would not hesitate to respect it. But we recall Liu Xia's words: "If they tell you I'm free, tell them I'm not free."
At PEN America, we will continue our calls on the Chinese government to Free Liu Xia. This means allowing her to reconnect—unrestricted—with family, friends, and her lawyer. It means allowing her to speak freely. It means allowing her to talk to her lawyers and to travel freely, even to travel out of the country.
James Tager is the senior manager of Free Expression Programs at PEN America.
Related
Popular in the Community