"My goal is to continue to find new ways of connecting with breast cancer survivors through different artistic mediums." - Marquina Iliev-Piselli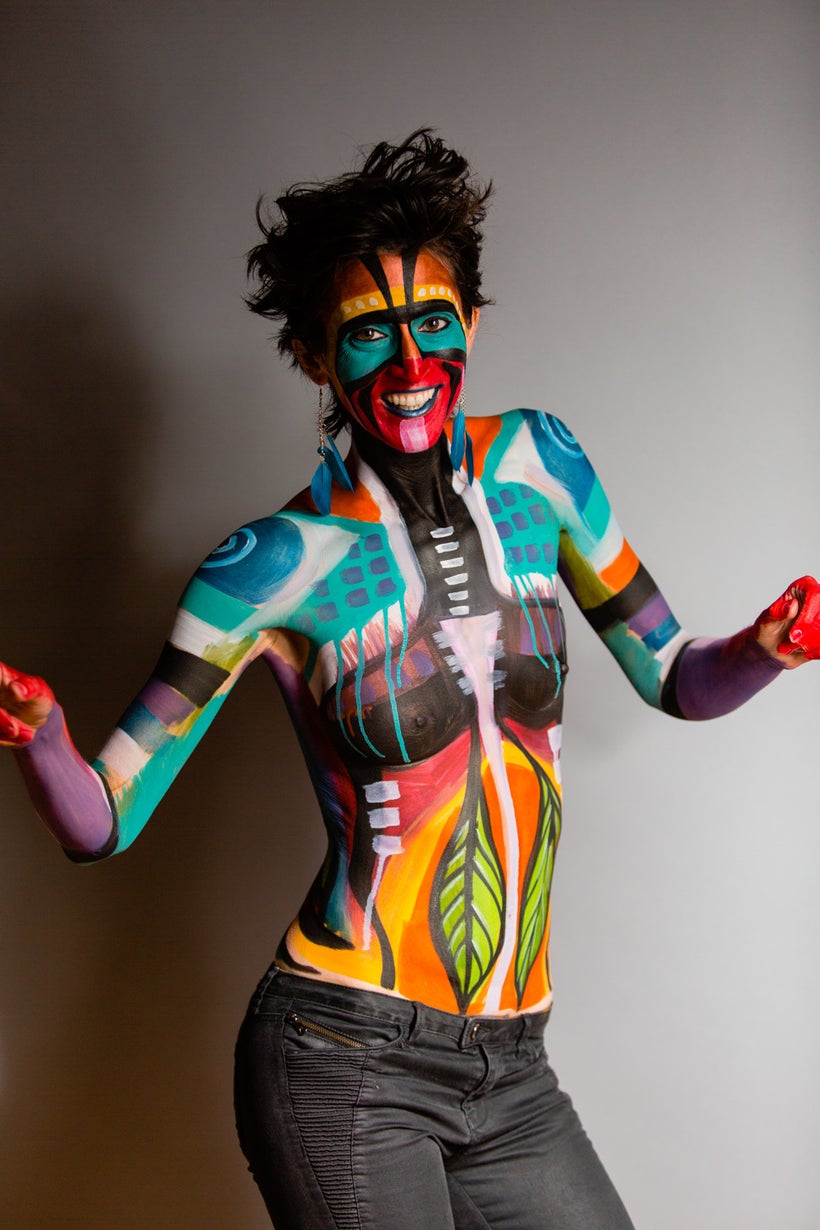 Marquina Iliev-Piselli is a self described, "naturally upbeat woman and book marketer who enjoys orchestrating creative projects to help women with breast cancer. I'm also a self-confessed goof ball who enjoys interpretive dance and competitive air guitar." Marquina was 36 years old when she was diagnoses with Stage 2 breast cancer. It had also spread to her lymph nodes.
MK: What was your mindset at diagnosis?
MI: Terrified. Angry. I couldn't believe my teeny tiny titty would do me in! I felt betrayed by my body. Prior to cancer, we were trying to have a second child. I was doing everything I could to keep myself healthy such as eating an organic plant-based diet, yoga, not using BPA plastic, getting enough fiber, wearing sunscreen, I had never smoked - none of these factors mattered. I got cancer anyway.
MK: How did your breast cancer diagnosis change your life?
MI: I used to think I needed to 'grow up'. That after 35 years and becoming a parent, I should refrain from silly things like air guitar, karaoke, or busking. Then I realized that, as long as I'm not harming anyone, I can act in a way that is true to myself. I don't need to worry about what others think. I'm free to be me. I am enough. Now, I do things that bring me joy and strive to bring joy to others. For example, I still compete in air guitar! And find ways of creating projects like Glam Chemo and The Women's Empowerment Project at NewYork-Presbyterian Weill Cornell Breast Center.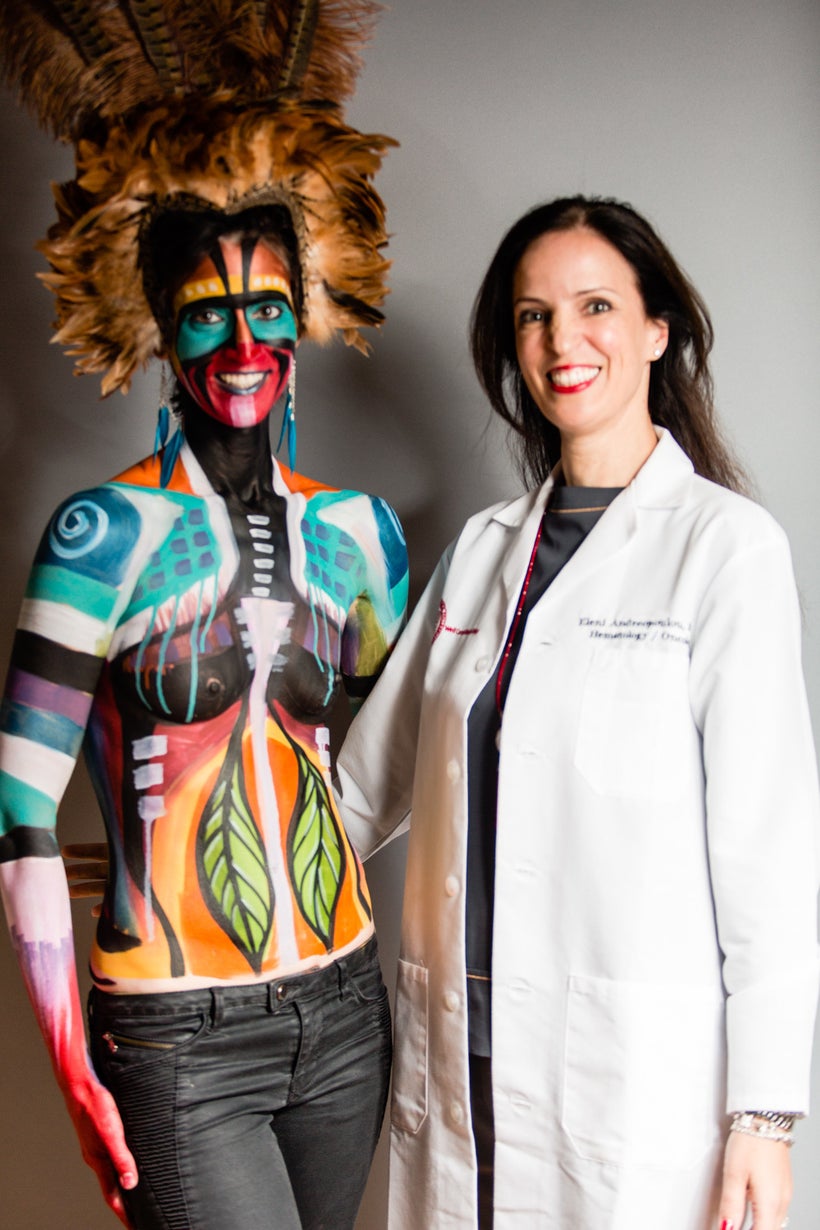 MK: What do you wish you'd know before being diagnosed with breast cancer?
MK: I wish I had known how to connect with others on a deeper level. It took a breast cancer diagnosis for me and my friends to begin saying 'I love you' to each other. Having cancer deepened my friendships. It made me face my demons and live more authentically.
MK: How has this experience awakened you to yourself and your purpose?
MI: Having breast cancer gave me an opportunity to reflect on about who I am and what I want to do with the time I have left.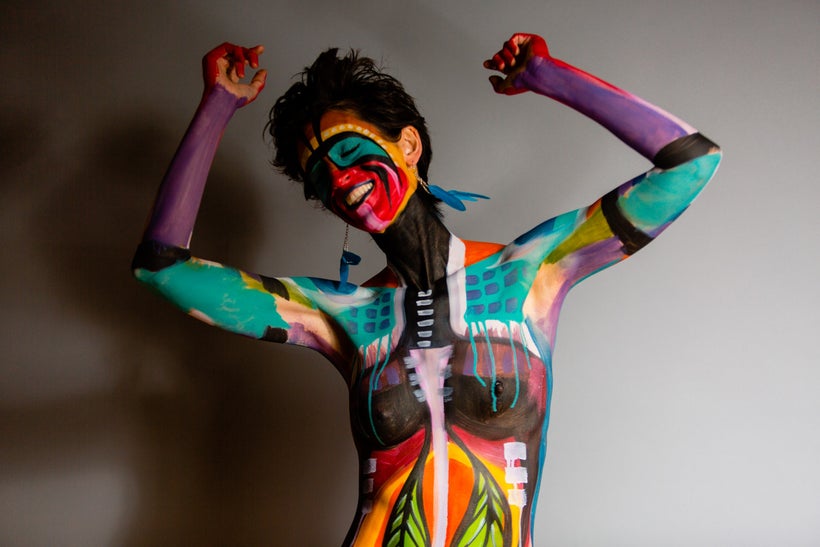 MK: Tell me about your body painting project!
MI: My goal for the Women's Empowerment Project at NewYork-Presbyterian Weill Cornell Breast Center was to get a group of women battling breast cancer to come together and create an uplifting experience focused around body positivity and community. By doing so, my hope was that each person would find a new way of viewing herself, create a different relationship to her body, and perhaps make a new friend.
The Women's Empowerment Project created a space for us all to openly share our stories. Each of the women in the body painting project was taking a bold approach in the face of breast cancer through body art and self-expression. We chose images that evoked parts of our inner selves and brought that emotion boldly front-and-center - literally wearing those feelings on our chest. Images revealed beauty bursting forth, wings to fly, a phoenix rising, fierce dragons, and warrior paint. The results were powerful. We bonded in that room; the energy during the photo sessions was electric. My goal is to continue to create art-oriented projects that help women see themselves in a new, glorious light.
Each artist felt compelled to contribute their talents in order to help empower the women of this special project. The body artists that donated their time were: Ashleigh Alexandria, Ralph Serrano (painted my warrior paint), Avilda Whittmore-Walker, Niazja Blessed Rios, and Jocelyn Goode, and the photographer was Casey Fatchett.
MK: What word do you wish you could take out of the breast cancer vocabulary?
MK: If there was one thing you could change about breast cancer and how people view it, what would that be?
MI: I would change how society views bald women. To help me with the inevitable balding process, I had a wonderful 17-year-old barber named Breidy shave cool designs in my hair. After a month or two when I was 100% bald, I came to terms with it. At that point, facing other people's pitiful stares was difficult. I could personally be okay with being bald, but my bald head was an unmistakable sign that I was sick. I suppose I could've worn a wig, but wearing wigs made me feel like a fraud. Instead, I placed temporary tattoos on my head and tried to 'own' being bald. Our culture has an obsessive relationship with hair and I wish we could focus on more important things, like kindness and helping others.
MK: Why is it so important to you to support other women with breast cancer?
MI: My friends - Liz, Sherine, Sarah, Nina, Mindy, Jennifer, Jenny, Beth, Suzanne, Eden, Caroline, Amy, Julie, and the awesome Women of Air Guitar - were my main girl-power! support group. These ladies went above and beyond to make sure I knew I was supported and loved. I know that not everyone has supportive friends and family. My goal is to show others the love that has been shown to me.
MK: What would you tell a newly diagnosed young woman?
MI: Reach out. There are so many excellent groups to look to for support. Even if you think you can handle it on your own, it can be better with friends.
MK: Has cancer changed how you see adversity?
MI: Yes. I know I can do anything.
MK: What one word defines you?
REAL LIFE. REAL NEWS. REAL VOICES.
Help us tell more of the stories that matter from voices that too often remain unheard.
This post was published on the now-closed HuffPost Contributor platform. Contributors control their own work and posted freely to our site. If you need to flag this entry as abusive,
send us an email
.