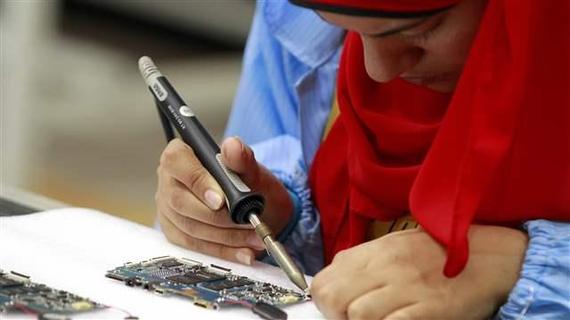 Outside the alcove of my 1-year-old's room, I decided to start my first business at 25 because I couldn't figure out how to combine high-impact work at the time and being an engaged mom.
Ever since then, I have been passionate about the opportunities entrepreneurship can provide for women across the world. A few years ago, I was delighted to find kindred spirits in Cherie Blair, herself a pioneering woman barrister/entrepreneur and Henriette Kolb, the head of Cherie's foundation. They set up a global mentoring program for women entrepreneurs and were the first to identify the glaring gender gap in mobile phone ownership. Together with global mobile operators, we focused a laser beam on this gap and cutting it in half. Eyeing the opportunity of mobile money to fundamentally transform poor countries, we got key operators to commit to having at least a one-third of the mobile money businesses be women-owned.
But as I was traveling in Africa, spending time listening to women about what they needed to start or grow businesses, one woman made a remark that will be mentally tattooed on me forever. Referring to the women in her village, she said: "She just wants a job, Maura."
Juggling family and work, most people, both men and women, just want the security of a job. A regular job provides a steady income and an opportunity to improve the future for themselves and their family. Henriette Kolb -- who had recently joined the World Bank Group to lead Gender for its private-sector arm, International Finance Corporation (IFC) -- called to say she wanted to focus on women's employment. I knew how powerful that could be.
Lending $25 billion a year to companies across the emerging markets, the IFC was seeing hints of what was possible. And if these examples could be expanded and replicated the lives of millions of women and families could be transformed. Eradication of poverty might be in sight. And the companies could be rewarded with better profit growth.
The IFC discovered that it's own global clients had significant and often immediate improvements to their profits from targeted investments that improved women's employment. For example, Nalt Industries, a Vietnamese garment manufacturer who produces goods for the GAP, Target, Columbia and Ann Taylor brands cut their average monthly turnover by one-third after offering on-site kindergarten for their employees and families. Happier staff, more money falling to bottom line.
Eight hundred and sixty-five million women are underemployed or not in the workforce, who could be. Almost all of these women -- 94 percent -- live in emerging or developing countries. Moreover, think about the increased national security and prosperity it would provide if incomes of local people were increasing -- it would not only be beneficial for the country and the world, it would also help women themselves.
Sadly there remains a big difference between what men and women get paid, even when you control for education and years of service. Fifty-three percent of this global pay gap is due to the differential job categories gender is slotted into. It's Important to close the pay gap for similar jobs, but also job occupations need to be opened up for everyone.
Nine out of 10 jobs in the developing world are in the private sector. Investments in improving the plight of women workers has to come from private companies to make any real impact.
The IFC in conjunction with eight flagship companies and one global non-profit agreed to lead this change within their own companies and the countries they operate. Many have already begun implementing improvements. And they have pointed out that there is still a lot to be done which could both reap business benefits and produce social benefits for all their employees.
World Bank Group President Jim Yong Kim and former Secretary Hillary Clinton announced Monday, September 22, a global effort to improve women's employment, SheWorks. Together with leading companies and global nonprofits it was a flagship commitment at the Annual Meeting of the Clinton Global Initiative.
Belcorp (@Fund_Belcorp), Care.com (@CareDotCom), The Coca-Cola Company (@CocaColaCo), EY(@EYnews), Gap Inc. (@Gap), Intel Corporation (@intel), Kuwait Energy (@KuwaitEnergy), Odebrecht Group (@odebrecht), Ooredoo Group (@ooredoo), and Zulekha Hospitals (@zulekhahosptls) are the trailblazers of SheWorks. They have developed specific measures they will implement within their companies in order to significantly improve the lives of women workers. They have also agreed to evangelize and share best practices with others so that companies -- large and small -- can understand how to reap the benefits themselves.
Being an early adopter isn't easy and old patterns are tough to understand and break. Unspoken fears can hinder or even slow efforts. It starts with leaders within companies who take action.
Check out these trailblazing companies, send them a note or a tweet. Tell them how excited you are that all people will have an opportunity to contribute fully and how much you appreciate their leadership. Contact the IFC and find out how your organization can take part. And most of all look around your workplace, your trade association, and your town and see how you can make something small or big happen to improve work opportunities for women. It will likely result in a stronger, more prosperous and safer community for all.
REAL LIFE. REAL NEWS. REAL VOICES.
Help us tell more of the stories that matter from voices that too often remain unheard.