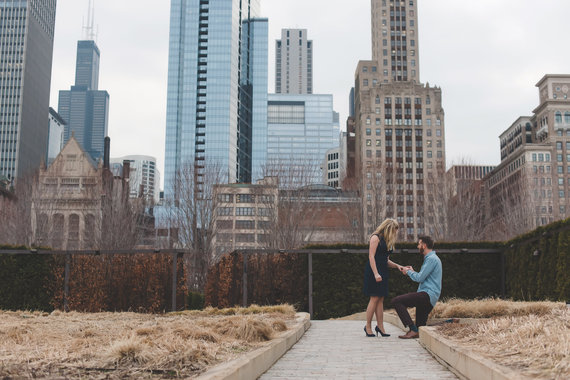 Photo by Hannah Drews Photography
I popped the question, but it wouldn't have been possible if she hadn't sent the first message.
A recent OKCupid study found that women who send the first message on the dating site not only have a better chance of getting a date, they also tend to meet higher-quality men. Ironically, the study was released the same week I proposed to my girlfriend, who made the first move on OKCupid more than three years ago.
Jennie, my now fiancée (it's still weird calling her that), was tired of the guys who were messaging her first. She described many of them as too forward and focused on her appearance. Jennie felt as if the men were mass messaging women, instead of discussing qualities they might like specifically in her.
Jennie decided to do something about it. Each night, she would message a few guys with qualities and interests she valued until she found Mr. Right. Jennie specifically was looking for a partner who was "somewhat Catholic." That's where I came in.
She would later tell me the line in my profile that really sold her was that a typical Friday night for me could consist of a night in watching movies, while eating peanut butter M&M's, but her first message asked me about my journalism background. As a guy on OKCupid, getting a message first from a seemingly normal and attractive woman is not something that happened too often for me. So in the case of Jennie, I was cautiously optimistic.
It was refreshing to have a girl message me first. It didn't come off desperate. Instead, Jennie seemed confident and self-assured. We talked about our shared interests, met in person and started dating shortly thereafter. The fact that she made the first move made me feel more comfortable around her because I didn't have to worry if she was really interested in me. She had made that clear.
Fast forward to three years later: We're engaged. I don't believe a relationship's success is defined by who strikes up the first conversation. I do believe, though, that if you see a profile that peaks your interest, just send the first message -- and disregard outdated dating traditions.