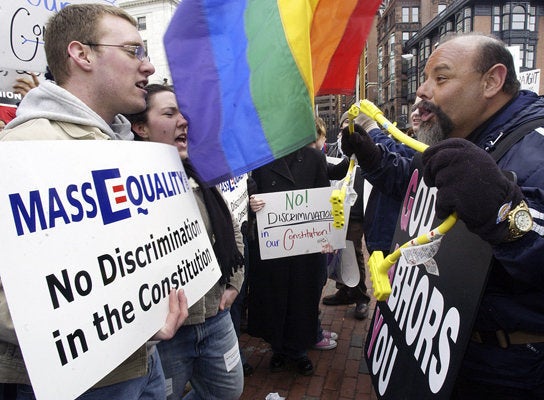 "She said yes!" read the happy subject header on my email to friends announcing that my girlfriend Bonnie and I had become engaged on May 15, 2008, the same day the California Supreme Court handed down its historic ruling in favor of marriage equality. I'm not known for wasting time and, as far as civil rights are concerned, too much time has already been lost. By now the struggle for full recognition of loving same-sex relationships is literally ancient.
Consider Greece. The birthplace of democracy is arguably also the birthplace of gay identity. But despite its rich historical and mythological legacy of poets, philosophers, artists, athletes and warriors who celebrated love between members of the same sex, Greece last week legally invalidated its first-ever lesbian and gay marriages.
Like his San Francisco counterpart Gavin Newsom four years earlier, Tassos Aliferis, progressive mayor of the small Greek Island of Tilos, had risked his political career in June 2008, deliberately challenging discriminatory laws by issuing marriage licenses without gender restrictions.
The nearly 4,000 San Francisco marriages lasted less than six months; conducted in February and March of 2004, they were annulled that August by the California Supreme Court. The state's marriage window opened again, albeit briefly, between June 16 and November 4, 2008, allowing some 18,000 same-sex couples to wed, though the fate of those marriages remains uncertain. (Because my fiancée and I wanted a proper engagement period rather than a shotgun wedding date imposed on us by Proposition 8's presence on the November 4th ballot, we decided not rush down the aisle, and now may have missed our chance.)
The two Greek marriages survived less than 11 months before being annulled on May 4, 2009; those couples now intend to take their case to the European Court of Human Rights.
Mayors Newsom and Aliferis (whose political careers are incidentally still going strong) both acted in defense of basic human rights. As for whether the courts will ultimately do the same, the jury is still out. Here in California, the same Supreme Court that banned marriage discrimination on that happy May 15th last year now seems poised to enshrine it in our State Constitution, with a most-likely favorable ruling on Proposition 8 expected by the end of May this year.
Are we or are we not on the threshold of winning our rights for good? Or, for so many of us, will marriage remain a mirage?
The reality is a shifting patchwork of marriage laws across the United States, mirroring a similar patchwork and disproportionate influence of conservative religious ideologies around the world. For those of us in committed relationships seeking legal recognition and protection, it's an emotionally draining, two-steps-forward, one-step-back process, state by state, country by country.
Despite continuing progress, as of this writing only five U.S. states (Connecticut, Iowa, Maine, Massachusetts, and Vermont) and seven countries (Belgium, Canada, The Netherlands, Norway, South Africa, Spain, and Sweden) offer identical legal marriage to same-sex and opposite-sex couples. Gay rights leaders are confident that time is on our side, that the younger generation supports us, and that marriage equality will ultimately prevail.
Last summer I made my fifth visit to Greece, part engagement celebration, part research trip for a book I'm working on. When I interviewed the two newlywed Greek couples in Athens, two gay men and two lesbians, we shared in the movement's sense of optimism. Their marriages and my engagement were still fresh and cause for celebration. But now our freedom to marry hangs once again in the balance.
I picture giant Justice wearing her blindfold while couples like Bonnie and me and our Greek friends get tossed about on her scales, tipping this way and that, forced to endure the very opposite of the security and respect that we are seeking and that we deserve. But we keep holding on, trusting Justice -- and our democratically elected governments -- to get it right in the end.
Author's note: Today, May 11, 2009, is the 50th anniversary of my parents' wedding, and I dedicate this writing to their loving memory.
Popular in the Community