<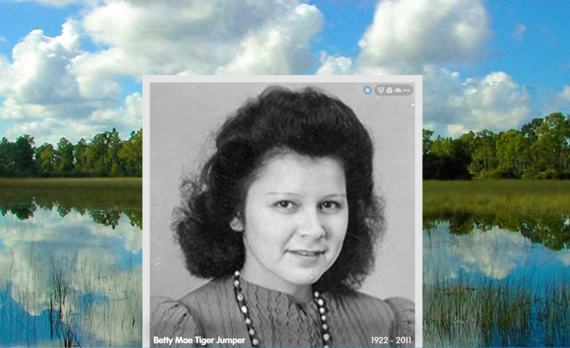 Click anywhere on the image above for the full tribute at OurPaths.com
By The NATIONAL WOMEN'S HISTORY PROJECT
Betty Mae Tiger Jumper was the first woman Chief of a major Native American tribe. As leader of the Florida's Seminole tribe, she brought modern medicine to her community, promoted preservation of tribal culture, and guided a bankrupt tribe to solvency.
And typifying her unyielding determination, she was willing to wrestle alligators if needed to keep food on the family table.
"I had three goals in my life," she once told the Ft. Lauderdale Sun in the flat, sing-song style of the Seminoles. "To finish school, to take nurse's training and come back and work among my people and to write three books."
She accomplished those and more. Jumper's life was a succession of firsts.
She was the first Seminole to read and write English and the first to graduate from high school. She was the first Seminole nurse. In 1993, she became the first Native American elected to the Florida Women's Hall of Fame.
Born April 27, 1922, she grew up loving the natural beauty of Florida. She spoke of the closeness of nature growing up in a thatched-roof "chickee," a traditional shelter that is open to the breeze. She spoke of the fresh scent of pine, the musk of the damp earth, the lulling hum of insects, and the sound of birds and animals rising from the thicket and the swamp.
"I used to love to listen to the owls way in the distance," she said. "I could recognize all the different ones."
At the age of 14, speaking only Creek and Miccosukee, Betty swapped her patchwork dress for the clothing of whites, and she, her brother and cousin headed to North Carolina for their first exposure to school.
"I cried a lot," Jumper said of the loneliness and alienation she felt. She was especially sad at Christmas since her family could not afford to bring her home. Only in the summer would she return to her family.
She was a fast learner. After one semester, she skipped from a special class into fourth grade.
In 1946, Betty Mae married Moses Jumper. He was an alligator wrestler and a charmer. But, as she would soon discover, he was also an alcoholic haunted by nightmares of World War II and his experiences as a Navy underwater demotion frogman.
Bette Mae supported the family by selling arts and crafts. When her husband was not well or sober enough to entertain the tourists by wrestling alligators at their roadside stand, Betty Mae, as her son describes it, "grabbed the old stick and climbed into the pit."
"It was my kids' bread and butter," Betty Mae said.
In 1967, with the encouragement of fellow tribal women, Tiger Jumper ran against three male opponents for the seat of Seminole Tribe of Florida Chairman and won, becoming the first female elected tribal Chief in the U.S.
She created the initial United Southeastern Tribes coalition, which today consists of more than 26 tribes, and works at the regional and federal level on health and educational efforts.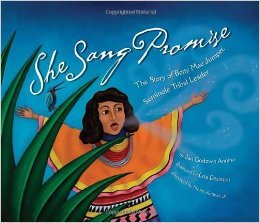 A children's book, "She Sang Promise," tells Chief Tiger Jumper's life story
"Because she was mixed race -- she was half-Caucasian, she was half-Seminole -- they told her they couldn't do those things. She went against the taboos of the tribe," her son Moses Jr., now a tribal judge, once said. "It gave her more willpower and more energy."

Added Mitchell Cypress, chairman of the Seminole Tribe, at the time of her death: "Not only will our tribe feel the loss of Betty Mae, but so will all of humanity."

Additionally, Tiger Jumper managed to bail out the nearly bankrupt tribe through a variety of business ventures.
"When I came in, the Tribe had $35. That's what it said on paper."
In fact, even that sum existed only in ink; it was nowhere to be found.
Jumper built a half-a-million-dollar surplus before she left office, an accomplishment more remarkable since it took place in the days before tax-free cigarettes and casinos flooded the reservation with money.
Under Betty Mae's leadership, the tribal council came up with a lucrative plan to lease Seminole lands along U.S. Highway 441 and State Road 7 to outsiders. The Tribe also leased its holdings elsewhere to citrus growers.
Nickelodeon created a biography of Betty Mae Tiger Jumper for children
The last surviving matriarch of the Snake Clan, Betty Mae encouraged Seminole oral history preservation, one of her great passions, and particularly stressed the importance of young people learning and honoring their history.
She was also a distinguished journalist. She founded the first Seminole newspaper, the Seminole Tribune, and used it as a way to distribute Seminole stories, winning multiple awards In the process. A biography of her life, "She Sang Promise," became a best seller.
A tribal storyteller, she was the author of the books "And with the Wagon Came God's Word" and "Legends of the Seminoles," and narrator of the video "The Corn Lady." A biography, "A Seminole Legend," was published in 2001. She was awarded an honorary doctorate by the Florida State University in 1994.
Betty Mae Tiger Jumper's work not only improved the well-being of thousands, but also helped ensure the legacy of her tribe. She was honored last month posthumously for bettering the lives of her people by the National Women's History Project.
She was battling cancer when she buried her husband. Leg and knee problems began to idle her, and she was afflicted with encephalitis. She died in her sleep Jan. 14, 2011 at the Hollywood reservation.
Her legend has grown ever since.
To create a tribute to someone you love, or to build a record of your own life path, visit OurPaths.com.
- National Women's History Project
- Tiger Jumper family
- Orlando Sentinel
- Seminole Tribune
- National Public Radio
- Indian Country Today
- OurPaths.com
Calling all HuffPost superfans!
Sign up for membership to become a founding member and help shape HuffPost's next chapter