SAN FRANCISCO ― About 500 people gathered for the inaugural She the People summit in San Francisco on Thursday, which organizers dubbed the "first-ever national women of color in politics summit."
The group gathered to discuss the power of women of color to change American politics, particularly in the 2018 midterm elections.
Prominent organizers Linda Sarsour and Dolores Huerta took to the stage, along with barrier-breaking candidates like Rashida Tlaib ― set to be one of the nation's first Muslim congresswomen ― and Deb Haaland ― likely to be one of the first Native women in Congress.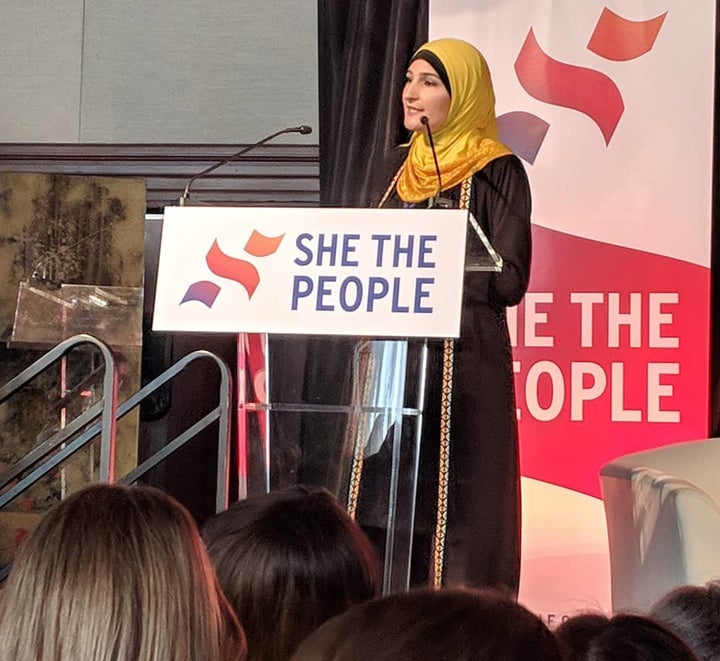 "Yes, you're going to have to learn how to say our names," Tlaib said, to laughs and applause.
Speakers at the summit emphasized the need for people to turn out to vote and back female candidates of color ― and for more women of color to run for office.
"Look at this room. Isn't it amazing? Amazing women leaders are what we need to push us forward," Haaland said. She mentioned her background as a single mother who worked minimum wage jobs and used food stamps while raising her "beautiful queer daughter." "We need more people [in office] who understand struggle and know what it means to be fierce in the face of difficulty."
Summit founder Aimee Allison started off the day by listing statistics on how women of color have consistently led as voters and organizers, adding that the time had come for them to be represented in elected office. Black women are among the demographic groups with the highest rates of turnout at the polls, she said. And while women of color make up 20 percent of the U.S. population, they account for only about 7 percent of members of Congress.
"We can't even get clean water for our children, because our lens is not at the table," Tlaib said, recalling her encounters with Michigan families struggling amid the state's notorious water crisis. "So you all better run for office."
Many speakers noted that their work as progressive women of color in politics led to not only beating Republicans but also unseating centrist establishment Democrats.
"Not all Democrats are created equal," as California Assemblywoman Wendy Carrillo put it. Several shouted out Ocasio-Cortez's victory against a 10-term Democratic incumbent.
"If 2018 is not the year the Democratic establishment learns its lesson, it's the year voters teach it to them," declared Andrea Mercado, the director of the Florida New Majority, which is working to increase turnout among marginalized groups. In the state's primaries last month, progressive Andrew Gillum pulled off an upset win, becoming Florida's first black gubernatorial nominee.
Toward the end of the summit's morning session, legendary workers' rights organizer Dolores Huerta took the stage and led a chant that had all the women in the room yelling.
"Who got the power?" "We got the power!"
"What kind of power?" "Feminist power!"
"¿Se puede?" "¡Sí se puede!"
Popular in the Community