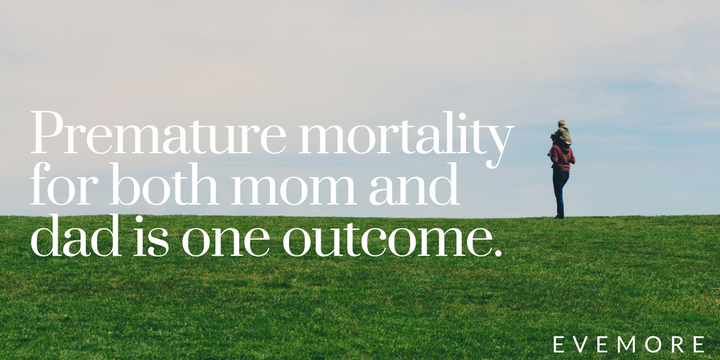 "She wanted to be with her daughter." This phrase was repeated often in the days following the death of Debbie Reynolds, who passed just one day after her daughter, Carrie Fisher. While the prominence of these two individuals grabbed the nation's attention, their story resonated because it spoke to our society's unconditional love and investment in our children. Dying to be "with" your child is a decision every parent can both understand and fear.
Weeks following Debbie Reynolds death, I again heard the phrase, "she wanted to be with her daughter." As President Donald Trump was being inaugurated, I sat in the pews of a very different gathering just one hour north of our nation's capital. This story, unlike the death of Debbie Reynolds, would not garner any media attention. It would instead go unnoticed - as do millions of other equally powerful American stories - hiding in plain sight.
Amy Huber was an ordinary American mother devoted to her family and working to make sense of a tragedy that occurred nearly a year ago when a severe snowstorm swept into the area. Her daughter, London, had been ill, but the doctor gave no reason to believe she was in immediate danger and sent them home. As the winter storm created paralyzing conditions for the region's residents, London's symptoms intensified. Amy, a dedicated and loving mother, realized that London needed medical attention urgently.
Paramedics rushed London to the hospital. Within days London, who was 2-months old, died of RSV (respiratory syncytial virus), a severe chest infection. As tragic as this outcome may be, this story is not about London. It is about Amy.
I came to know Amy through EVERMORE's LIFE AFTER film project chronicling the radical life changes following the death of a child. Amy was enthusiastic, if not persistent, about sharing London's story in the hope of preventing other families from suffering the isolation she felt.
"Beyond medical and mental health professionals, and support groups, families require a holistic system of support from friends, families, neighbors and even strangers."
The morning she was scheduled to record her story, we waited for her to arrive. As the appointed time passed, I wondered whether she had changed her mind. I called and texted but received no response. We turned our attention to other bereaved parents, who also wanted to share their stories. It was not until Amy's husband called that an abstract statistic became a personal reality. Scott shared that just days shy of the first anniversary of London's death, 30-year old Amy went to sleep never to awake again.
The medical examiner ruled Amy's death as a natural heart attack despite the fact Amy was young, fit, and had no family history of disease. Her family says, "a piece of Amy died the day London died. She had a broken heart."
For some, these examples may invoke fear that losing a child could render a death sentence for the parent. As uncommon as it may seem, the death of a parent is not infrequent following the loss of a child (see Even Presidents Have Lost). While mothers experience increased mortality from both natural and unnatural causes, like Amy, fathers die prematurely from unnatural causes (i.e., suicides and accidents).
Fortunately, many parents do survive this tragic loss, but when they do, the amount of support they need is significant. Beyond medical and mental health professionals, and support groups, families require a holistic system of support from friends, families, neighbors and even strangers. We are reminded of our loss at every turn, even years later. We have an empty chair at family gatherings. We receive coupon reminders for our child's favorite cereal while grocery shopping. We have an unending hole in our hearts and there are so few ways for us to cope and mend. As a nation, we have a vested interest in identifying and providing these crucial services―whether it is a veteran on the brink of suicide, a firefighter combating wildfires, or the neighbor living in a violent, hardship neighborhood. We deserve more.
Yet, no major foundation or philanthropist invests in this issue. Neither federal, state, or local governments provide a benefit. Why? Perhaps it is an unspeakable tragedy that is easier to ignore than address. Yet, for most deaths we see in the news – whether a celebrity, a young man shot in the streets, a soldier killed in combat, a child lost to cancer – there are one or two parents left behind who need our support. The responsibility is ours and the time to act is now, before there is another obituary to read.
Support HuffPost
A No-B.S. Guide To Life
Related
Popular in the Community