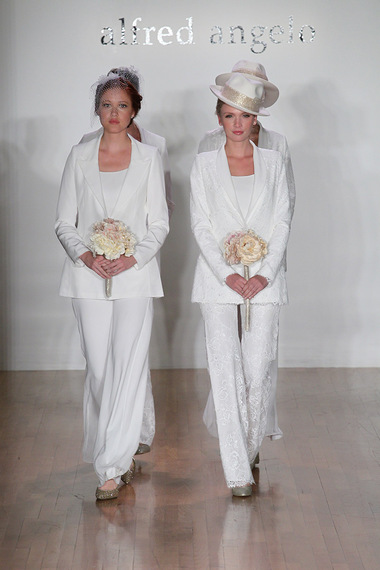 I recognize that my personal circles aren't exactly a representative sample of all of lesbian-kind, but believe me when I say that I haven't been to a single lesbian wedding in which the brides wore traditional gowns. Including my own.
I have, of course, worked in a professional capacity with lesbian brides who wore bridal gowns (and I've seen combinations of two gowns or one dress and one gown or one dress), but I know that, generally speaking, bridal shops are already providing services and products for these lesbian brides.
So the question is: what's available for brides who want to wear something else? What else is available that is equally appropriate for the occasion but more reflective of a non-traditional bride's personal style, comfort and budget?
The good news is that more options than ever are available to women who want (apologies to TLC) to say No to the Dress.
At the recent NY Bridal Market show, the style editors at WeddingWire were amongst the first trend-spotters to report on the latest development of bridal pant suit styles on the runway. Their trend report included seven (seven!) examples of pant suits from the likes of Alfred Angelo, Olia Zavozina, Rivini, Lazaro, Theia, Aria, and Victoria Kyriakides.
But, even though it feels like it's raining pants -- Allelujah! -- take note: a few of those pant suits can still be fussy enough to be reminiscent of a full-fledged gown and send a tomboy bride running in the opposite direction.
Bottom line: pants have become more acceptable as a choice -- for lesbian and straight brides alike -- and this year's runway options demonstrated more willingness to embrace a diverse expression of style and orientation outside of the customary gown and bride-groom pairing.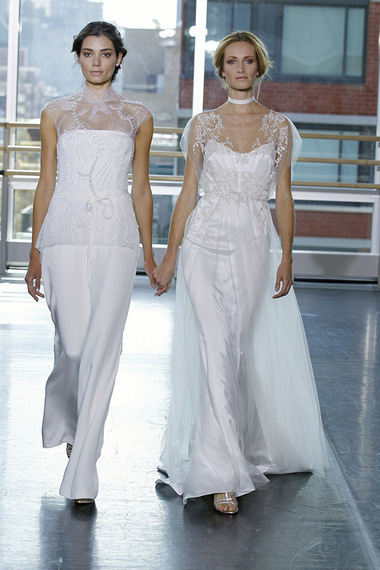 Take, for example, the response when two female models appeared coupled together at the top of the Rivini show.
"When the two women first appeared on the runway, holding hands," said Sarah Zlotnick, Editor at Project Wedding, "there were lots of head nods and approving smiles. The crowd's appreciation for the strong statement only became more apparent as the duo made their second tour through the room. I saw people whispering to their neighbors about it and nodding even more enthusiastically. By the time the pair walked during the grand finale, I think the room fully understood the statement that was being made and was proud to witness it."
Kim Forrest, Editor at WeddingWire, also sees more diversity and variety. "I think with more and more designers in the bridal space," she said, "we're seeing more unique perspectives and truly something for everyone. Many designers are creating a diverse array of ensembles instead of focusing on just one style, so brides can find wedding attire that truly fits their personality."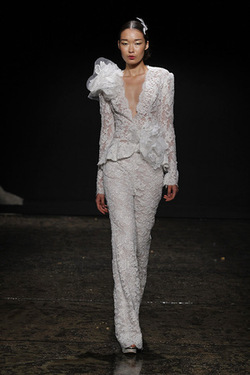 And where Lazaro showed more lace in its new bridal pant style than I've seen in the wedding gown styles this season, Alfred Angelo, a label that prides itself on its diverse range of options, offered some tailored options that are likely to be appealing to the run-of-the-mill, pants-loving lesbian bride.
Danielle Mancano, a spokesperson for Alfred Angelo, said that this year's bridal suits are the first in several decades, but not the first they've ever offered. "We pride ourselves," she said, "on being very attentive to what brides need -- from not adding cost for plus-size brides to offering alternatives to gowns. We think we're right on trend with our pantsuits."
Most likely, she's right. And, they've even gone so far as to add a line of jumpsuits for bridesmaids. Mancano says that the "decision to add jumpsuits is the same as our inspiration for bridal suits -- options and alternatives. Our bridesmaid looks come in 62 colors, including white and ivory. Brides can even wear our bridesmaids' looks and still look bridal for a lower price point."
Sixty-two colors?!?! That's the rainbow, and then some.
But the traditional bridal market and annual bridal fashion shows don't have it all covered. In the past year, there have been a number of small businesses and websites that have gained traction catering to the bride I like to refer to as the "Bridegroom," a term Susan Herr, the founder of the website dapperQ, and I used to refer to the readers she wished to reach on our site via her expert column. In this case, the 'bridegroom' is the lesbian who is likely to identify as 'queer' or have a more 'transgressive' fashion sense.
Where new companies like TomboyX have wanted to speak to a casual outlet for those who are dress-averse, companies like Tomboy Tailors and Fourteen Style have set out to cater specifically to queer-identified individuals who need to add a dapper step to their wedding and formalwear style.
Bernadette Coveney Smith, founder of Fourteen Style, says, "While pants suits for women are slightly more commonplace at the bridal market runway shows, those designs are quite feminine and still not products designed with the needs of queer women and transmen."
Thus the recent influx of companies like hers, which were, she says, "created to specifically cater to the needs of queer women and transmen, particularly in the realm of formalwear." The benefit, she says, is that now "there are legitimate options for engaged lesbians who don't want to wear a dress" and are looking for ways to avoid spending big bucks on a custom suit or "risk looking awkward in ill-fitting men's attire."
Regardless of whether brides are looking for traditional or non-traditional wedding attire options, the one place they can all look for inspiration, says Smith, is Pinterest. If its exists, someone has pinned it.
But inspiration and appreciation isn't going to be enough to keep brides in pants. There will need to be demand to support the designers who are ready, willing and able to offer new options. "When placing their buys, with a budget for X amount of gowns," says Don O'Neill, creative director at Theia, "(retailers) tend to avoid sinking their dollars into what would be for them a 'marginal' piece. It's a vicious circle; if the brides who seek alternative looks are not shopping in, or asking bridal boutiques for these styles, then the stores won't carry them."