The MFA in Boston has just closed "She Who Tells a Story," a revelatory exhibition of photography by 12 women artists from the Middle East and Iran. These photographs, mostly of women, have largely been taken in the past ten years. They show women staged and poised, ready to tell us a story about how they live, their dress, their families, their fears, their pastimes and their culture. They wear everything from the full abaya and niqab -- the floor length black robe and face covering with a slit for the eyes -- to western tees and shorts. These photographs reveal to we women of the West that we know little of our female counterparts in the Arab world.
This pivotal exhibition is a clarion call to us in the West to shatter our ignorance about our sisters on the other side of the globe, an ignorance fed by the news media, our own prejudices and the propaganda we are bombarded with through the constantly failing talks between the Palestinians and Israelis, the wars we have fought in Afghanistan and Iraq, and the daily devastation we hear about in war-torn Syria.
There are vast cultural differences between Western and Arab women, dissimilarities that pervade every aspect of society from education to politics to sexuality. Yet, in spite of the disparities, these women share with us a desire to know, to learn, to be recognized, to sing, to express, to have a voice, to be beautiful and sexy, and most importantly, to be present and whole. This is the story of "She Who Tells a Story".
CONSTRUCTING IDENTITES
The exhibition opened with Bullets Revisited #3 (2012) a triptych by Moroccan artist Lalla Essaydi displaying a young woman lying on what appears to be a jewel encrusted bed. A closer look reveals that the entire composition -- the bed, the walls and the textiles are made of bullets. The seductive model is inked from head to toe in verses from the Koran. The model is very nearly indistinguishable from the horizontal bands of decorative elements in the photograph. What story is told here? Women as object, certainly. But also the prevalence of war, the beauty of calligraphy, the power of the Koran and its inescapable presence in the daily lives of the Arab people.
Yemeni artist Boushra Almutawakel is represented by her incredibly powerful Mother, Daughter, Doll series (2010), a suite of nine photographs showing a mother with her young daughter. The girl embraces her doll and sits happily and comfortably on her mother's lap. In the first photograph, all three are colorfully clad; the mother wears a tasteful, light colored hijab and blazer and the girl and doll are in pastel colors. With each successive photograph, the clothing darkens and more flesh is covered. Towards the end of the series, even the hands are encased in black gloves; we see only the eyes of all three, peering out through the niqab. The final photograph is entirely black, as if this intimate, domestic composition had been obliterated.
In the series A Girl and Her Room (2009-12) by Lebanese artist Rania Matar, we are privy to half a dozen photographs of teenage girls in their rooms. Surrounded by their personal belongings -- a poster of Marilyn Monroe, CDs, perfumes, handbags -- the girls lounge, hang out and listen to music. Each photograph tells a unique coming of age story, highlighting the newfound independence, and budding sensuality of each teenager. Yet the stories are universal, showing us how any teenage girl the world over carefully navigates that precarious space between being a girl on her way to womanhood.
Similar to Essaydi, Iranian artist Shirin Neshat plays with the strength and physical beauty of the written word, in this case Farsi, in her large format photographs of individual men and women. Newsha Tavakolian, also from Iran, offers us her series Listen, a video and still series of Iranian singers, silenced and forbidden to perform in public. Tavakolian gives them each a stage, complete with a flashy, sequined backdrop, and the viewer the opportunity to watch them perform, albeit soundlessly. For me it calls to mind the wild and honest moments that women in restrictive Arab countries have in the company of each other, behind closed doors.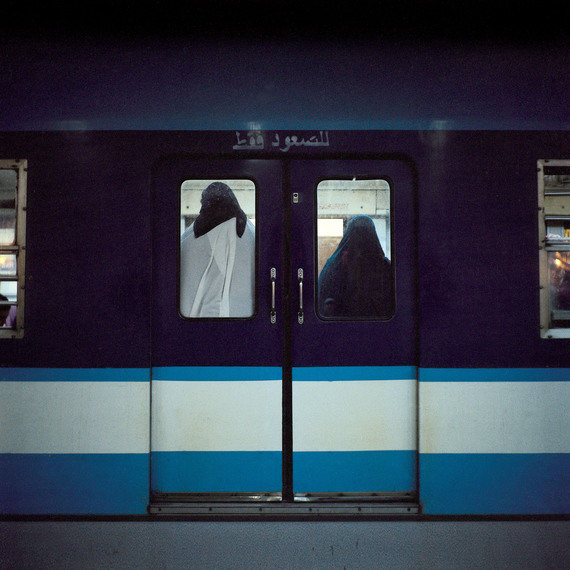 Rana El Nemr, "Metro #7" from the Metro series
NEW DOCUMENTARY
In the series Nil Nil (2008-09) Iranian artist Shadi Ghadirian juxtaposes military imagery with stereotypically feminine objects -- dusty combat boots next to a pair of red stiletto heels, a hand grenade buried in a bowl of fruit. The absence of people in these still lifes makes the juxtapositions between female and male/war and peace even stronger.
In perhaps my favorite series Today's Life and War, Iranian artist Gohar Dashti stages a young couple engaged in regular domestic activities. In one photograph they have a picnic, in others they hang laundry or watch TV. Yet each narrative is set in a desolate, war-torn landscape, with tanks, barbed wire and sand bags. These deeply moving images -- sad, funny, endearing and ironic -- are oddly reassuring. They tell us that life does go on, that people can still be in love, engage in normal, non-violent life-affirming activities, even in a society decimated by constant war.
Rana El Nemr, born in Germany and living in Cairo, gives us The Metro, a series showing women traveling on the subway. Some have their heads and faces covered and can be glimpsed through the window of the car for women and children only; others just look restless or tired, as they endure the boredom and isolation of a typical commuter workday trip.
Tanya Habjouqa, Jordanian born, is represented by Women of Gaza, a series showing women and their families in the Israeli occupied Gaza strip. In spite of their limited freedom of movement, they find moments of respite and pleasure in these astonishing photographs. A family parks on the edge of the Mediterranean Sea, sets up plastic chairs and enjoys the sea air. In another image a trio of abaya-clad women exercise inside a gym; and a young girl, who dons a hot red hijab, poses for a selfie, as an elder woman looks on through the slit in her niqab.
Rula Halawani, born to a Palestinian family in East Jerusalem, was a press journalist before becoming a fine artist. She refers to the Israeli incursion into the West Bank in 2002 in her large photographs printed as negatives for her Negative Incursions series.
Nermine Hammam from Egypt, worked in film production and graphic design before becoming a fine artist. Through film layering and Photoshop techniques, Hammam sets male soldiers in the forefront of her invented kodachrome-hued landscapes, impossibly chipper and colorful. Oddly out of place, these soldiers seem as perplexed as we viewers feel observing them.
In her spectacular production stills from her films Shadow Sites II Jananne Al-Ani's aerial views play on the West's ill-conceived notion that the Middle East is a sandy, desert wasteland. Drawing on 20th-century technology of satellite photography, used as reconnaissance during wartime, Al-Ani's desolate landscapes reflect history and loss, but also, paradoxically, an indefatigable human presence.
All photos are courtesy of the Museum of Fine Arts, Boston
Calling all HuffPost superfans!
Sign up for membership to become a founding member and help shape HuffPost's next chapter