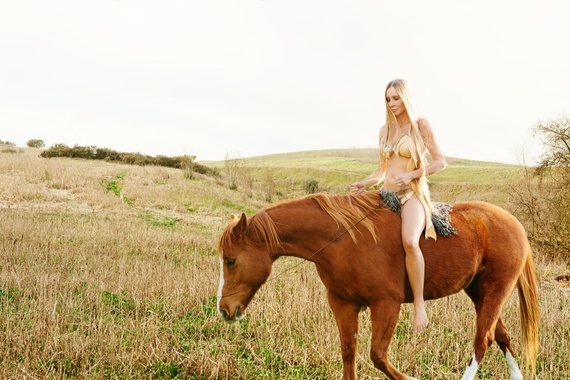 Photo credits Scott Chebegia, 'Shear Madness' Nat Geo Wild TV Personality Natalie Redding rides her horse in Etsy bikini by D Leather.
Shear Madness TV personality, Natalie Redding poses for a fashion photo exclusive on the eve of Episode 3 to air on Nat Geo Wild Saturday, March 15, 2014 recreating the iconic image of Ayla from Clan of the Cave Bear and The Valley of the Horses by Jean M. Auel as she rides her trusty equine mount.
Boho chic Natalie wears white linen pants by James Perse, a white cotton shirt by Free People and she accessorizes with an apple floral print scarf.
California dreaming of white sandy beaches and warm summer sun as Natalie tiptoes through the water with her adorable animals Phoenix the two-week-old preemie Angora goat and Wonder-Elle the Great Pyrenees Natalie rescued from the Arizona Great Pyrenees dog rescue.
Adorable tag-a-longs both Kimberly (Featured in photo below) and Phoenix required CPR when they were first born. Each clung to life while Natalie saved them. Phoenix's entire resuscitation is on livestream. (Click this link)
When I asked Redding what's the most important message she hopes to inspire, she replied, "Being a female lead in an unscripted and authentically real reality show is challenging. I want women to believe and relate to me, I want men to respect me for being a hard worker and in general, I want people to see my authenticity. I feel like it's the fight of my life."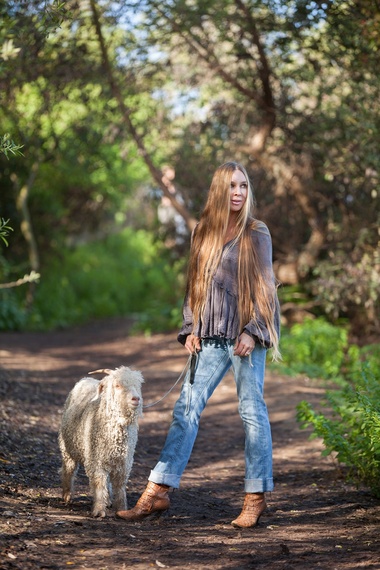 Photo credits Scott Chebegia
Natalie poses with Kimberly a two-year-old white Angora goat wearing a grey peasant blouse by Jenny Jen, denim boot cut jeans by AG Adrian Goldschmeid and croc boots by Guiseppe Zanotti.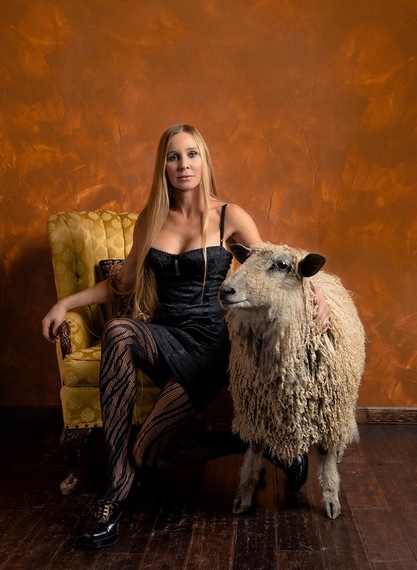 Photo credits Scott Chebegia
Vintage designer fashions are must-have essentials in Natalie's wardrobe. Here she models a vintage (Circa 2007) black corseted Dolce & Gabbana dress with Gucci (Circa 2008) Nero pumps alongside her Wenslaydale sheep named Ewe.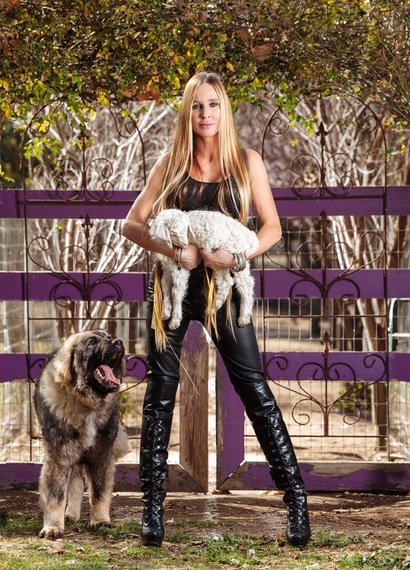 Photo credits Scott Chebegia
O Henry (Her dog) photobombs Natalie holding a baby Angora goat named Marky Mark while she wears Stuart Weitzman 'Over the Knee' boots, Paige Denim dark indigo jeans, a vintage underbust corset and a black tank top from Target.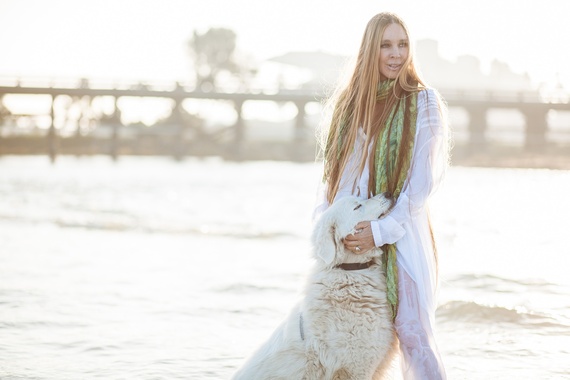 Photo credits Scott Chebegia