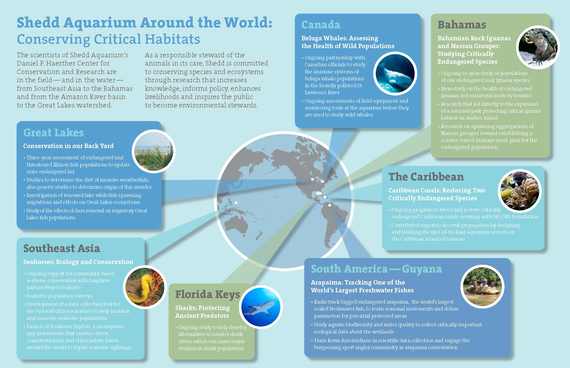 After the third worst winter on record and few rounds with the polar vortex, spring has finally sprung in Chicago. With the extreme winter weather behind us, Shedd Aquarium's conservation and research experts are ready to get back in the field -- and in the water -- from the Bahamas to Southeast Asia and from the Amazon River basin to the Great Lakes watershed.
This month, I'll spend time on Exuma Islands, Bahamas with an iguana research team comprised of dedicated Shedd staff and passionate citizen scientists. Our team also will be joined by partners from the Bahamas National Trust, conservation staff from Island Conservation and a student from the College of the Bahamas.
During this annual research expedition, we'll traverse the region in search of the Exuma Island rock iguana, Cyclura cychlura figginsi, a critically endangered lizard found in this island chain. Our research team will spend a week surveying iguana populations, collecting blood samples for genetic studies and investigating the general health of each population.
With the help of citizen scientists, Shedd has been studying and implementing conservation strategies for this endangered species for more than two decades, and the data collected on this trip will contribute to long-term assessments of population growth and stability and will be used to inform local conservation measures.
Dr. Kristine Stump, Shedd's newest postdoctoral research associate, is no stranger to the Bahamas, either. Prior to joining the aquarium, she served as the principle investigator at the Bimini Biological Field Station, where she studied the effects of habitat loss on lemon sharks. Although her research will now focus on spawning aggregations of Nassau grouper, the methods she used to track lemon sharks will translate seamlessly to her work tracking this endangered species through the Bahamian archipelago.
Earlier this year, Dr. Stump returned to the Bahamas to scout reported sites of Nassau grouper aggregations, thereby laying the groundwork for her research expedition next month. On this trip, she'll be deploying bottom monitors to track their seasonal movement to and from spawning aggregations. Although the project is in the early stages, Dr. Stump's findings will ultimately assist the Bahamas Department of Marine Resources establish a science-based management plan for the Nassau grouper.
Further south, Shedd's Postdoctoral Research Associate Dr. Lesley de Souza has returned to Guyana -- a small country on the northeast coast of South America--to begin the second phase of her research project studying the region's rich aquatic wildlife. Dr. de Souza's work focuses mainly on the arapaima, one of the largest freshwater fishes in the world, and a species threated by over-fishing and commercial harvesting. Despite these vulnerabilities, Arapaima are important to local Amerindian communities and have a larger ecological function, making it all the more important to design management plans for this endangered species.
During this three-month long research expedition, Dr. de Souza will work with a team to relocate the nineteen fish tagged during the first phase of the project, as well as tag and monitor an additional fifteen. By using radio telemetry to monitor the tagged arapaima, she can track their movement and migration patterns, ultimately using this information to help designate protected areas for this critical aquatic animal.
Dr. de Souza works side-by-side with local Amerindians, many of whom share her passion for protecting the country's aquatic wildlife. To help ensure conservation efforts continue long after her project is completed, she's training the villagers in scientific data collection, as well as engaging the burgeoning sport angler community in arapaima preservation.
Whether it's in our own backyard or halfway around the world, connecting local communities to the living world is one of the many ways that Shedd's research and conservation experts help establish long-term management plans for endangered species and their habitats. For instance, Dr. Tse-Lynn Loh, another postdoctoral research associate, works with long-term partner Project Seahorse to build local and global capacity for monitoring and managing seahorse populations in Southeast Asia.

Although it's a hotspot for seahorse diversity, Southeast Asia is also where most seahorses are under pressure from the global commercial trade, curios and traditional medicines. Dr. Loh has spent the past month working in Vietnam, and she hopes that by building a long-term citizen science monitoring program that includes standard protocols for identifying and tagging seahorses, she can ensure the sustainability of regional seahorse conservation work for generations to come.
Closer to home, our Great Lakes researchers are busy preparing to return to the field to continue their work studying non-native species and migratory fishes. Senior Research Biologist Dr. Phil Willink plans to return to the field this month to study how the non-native weatherfish might affect local wildlife and habitats. Our colleague Dr. Solomon David, a postdoctoral research associate, also is getting ready to travel throughout the Great Lakes region to study native fish migrations and look at how dam removal affects migratory aquatic species.
Shedd may be located in Chicago, but our work -- and our reach -- is worldwide. As conservation researchers, we're stewards of the natural world, and that's not a responsibility we take lightly. Our team is passionate about conserving both our collection and wild populations, but an important part of our work is sharing our passion with others and hopefully inspiring them to make a difference.
REAL LIFE. REAL NEWS. REAL VOICES.
Help us tell more of the stories that matter from voices that too often remain unheard.