Steffani, a mother of two, has always considered herself to be a peaceful person. But at night, when it's time to bathe her 5-year-old son and 3-year-old daughter, Steffani becomes almost unrecognizable.
As her children splash around and ignore her attempts to end bath time, Steffani finds herself quickly overcome with frustration, and she snaps. She screams at the children for not listening and often physically drags them out of the tub.
Steffani is appalled by her own behavior and is desperate to regain control of her emotions for the sake of her kids. On a parenting episode of "Oprah's Lifeclass," she shares her story with clinical psychologist and parenting author Dr. Shefali Tsabary, and quickly realizes what is triggering her sudden reaction each time her children misbehave.
"That trigger in me is like, 'I'm a bad mom. I'm not a good parent,'" she explains, tearing up.
Even before having children, Steffani doubted her own abilities to raise them. "I think I set myself up to fail, thinking, 'I'm not going to be a good parent,' before I ever had kids," she admits. "Then it's a self-fulfilling prophesy. You're going to find any little way to prove that you're not a good parent."
That's when Dr. Shefali jumps in. "There is no 'good' or 'bad' anywhere," she says. "There is no 'good' or 'bad' parent; it's a 'present' parent."
Steffani understands the concept of being present, but says that parenting in general is more challenging for some than it is for others. "It's not as intuitive as everyone makes it look," she says. "Not everyone is the nurturing, loving [parent]. My sisters are. My mom is. I don't think it came as easy to me."
It's not that Steffani doesn't possess the intuition, Dr. Shefali says. It's that the intuition she does possess has been blocked.
"The thing that blocks our intuition is the egoic fear that we either need to make [our children] something or we need to be something," Dr. Shefali tells Steffani. "Do away with that egoic-based agenda. Re-enter your presence; then it is intuitive."
Dr. Shefali shares more parenting advice on another all-new episode of "Oprah's Lifeclass," airing Sunday, Sept. 28, at 9 p.m. ET on OWN.
Before You Go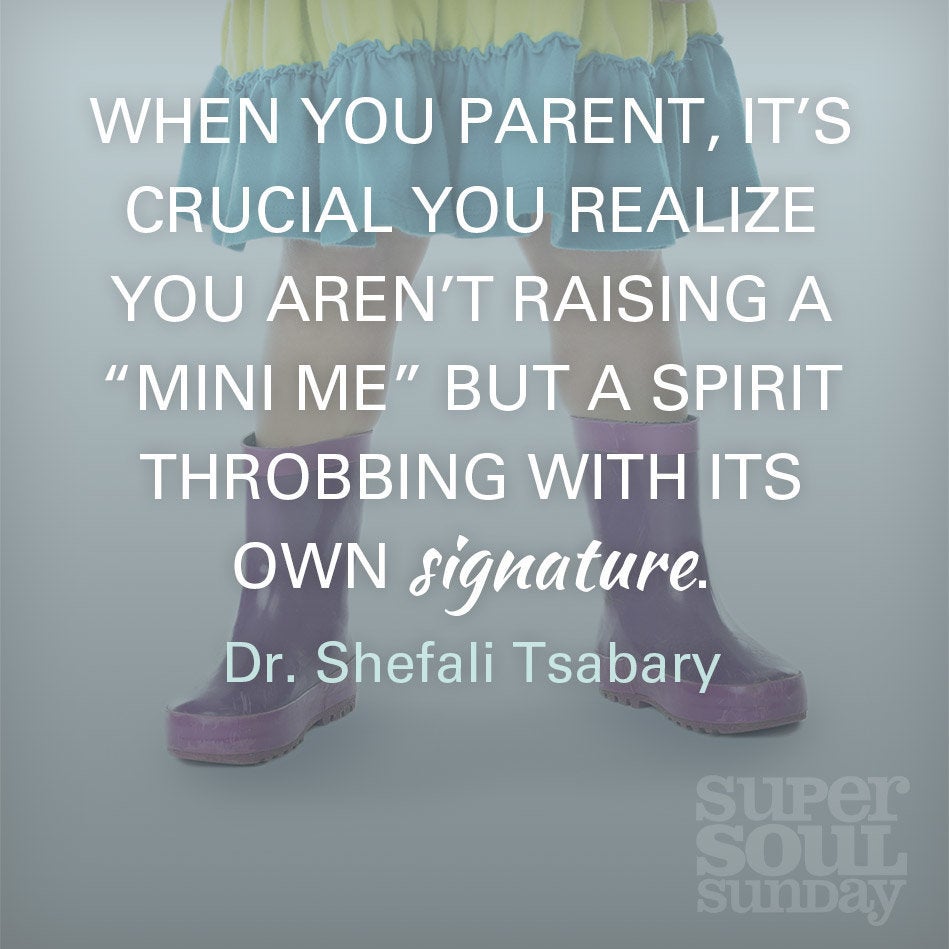 7 New Ways to Think About Parenting
Popular in the Community