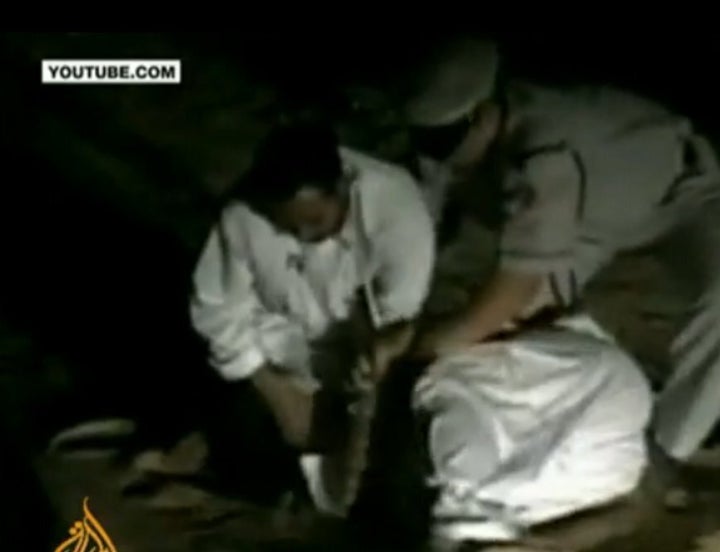 A member of Abu Dhabi's ruling family has been found innocent of the torture and rape of an Afghan man, despite the presence of a 45-minute tape that allegedly shows his role in the torture.
Sheikh Issa bin Zayed al-Nahyan, the president's brother and son of the founder of the United Arab Emirates, appeared to have been filmed taking part in a violent beating of Mohammed Shah Poor, a grain farmer from Afghanistan. The video was shown on ABC News last year and apparently was filmed in 2004. ABC News also featured an interview with Bassam Nabulsi, one of Sheik Issa's former business partners, who said his brother had filmed the torture at the sheik's request.
Sheikh Issa, however, was acquitted in a United Arab Emirates court. According to Reuters, the judge did not pass down his reasoning for the acquittal, but a lawyer for the sheik said that his client had been drugged as part of an extortion attempt.
Instead, Bassam Nabulsi and his brother Ghassan have both been fined and sentenced to 5 years in prison for "drugging, recording and publishing a video, and blackmail."
A lawyer for the Ghassan brothers sent a statement to the New York Times' Lede Blog;
The verdict is a farce, and shows why the world should have no confidence in the [United Arab Emirates'] justice system. This was a show trial, held completely in secret, with one objective: to relieve international pressure on the ruling family so that the pending military treaty with the U.S. would go forward. The fact is, and the evidence is clear, Sheik Issa tortured numerous people and he ordered the torture to be videotaped. The sheik abhorrent behavior also was not isolated. I offered the U.A.E. authorities additional videotape indicating that at least 20 other people were tortured by the sheikh. [...] The Obama administration, like the Bush administration, continues to coddle the U.A.E. and look past serious human rights and security concerns there.
AFP reported a senior US official as saying "It's not a credible verdict."
The Al Jazeera video embedded below contains excerpts from the video. According to Reuters, the full video shows Mr Poor being attacked with a "electric cattle prod, beaten with whips and a plank of wood with a nail in it, and driven over by a car at a desert location near the oasis of al-Ain." Another man has also been charged for beating Mr Poor in jail, and another two men have been charged with sodomizing him with a stick.
Calling all HuffPost superfans!
Sign up for membership to become a founding member and help shape HuffPost's next chapter