A few days ago, I said to Mayassa Al Thani, "I'm thinking about writing a piece on your mother for The Huffington Post." To which she replied, "That's going to be really hard, but I trust you will try your very best my friend." Talk about pressure. However, what I did not reveal to the young Sheikha Al-Thani, is the fact this is a story I have been writing in my mind for many years.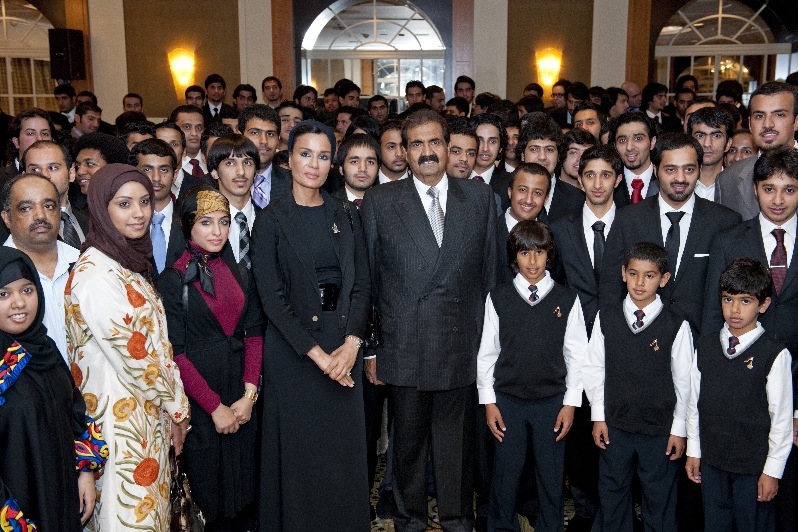 Sheikha Mozah Bint Nasser Al-Missned is better known to the free world as the First Lady of Qatar and third wife of H.H. Sheikh Hamad bin Khalifa Al-Thani, the Emir of Qatar. However, over the past few months with the mounting turmoil and unrest in the Middle East, it has become more apparent, Sheikha Mozah has emerged as the "First Lady of the World."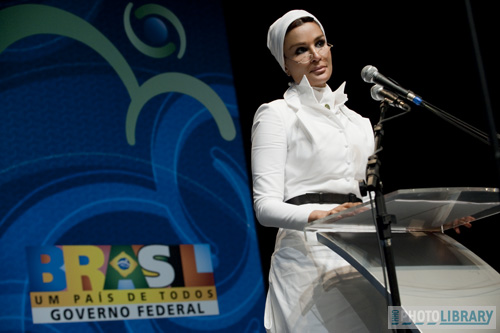 I can still remember how I first came to know of the now world famous Sheikha Mozah, a woman of great style (see slideshow below), but greater substance. The year was 2003, and there was still a particularly strong sense of resentment and frustration in this country targeted towards the Middle East after the tragedies of 9/11. I can also personally remember feeling a bit confused and disappointed with the American media's unflattering portrayal of all things Arab or Muslim. Then one lazy Sunday evening as I sat down to watch 60 Minutes, my life was forever changed.
While the first half of the 60 Minutes interview with the Emir was quite compelling, as he discussed the reforms being implemented within his country and their global vision, it wasn't until the second half that I sat straight up and seriously began to pay full attention. Onto the screen sauntered a divine woman -- a woman that would from this point forward become a personal inspiration and beacon. Enter stage right, Her Highness Sheikha Mozah Bint Nasser Al-Missned.
As a fashion designer I was immediately struck by her ethereal beauty and carriage, but I was equally surprised by her mere appearance on international television. By this point, most Americans had been "told" it was utterly "impossible" for women to have a voice or opinion within this region and therefore, I knew we were all witnessing something remarkably unique. However, it would not be until years later I would learn how revolutionary this moment had been in changing the way we perceived Middle Eastern women here in the United States. But when Sheikha Mozah began to speak I was transfixed and transformed by her vast global knowledge, devotion to her people and commitment to promoting education.
For many years after this watershed moment I would see photos of Sheikha Mozah on the glossy pages of fashion magazines, tabloids and newspapers, but secretly I knew those photos only told half the story. These glamorous photos rarely told the story of her commitment to advancing the role of women in public life and their increased participation in education. The tabloids when discussing the brilliance of Sheikha Mozah's diamonds usually ignored the resounding effect of her Foundation to Strengthen Family Life that has provided a framework currently being followed in several developing countries. Obfuscated by the glare of pomp and circumstance is her involvement in securing partnerships with cultural foundations, hospital and the highest caliber of international universities, all of which are highly effective and result driven.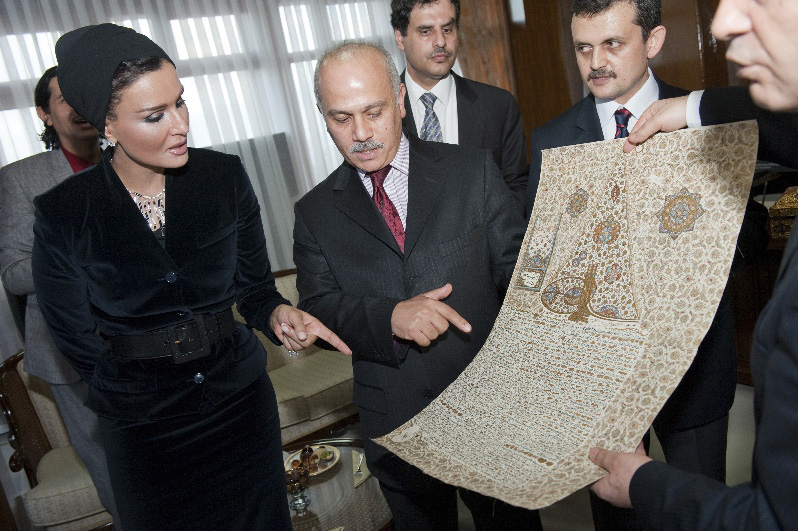 All one need do is to ask any young person from the region about their thoughts on Sheikha Mozah. They are eager to share that her mere existence has compelled not only young women but also young men to pursue higher learning, dream the impossible and seek to make the world a better place.
It is my personal hope that one day first ladies like Sheikha Mozah, Michelle Obama, Carla Bruni-Sarkozy and many others will not only be celebrated for their choice of hemlines, fashion designers and shades of aubergine -- but also for their incredible contributions to education, women's rights and their commitment to healing and nurturing humanity.
If the adage "the apple doesn't fall far from the tree" holds true, then Sheikha Mozah's daughter, Sheikha Al-Mayassa bint Hamad bin Khalifa Al-Thani, will continue to carry on in her mother's footsteps. The young Sheikha Al-Mayassa has already started by assisting in spearheading the annual Doha-Tribeca Film Festival, instrumental in launching Qatar's Museum of Islamic Art and giving back through the efforts of the Reach Out To Asia foundation.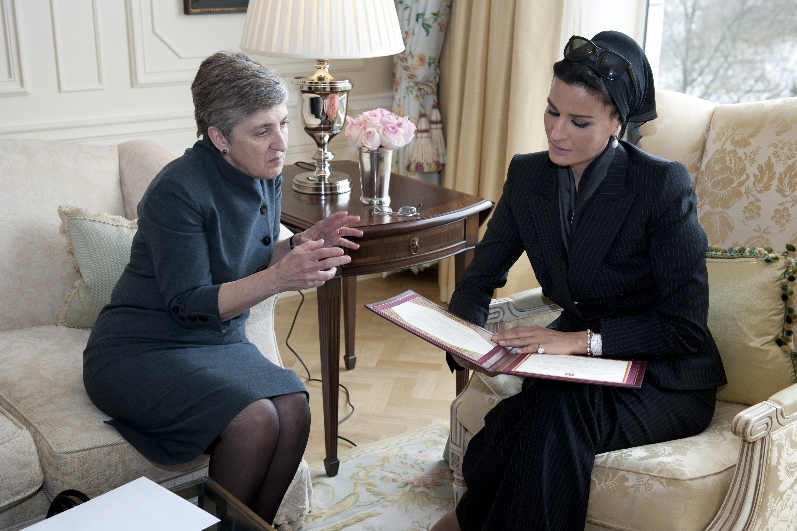 Yes, H.H. Sheikh Hamad bin Khalifa Al-Thani is stunning, stylish and elegant -- but most of all she is a doting mother, a global visionary and an international inspiration.