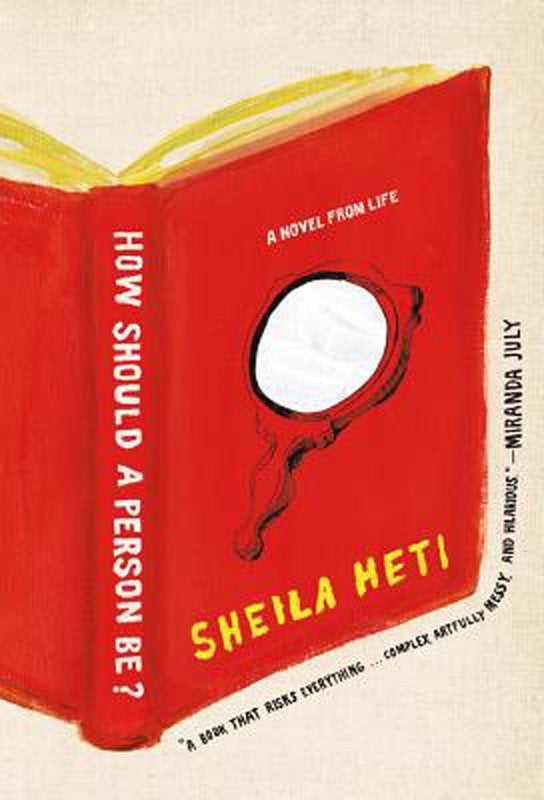 It's a "novel from life," so the main character and the author are both named Sheila. Protagonist Sheila is struggling to write a feminist play, observing that she knows little about feminism because she has defined herself by the men she's been with - a cruel high school sweetheart, a stifling husband and an artist whose genius is limited to the bedroom. But she stumbles upon an earnest kinship with Margaux, a hardworking and uninspired painter, and begins recording their conversations in an attempt to discover who she is and how she should be.
Why are we talking about it?
We like the people who like it - Margaret Atwood calls it "seriously strange but funny," Sloane Crosley says to read some passages is "to be punched in the heart" and Miranda July says it "shatters every rule we women try to follow in order to be taken seriously."
Sheila Heti is the interviews editor at The Believer. This is her fifth book. Others have included a short story collection, a novel and an illustrated book for children. She lives in Toronto.
Fans of experimental fiction, subtle humor, visual art and gender studies.
What do the reviewers say?
The Rumpus: "Heti spoke recently with Joan Didion about how in many ways writing is a performance. Heti, like Didion, wanted to be an actress before becoming a writer and she studied at the National Theatre School in Montréal as a formative compromise between these two aspirations. Her most recent novel... is obsessed with questions of performance and identity as told from the first person singular voice of a woman who carries a tape recorder everywhere she goes."
The Boston Globe: "It is... one of the bravest, strangest, most original novels I've read this year. Heti breaks the rules of fiction right from the get-go."
Although this book will be published in America on June 19, it came out in Canada in 2010. The author said in an interview with The Millions: "When the book came out in Canada, I felt like I didn't really pull it off. It wasn't a specific thing, I just knew it in my body. When it was going to be published in the U.S., I saw it as a chance to finish." Entire scenes and characters, like that of her ex-husband, have been altered for this newer version.
"We were having brunch together."
"I lay there with my eyes wide open. The apartment was large and fancy, all done over in rich browns and reds. It belonged to her wealthy boyfriend. She was alone half the time - he often traveled. He was in the tech industry and she once told me that he had Asperger's syndrome. Then she reassured me that Silicon Valley boys aren't so bad to sleep with because they've read all the manuals."
Related
Popular in the Community