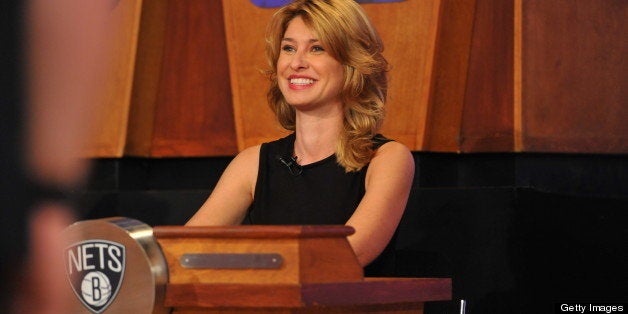 A businesswoman who knows the importance of a basketball on and off the court
From the way she answered the phone on Sunday morning, I got the immediate impression that Irina Pavlova is as serious about her philanthropic pursuits as she is about her role as President, Onexim Sports & Entertainment, the principal owner of the Brooklyn Nets. After a few introductory comments, Pavlova jumped into her love for basketball but not as a businesswoman whose job it is to care, rather as a volunteer for PeacePlayers International. This strategically located organization brings communities in conflict together to play basketball as a way to build a more peaceful world. Our next 26 minutes took me from New York to Russia, a stop in London, Israel and then back to New York!
FM: Describe yourself, Twitter style:
IP: Full of spirit, rich in friends, grateful for many gifts, proud of many accomplishments. Forever Russian at heart.
FM: What impact does/did Russia have on you in terms of your career path?
IP: Although I was born in the USA, I am the daughter of a Russian diplomat and spent my high school and college years in Russia. In the early days of my career as a financial analyst, I worked in the US, but something was always calling me back to Moscow. It has a tremendous energy and is full of opportunity. So, in 2005 I moved back there and eventually became the first employee of Google Russia! One of the things Russia has given me is an appreciation for maintaining and fostering relationships. In fact, my job today came to me thanks to someone I've known for 14 years who thought it would be a good fit for me.
FM: Why pour all of your philanthropic time and resources into PeacePlayers International?
IP: Three words -- impact, transparency and alignment -- combined with the ability to see how a $20 basketball can make a difference to a child. With this small investment, children get a sense of belonging and teambuilding.
FM: What is the biggest challenge you face with the program in terms of working with girls?
IP: Although 54 percent of our participants are girls, in some countries like Israel where I recently visited, it can be a challenge to get Muslim girls to join because of some of the cultural barriers. For example how do we make a case that girls should be out there running around with a basketball to those who believe in a more conservative or traditional role for girls? You need to be sensitive wherever you are, but also explain what you are trying to accomplish. Also finding a local advocate who is trusted in the community and can bring people together is highly important.
FM: What aspect of the program most interests you?
IP: We go into zones where there are entrenched conflicts and try to get both sides playing for the same team through basketball. The game can bridge cultural differences to get a new generation working together. It may not solve the big issues, but it gets young people thinking about each other as potential partners, not adversaries.
FM: What is more important, power or influence and why?
IP: Influence can give you power and this can help you bring people together. Power without influence is scary and is not a long-term solution.
FM: What is more important -- education or opportunity -- in today's marketplace, in particular for women?
IP: I think education provides a host of opportunities and is the first building block but opportunity can propel you forward. Ultimately, I believe in being in right place, at the right time, with the right people and, most of all, being ready for your opportunities by having the right skills.
FM: What keeps you awake at night?
IP: My to do list. It is a work in progress. Let me put it this way; I am never bored (even when I was unemployed for two years I wasn't bored!!!)
FM: In Sheryl Sandberg's Lean In, she raises an interesting question: what would you do if you were not afraid?
IP: I would take a year off, move to Paris and learn French by sitting in cafes!
For more information on PeacePlayers International please visit www.peaceplayersintl.org
Farah Mohamed is the creator of G(irls)20 Summit, a global movement that cultivates future female leaders through entrepreneurship and education and generates ideas of how companies, communities and countries can benefit from the economic and political empowerment of girls & women. The Summit meets once a year and provides G20 Leaders with innovative ideas on how to properly invest in and involve one our greatest untapped resources -- girls & women -- so that we can tackle our greatest challenges. Farah has been honored with the Queen's Jubilee Medal & Top 25 Women in Canada Women of Influence Award. For more information about the Summit (www.girls20summit.com)
Related
Popular in the Community