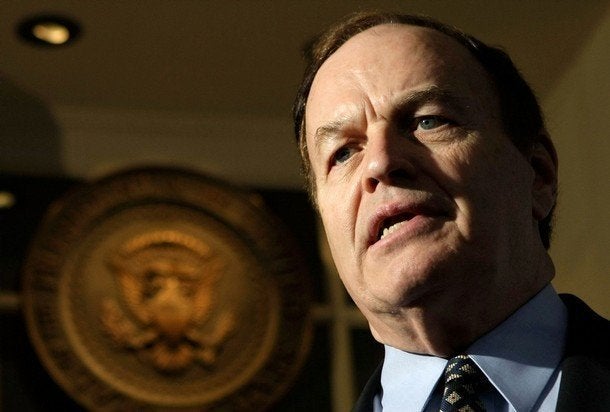 Sen. Richard Shelby's (R-Ala.) decision to place a "blanket hold" on all presidential nominations until a pair of billion-dollar earmarks for his home state are fast-tracked has reignited the debate over the parliamentary tactics being deployed by the Republican Party. It also has thrust into the spotlight the clout that major defense contractors often wield on the political process.
On Thursday evening, news broke that the Alabama Republican has taken the extraordinary measure of holding up at least 70 "nominations on the Senate calendar" -- essentially threatening to filibuster the confirmation processes if they came to a vote. The move has spurred a series of recriminations from Democratic officials who see it as yet another instance of over-the-top obstructionism of the president's agenda.
It also has turned inquisitive eyes towards Shelby himself.
The Senator confirmed that he launched the hold, in part, because he is upset with a tanker contract worth $35 billion that remains unresolved between Northrop Grumman/EADs and Boeing. Shelby favors the Northrop Grummann-EADS bid largely because it would result in tankers being assembled in his home state. The two contractors, in turn, have donated to Shelby's campaign committees, hoping ostensibly to secure favor or at least an audience with the Alabama Republican.
According to a review of campaign finance records, Shelby's political action committee received $7,500 in donations from EADS's PAC during the past two election cycles and an additional $21,500 from Northrop's PAC since 2000.
[UPDATE: The investigative journalism group Center for Public Integrity looked at all political action committees associated with Northrop Grumman and concluded that Shelby has received at least $108,233 in contributions since his first Senate election in 1986.]
Airbus Chairman T. Allan McArtor, meanwhile, donated $1,500 to Shelby in May 2009. Samuel Adcock, EADS Senior Vice President of Government Relations, donated $1,000 to Shelby in 2003. A fellow lobbyist and top executive at the company, Ralph Crosby, donated the same amount that same year. One other EADS employee, Bacon Douglas, donated $1,500 in 2003.
The strongest connection between Shelby and EADS, however, may not involve campaign contributions. The senator's former legislative director, Stewart Hall, is a major lobbyist for the defense contractor -- he was signed up by EADS North America in 2006 while a member of the firm the Federalist Group. During that time period, the Federalist Group was given $240,000 to help advance the company's legislative interests. When Hall left for another major lobbying firm, Ogilvy, he brought EADS with him -- receiving $160,000 in compensation for his work for the company.
To be sure, Shelby was just one of many lobbying targets for EADS and Northrop Grumman -- both of whom are major players in the world of money in politics and influence peddling. Sen. John McCain (R-Ariz.), for one, received a series of suspicious donations from the companies after he threw his support behind granting them the $35 billion Pentagon contract. Former Senate Majority Leader Trent Lott (R-Miss.), meanwhile, serves on EADS's board.
A host of prominent Democratic lawmakers -- from former Senate Majority Leader Tom Daschle to current Vice President Joseph Biden -- also had one-time staffers who, at one time, lobbied for EADS.
For Shelby, moreover, there are other compelling interests at play. A major tanker plant in the heart of Alabama could result in hundreds, if not thousands, of jobs for his state. And well before he decided to hold up 70 presidential nominees, he proved he was willing to go to great parliamentary lengths to secure goodies for his state. in 2009, Taxpayers for Common Sense ranked him the second most proficient securer of earmarks, having brought home $114,484,250 worth of pet projects. In addition to the EADS contract, Shelby also is currently attempting to secure a $45 million improvised explosive device testing lab for the FBI, according to CongressDaily.
In April 2009, Shelby held up another Obama nominee -- Ashton Carter to the post of Pentagon acquisition chief -- in order to receive assurances that the competition for the contract between Northrop/EADS and Boeing would be "conducted in an open and transparent manner based on a best value process."
Unlike with that hold, however, Shelby's most recent efforts to stop Obama nominees has earned him the scorn of the president's advisers. Briefing reporters on Friday morning, white House Press Secretary Roberts Gibbs called Shelby's actions to strongest reflection to date of how badly Washington is broken.
"I guess if you needed one example of what's wrong with this town, it might be that one senator can hold up 70 qualified individuals to make government work better because he didn't get his earmarks," Gibbs said. "If that's not the poster child for how this town needs to change the way it works, I fear there won't be a greater example of silliness throughout the entire year of 2010."
Popular in the Community