 WASHINGTON -- Casino magnate Sheldon Adelson vowed to spend as much as $100 million to defeat President Barack Obama and help the GOP take control of Congress. According to two GOP fundraisers with close ties to the Las Vegas billionaire, he made good on that promise -- and then some. Adelson ultimately upped the ante, spending closer to a previously unreported $150 million, the fundraisers said.
Adelson, a fierce critic of Obama's foreign and domestic policies, has said that his humongous spending was spurred chiefly by his fear that a second Obama term would bring "vilification of people that were against him." As that second term begins, Adelson's international casino empire faces a rough road, with two federal criminal investigations into his business.
This coming week, Adelson plans to visit Washington, according to three separate GOP sources familiar with his travel schedule. While here, he's arranged Hill meetings with at least one House GOP leader in which he is expected to discuss key issues, including possible changes to the Foreign Corrupt Practices Act, the anti-bribery law that undergirds one federal probe into his casino network, according to a Republican attorney with knowledge of his plans.
During the election, Adelson told Politico that the Justice Department investigation, and the way he felt treated by prosecutors, was a primary motivation for his investment in Republican presidential nominee Mitt Romney and other GOP candidates. He put his money where his mouth was. The two GOP fundraisers, both with strong ties to Adelson, said that the casino mogul dished out close to $150 million, including between $30 million and $40 million to the Karl Rove-founded Crossroads GPS and at least $15 million to grassroots efforts with financial links to Charles and David Koch. Among other major beneficiaries of Adelson's largess were the U.S. Chamber of Commerce, which received almost $5 million from Adelson, and the Republican Jewish Coalition, which got the bulk of its $6.5 million budget from him, the fundraisers said.
All of these are non-profit groups, which -- unlike the super PACs that raked in $54 million in funds from Adelson and his wife -- are not currently required to disclose their donors. Adelson's public spending spree, larger than any other donor's in the last election, was made possible by two high court rulings in early 2010 that allowed corporations, unions and individuals to write unlimited checks to outside groups for political ads and other activities backing candidates
The two fundraisers who provided information to The Huffington Post represented separate groups that each received seven-figure checks this year from Adelson. The fundraisers learned details of Adelson's spending plans about a month prior to the election: one heard of them in a talk with the casino owner himself, while the other didn't indicate if his information came from Adelson or a top aide to the billionaire. Both requested anonymity to protect their ties to Adelson and because they were not authorized to speak publicly about his giving.
Adelson's hefty support for Rove's GPS made sense, said a third fundraiser who knows both men, because of their long-standing links. Adelson forged good ties with Rove after he served as deputy chief of staff to President George W. Bush and this year they bonded further. Rove spent much of the last night of the Republican National Convention hanging out in a skybox suite with Adelson and other politicos and friends, and Rove also provided the casino mogul occasional advice on potential donations -- at least once undercutting another group seeking Adelson funding, said the two GOP fundraisers.
Rove, who also provided advice in 2008 to the Adelson-backed dark money group Freedom's Watch, was just one of several GOP politicos with shadow party links that Adelson schmoozed and brainstormed with in Tampa. Long known as a hands-on donor who likes to immerse himself in details, Adelson had a crowded convention schedule. For instance, he spent time one afternoon meeting with leaders of several groups that he'd either already helped, or was considering writing more big checks to for their electoral drives.
Among the political heavies Adelson met with that afternoon were Sean Noble, a leading operative for the Koch brothers, and Carl Forti, a key political strategist for both Crossroads GPS and its affiliate American Crossroads. Forti is also a strategist for pro-Romney super PAC Restore Our Future, which received $20 million from Adelson and his wife Miriam, an Israeli-born doctor.
Earlier in the year, Adelson indicated at different times that he planned to spend about $100 million or "as much as it takes" to defeat Obama and help Republicans in Congressional races. Adelson's personal wealth has been pegged at $20.5 billion by Forbes, making him one of the world's richest men and enabling him to open his checkbook wide without worrying much about his bottom line.
Adelson's largess appeared to have an impact on Romney's campaign strategy. After Adelson publicly suggested that Romney sometimes waffled in his stances and wasn't as ideologically consistent as his original pick, former House Speaker Newt Gingrich, he and Romney met in late May in Las Vegas. Shortly afterwards, the casino owner's first $10 million donation to Romney's allied super PAC arrived.
Not long after their meeting, Romney restated his support for one of Adelson's top priorities -- his fervent backing of Israel's conservative government and his opposition to a two-state solution to the Israeli-Palestinian conflict. Romney's first foreign trip after his meeting with Adelson included a late July visit to Israel, which included a Jerusalem fundraiser that Adelson famously attended.
Now after what was largely a disappointing election for Adelson, his Las Vegas Sands casino empire could be facing heightened legal and political headaches. His sprawling operations are still mired in two wide-ranging federal criminal probes. Neither probe is said to be focused on Adelson's conduct.
The Sands did not return several phone calls seeking comment for this piece.
In one inquiry, federal officials are looking into potential money laundering by two shady high rollers at his Las Vegas casinos. Settlement talks with Justice officials were under way in late October, according to the Wall Street Journal.
The money laundering investigation, led by the U.S. attorney for Los Angeles, is probing whether the casino broke the law by failing to report to the government millions of dollars of potentially laundered funds that two gamblers transferred to its casinos.
One of the two gamblers, Ausaf Umar Siddiqui, is being probed about over $100 million of his transactions through the casinos. Separately, he was arrested in 2009 and pleaded guilty to accepting illegal kickbacks in his job as an executive with Fry's Electronics in California. He is now serving a six-year jail term.
The other big gambler in the probe is Zhenil Ye Gon, a Chinese-born Mexican-based businessman, who reportedly transferred $85 million to Sands casinos several years ago. Ye Gon was indicted in 2007 for dealing in illegal drugs, but the charges were dismissed in 2009.
Meanwhile, another inquiry by Justice and the SEC has been under way for about two years. It involves allegations that Adelson's lucrative casinos on the Chinese island of Macau may have violated the Foreign Corrupt Practices Act by paying bribes to Chinese officials to expand its operations there. The lion's share of Sands' corporate revenues now come from Macau, the only place in China where casino gambling is legal, and a Singapore casino.
Among the payments that Justice has been probing are $700,000 that went to a local attorney, Leonel Alves, who was hired by the Sands Chinese subsidiary while he was a government legislator in Macau. The Justice probe apparently grew out of a wrongful termination lawsuit by Steven Jacobs, the former president of the Sands operation in Macau who has been cooperating with Justice.
Jacobs' suit alleged that he was fired after numerous clashes with Adelson over "Adelson's illegal demands." Adelson has flatly rejected Jacobs' allegations and has said that "none of what he says is true and he can't prove it."
A Sands spokesman has said repeatedly that the company has been cooperating with Justice and has done nothing wrong.

Ryan Grim contributed reporting
Before You Go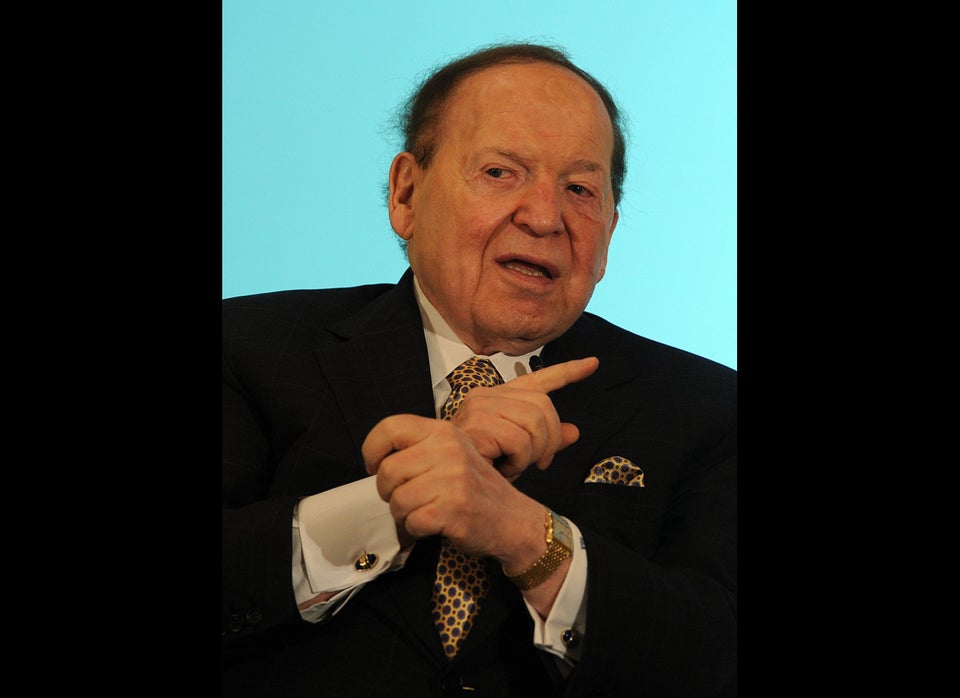 Donors Giving $500,000-Plus To Super PACs
Popular in the Community