 NEW YORK -- Las Vegas Sands Corp., the global gambling empire headed by Republican benefactor Sheldon Adelson, recently acknowledged to American regulators that it likely engaged in corrupt practices in Macau, where the company has a major casino presence.
But as Adelson's company takes steps to reckon with years-old allegations that it improperly purchased its place in the Asian gambling mecca, Las Vegas Sands confronts another explosive set of accusations a continent away in Spain. There, Las Vegas Sands is building a 1,850-acre casino project just outside Madrid that social advocacy groups claim will become a magnet for money-laundering, tax evasion and vice.
"At the end of the day, what these gentlemen are setting up are platforms for money-laundering to occur, and not platforms meant to create jobs," Tomas Gómez, the leader of the Spanish Socialist Workers' Party of Madrid, told reporters during a press conference in Madrid on Monday. "It's creating alarm, social retrogression, and very suspect, very disturbing things."
Las Vegas Sands, a publicly traded company whose majority stake is controlled by Adelson, dismissed criticism about its project in Spain, portraying it as typical political rhetoric.
"I'm not going to speculate on Spanish politics," said Ron Reese, a spokesman for Las Vegas Sands. "I'm not going to try to read tea leaves on what a group of politicians are going to say or not going to say. The fact of the matter is we'll continue to be transparent. We'll continue moving forward."
In a filing with the Securities and Exchange Commission on Friday, the company said that it had "likely" violated the Foreign Corrupt Practices Act, an American law best known for prohibitions against bribing foreign government officials. Though the U.S. Department of Justice has been investigating Las Vegas Sands for possible violations of the act since at least 2011, according to previous reports to the SEC, the new filing is the first company acknowledgement of likely misconduct.
The company on Monday issued a statement saying "misleading and sensationalistic reporting" had turned what it described as an accounting oversight into a bribery charge. "No violations of the anti-bribery provisions of the FCPA have occurred," the company said, clarifying there were "'likely violations' of the books and records and internal controls provisions."
Adelson, one of the world's richest men, and his wife personally gave more than $100 million to conservative candidates during the last election cycle, standing out as the biggest backers of former House speaker Newt Gingrich's campaign for the Republican presidential nomination. Adelson's super PACs also were major backers of Mitt Romney's presidential bid.
The talk emanating from Spain may amplify the worries. There, longtime critics of EuroVegas, a casino complex being built in a suburb of the capital city, said the admission about potential problems in Macau proves Adelson's firm an amoral company.
"The only thing that was missing in our politics is rewarding those who have confessed to bribery and irregular accounting behavior with fiscal gifts and special privileges for their projects," Libertad Martínez, a Madrid assemblywoman who is a member of opposition party United Left, said in a statement.
Proponents of the EuroVegas project, particularly within the ruling Popular Party, have touted the development as a crucial source of some 300,000 jobs in a country now beset by 26 percent unemployment, with more than 5 million officially out of work.
In order to entice Adelson into the venture, the ruling party championed a law in November that lowered the tax rate on gambling transactions in Madrid from 45 percent to 10 percent. The municipal government promised to write down the casino's property taxes by 95 percent. Spain's largest-circulation newspaper, El País, has tabulated that these local tax breaks mean that Las Vegas Sands would never pay more than 1 percent of all the taxes it would otherwise be subject to.
Critics of the endeavor -- among them left-leaning opposition parties and social advocacy groups -- have also complained that the new gaming center would be allowed to flout some laws, likely including parts of the Spanish labor law and a two-year old blanket ban on smoking indoors. The local government in addition declared that it may not prosecute the Sands complex for defrauding gamblers, hiring staff with criminal records or ignoring certain anti-money laundering provisions.
Because the tax breaks are being bestowed amid a bad economy, opponents have seized on the deal as a form of crony capitalism. They point to the company's admission of potential corruption violations in Macau as additional evidence, coming after multiple corruption scandals in recent months in Spain that have embroiled the prime minister.
"We've always said that supporting EuroVegas is betting on corruption, and we think these latest news demonstrates that in practice," Maria Chillón, an activist with a Madrid-based group called "Plataforma EuroVegas NO" told The Huffington Post by telephone. "At this point, what really bothers us is that a transnational corporation is given the ability to shamelessly do things like this, deciding which laws it wants to obey and which ones it wants to forget."
But supporters of the project said Las Vegas Sands' SEC filing has no relevance to Spain. Salvador Victoria, a spokesman for the Popular Party in Madrid, said the Las Vegas Sands filing was "separate from what might occur here."
"We are going to demand the maximum rigor in the use of all data and we'll provided all necessary explanations," Victoria told reporters at the opening of a home for the elderly.
David Pérez, the mayor of the Madrid suburb where the EuroVegas complex is slated to be built, told a Sunday talk show that "no organization, sadly, and even more a big multinational with locations in so many places, is inured from these kinds of things happening."
Pérez added he was not concerned the revelations in the SEC filing would hurt the company, describing Las Vegas Sands as "completely solvent" and "a great firm that trades on the New York Stock Exchange."
Investors buying and selling stock of Las Vegas Sands in that bourse appeared to agree with the mayor. Shares of the company closed Monday at $51.30, just one cent down from Friday, before the revelations were made public.
Before You Go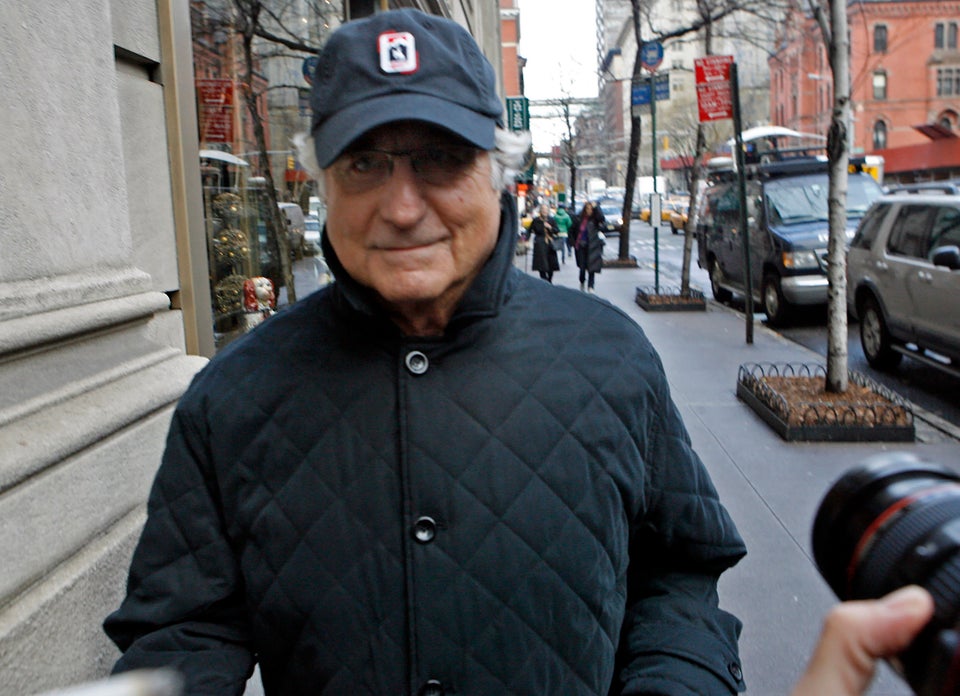 10 Bankers Behind Bars
Popular in the Community