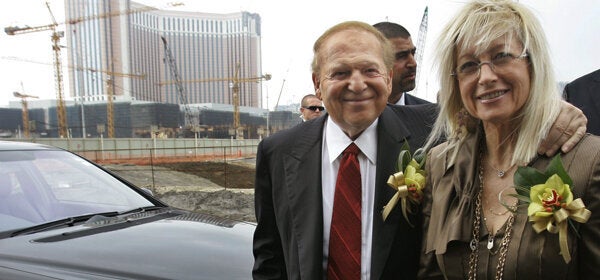 Sheldon Adelson, the 74-year-old casino billionaire who has become the third richest man in America and who has strong ties to the hard-line Likud Party in Israel, has emerged this year a major benefactor of the American right. Past evidence suggests that Adelson will capitalize on his ascent to the top of the Republican money elite to try to build opposition in America to any Middle East peace settlement calling for the division of Israel into two states, one Jewish, the other Palestinian.
In the current election cycle, Adelson has surpassed such past financial mainstays of conservative causes and of the GOP as oilman-corporate raider T. Boone Pickens ($4.6 million 2003-4), Houston real estate magnate Bob Perry ($18.5 million 2003-6) and former Univision CEO Jerry Perenchio ($9.1 million 2003-6).
According to some estimates, Adelson has put over $30 million in the 2007-8 cycle and has now even surpassed George Soros, the Democratic financier who in 2003-4 and 2005-6 broke all records by investing $27 million in liberal get-out-the-vote and media campaigns.
Although Adelson has been a donor to political campaigns for many years - the Center for Responsive Politics lists him as contributing a total of $719,532 to U.S. federal campaigns and candidates since 1990 -- only recently has Adelson joined the top ranks of political heavy hitters who use tax exempt non-profit independent advocacy organizations -- 527s and 501c4s (identified by the section under which they are regulated by the Internal Revenue Code) -- to donate millions, much of which do not have to be publicly disclosed, in addition to the far smaller contributions permitted in U.S. races for public office regulated by the Federal Election Commission.
In the past, Adelson has shown a substantial interest in Israeli politics as well as in American elections. He is a strong backer of Benjamin 'Bibi' Netanyahu, former Prime Minister of Israel and current Likud Party chair. Adelson has financed the creation of an Israeli newspaper, Israel Hayom, so outspoken and aggressive in backing Netanyahu that it has become known as "Bibi-ton".
Adelson does not speak for the mainstream of American Jewry. Sixty-two percent of American Jews support Barack Obama according to a June Gallup Poll. A separate survey by Gallup found that 77 percent of American Jews -- more than almost any other American group -- believe the Iraq War was a mistake.
Although Adelson's adamant opposition to a two-state solution is also at odds with the opinion of a majority of American Jews, his influence is considered significant. His views have led him to turn against Israeli Prime Minister Ehud Olmert, a shift described in a recent New Yorker piece.
Olmert and others argue that the Palestinian population is growing so much faster than the Jewish population in Israel that if the country remains unified, Jews will either see the end of the Jewish state of Israel as Palestinians gain majority status, or see the end of Israel as a democracy as Palestinians begin to outnumber Jews at the polls.
When the American Israel Public Affairs Committee (AIPAC), the American pro-Israel lobby, signaled support for peace negotiations leading to a two-state solution, Adelson threatened to withdraw his financial support from the lobby. "I don't continue to support organizations that help friends committing suicide just because they say they want to jump," he told the Jewish Telegraph Agency.
Here in the US, Adelson is the single largest source of cash for two 501(c)4s: the Republican Jewish Coalition (RJC) and a sister organization, Freedom's Watch, an Iraq War advocacy group largely run by top officials of RJC. Freedom's Watch intends to spend substantially more than $30 million for "independent" ads and phone banks designed to undermine support for Democrats.
When Freedom's Watch announced its first run of pro-Iraq war ads on August 22, 2007, it was widely believed that the group would become the biggest spending independent advocacy organization working in behalf of the then-unknown Republican presidential nominee.
So far, however, Freedom's Watch has concentrated on House and Senate races. Adelson could not be reached for comment, but one factor in the failure of Freedom's Watch to engage in presidential politics may be the fact that John McCain, the prospective Republican nominee, is a supporter of a two-state solution in Israel, the policy that Adelson contends would be fatal.
Neither Freedom's Watch nor the RJC are required to disclose contributors, and both declined to say how much Adelson has given. Freedom's Watch spokesman Ed Patru said "We are not going to get into particulars," but Adelson "has been a significant supporter of this organization from its beginning."
Patru noted in an interview with the Huffington Post that the idea for the creation of Freedom's Watch was hatched at a 2007 Florida meeting of the Republican Jewish Coalition, although Patru contended "one organization has nothing to do with the other."
All four members on the board of Freedom's Watch have strong ties to the RJC: Mel Sembler and Ari Fleischer, both members of the RJC board of directors; Matt Brooks, the RJC's executive director; and one of Adelson's top employees, William P. Weidner, President and Chief Operating Officer of the Las Vegas Sands Corp.
One of the central ambitions of the RJC during the current election cycle is to weaken Barack Obama's support among Jewish voters. Under a headline "Obama's Record, Advisers Raise Concerns For Jewish Community," the RJC web site provides links to a series of anti-Obama critiques, the first one of which declares:
"Senator Obama continues his rhetoric of moral equivalence by implying that measures taken by Israel to protect its citizens are on par with the Palestinians' frustration at border checkpoints. Senator Obama's attempt at even-handed diplomacy fails to hold Palestinians accountable for using terrorist tactics against innocent Israeli citizens as a means to achieve their ends."
Adelson, who has amassed his immense wealth through his investments in gambling facilities in Las Vegas, Macao, and elsewhere, is also the primary bankroller -- at $2.9 million -- of American Solutions for Winning the Future, a 527 political advocacy group chaired by former House Speaker Newt Gingrich. American Solutions is required to disclose donors.
On top of that, Adelson, according to the National Journal, has begun channeling cash and fundraising support to Vets for Freedom, which is expected to use the influx of money to finance what it claims will be a multimillion dollar "Four Months For Victory" ad campaign. The group's most recent commercial is described on its website as highlighting "the success of the Surge, and expos[ing] detractors of the policy--namely Senators Harry Reid (D-NV), Barack Obama (D-IL), and Chuck Hagel (R-NE)." A prominent headline on Vets for Freedom's website states: "Obama's Head in the Sand."
While Adelson's reported $30 million-plus has been generally welcome on the right, a number of Republican strategists complain bitterly that Adelson's micromanaging and interference with the organizations he is funding, especially Freedom's Watch, has resulted in staff resignations and abruptly canceled projects, with little, his antagonists argue, in the way of results.
Among the staffers who have resigned from Freedom's Watch or been nudged out are former Freedom's Watch president Bradley Blakeman, communications director Matt S. David and rapid response specialist Robert Terra.
"Now we're at a stage in the presidential campaign, if there was a group that could effectively advocate for the issues that are important to John McCain, it would be a good thing," Terry Nelson, then-McCain campaign manager, told the New York Times in April. "But there's nobody there that's ready to do it. I think people hoped Freedom's Watch would play that role."
Popular in the Community