The legal headaches besetting billionaire Sheldon Adelson's Las Vegas Sands Corp. now include a grand jury in Los Angeles, part of a federal money-laundering probe of his Nevada-based casinos, The Huffington Post has learned.
The involvement of a federal grand jury, not previously reported, suggests an escalation of the money-laundering investigation into Sands and one of its executives, being led by the U.S. attorney for Los Angeles, according to a person with direct knowledge of the inquiry. The person requested anonymity because he wasn't authorized to discuss the grand jury's work, which is not public.
Investigators are probing whether Sands broke money-laundering laws by failing to report millions in potentially questionable transfers of money several years ago by two-high rollers at its casinos. Both men have separately been charged with other crimes and one has since been sentenced to jail for accepting illegal kickbacks.
Grand juries are often used by federal prosecutors for obtaining testimony from witnesses or targets, and issuing subpoenas for documents, said lawyers specializing in white collar investigations. "You typically go to a grand jury when you're ready for indictment, or as a strong-arm tactic" to reach a settlement, said a former federal prosecutor.
Stan Brand, a Washington defense lawyer specializing in white-collar cases, said grand jury activity "certainly means they have invested serious resources in the investigation and may at some point move to file charges."
The Wall Street Journal, in a lengthy story last summer, first disclosed that Sands was a subject of a federal money-laundering inquiry and that some of its executives were also under scrutiny. The Journal reported in October that possible settlement discussions with government officials were underway. Those talks were focused on a possible deal, which, to avoid charges, may have included a fine of $100 million or more and would've required Sands to institute new internal controls for customer deposits.
It's unclear if settlement talks have broken down. But the use of the grand jury with its subpoena powers to compel testimony and documents may increase pressure on the Sands to settle, according to Brand and the former prosecutor.
Asked about the grand jury, Ron Reese, a spokesman for Sands, said only that "the company has already disclosed the investigation and is cooperating with it." In the past, Sands has denied any wrongdoing.
A spokesman for the U.S. attorney for Los Angeles declined comment about the grand jury.
The money-laundering inquiry is just one of the legal battles facing Adelson's international casino empire, which includes four casinos in Macau that produce more than half the company's annual revenues. Macau, like Hong Kong, is one of China's two special administrative regions, but unlike Hong Kong, Macau is the only place in China where casino gambling is legal.
For more than two years, Sands has also been under federal scrutiny for possible violations of an anti-bribery statute involving its casinos in Macau. In an annual filing in March with the Securities and Exchange Commission, Sands acknowledged that an internal company review indicated "likely violations of the books and records and internal control provisions" of the Foreign Corrupt Practices Act, the late '70s law that bars paying bribes to win business overseas.
The company has denied that it has made any bribes, and has been cooperating with the federal inquiry.
The bribery probe was sparked by a 2010 wrongful termination lawsuit filed against the Sands by Steven Jacobs, the former head of its casino business in Macau. Jacobs alleged that Adelson, with whom he clashed often, made numerous "illegal demands" that Jacobs questioned, prompting his firing. Among the possible FCPA violations, the Justice Department is probing payments of almost $700,000 to Macau lawyer Leonel Alves, who was retained by Sands and is also a member of the local legislature.
Adelson has adamantly rejected Jacobs' allegations, saying "none of what he says is true and he can't prove it."
Adelson, 79, is one of the world's richest men, with a net worth pegged at $26.5 billion by Forbes magazine. During last year's elections, he and his wife donated nearly $150 million to Republican super PACs and nonprofit groups. The couple backed the losing presidential campaigns of Newt Gingrich and Mitt Romney. Las Vegas Sands stock is publicly traded, with Adelson controlling the majority stake.
The federal money-laundering inquiry focuses on millions in potentially suspicious financial transfers at the Sands' Venetian casino in Las Vegas several years ago by two high-rolling gamblers, according to The Wall Street Journal. The probe seeks to determine whether the Sands and some executives overlooked troubling signals about the customers' large casino deposits.
One of the high-rollers is Ausaf Umar Siddiqui, a convicted ex-executive of Fry's Electronics in California now serving a six-year prison sentence. Siddiqui pleaded guilty in 2009 to accepting illegal kickbacks as part of a scam he devised with vendors to pay gambling debts at two other Las Vegas casinos.
The other high-roller is Zhenli Ye Gon, a Chinese-born Mexican pharmaceuticals executive who in 2007 was hit with federal charges of illegal trafficking in an ingredient used in methamphetamine. Those charges were later dropped, but Ye Gon has remained in federal custody and is battling an extradition request from Mexico, which has charged him with money-laundering, drug trafficking and leading a criminal enterprise. Gon's attorney in Mexico has said his client is innocent.
To establish a money-laundering case against Sands, prosecutors will have to show that the casino ignored signs of suspicious activity, disregarded its own policies, or lacked adequate money-laundering controls.
Financial institutions, including casinos, can be prosecuted for money-laundering if the institutions exhibit "flagrant organizational blindness" to the source of funds, or if executives exhibit "willful blindness" to where deposited monies originated, according to federal court decisions and law.

Since the mid-1980s, casinos and banks have been been required to report to the government big cash transactions to deter criminals trying to hide illegal earnings. In 2003, the rules for casinos were expanded to mirror tougher rules for banks. Casinos are now required to file suspicious activity reports when they have reason to believe deposited funds are illegal.
Early this year, The Wall Street Journal reported that Sands imposed new internal controls to guard against possible money-laundering at its casinos. The casino giant indicated that it would no longer engage in international money transfers for its high-rolling clientele. And Sands has beefed up compliance procedures and had hired three ex-FBI agents to help in that effort in Las Vegas, Macau and Singapore.
On another legal front, a jury in Las Vegas ruled this spring that Sands owed a Hong Kong-based consultant Richard Suen $70 million for lobbying help he provided the casino giant almost a decade ago when Adelson's company was trying to open its first casino in Macau. The verdict came after a monthlong trial that featured testimony from Adelson.
It was the second time a jury has ruled in favor of Suen. In 2008, a jury ruled that Sands owed the middleman $58 million. That verdict was thrown out on appeal. Adelson's lawyers have said they plan to appeal the latest decision as well.
Sands was dealt another unpleasant surprise in April, when PricewaterhouseCoopers, the accounting firm that had represented it for a quarter-century, suddenly resigned in a move that one source told The Wall Street Journal was spurred by legal and regulatory concerns. Sands, which insisted the accounting giant's departure wasn't linked to the government probes, has since retained Deloitte.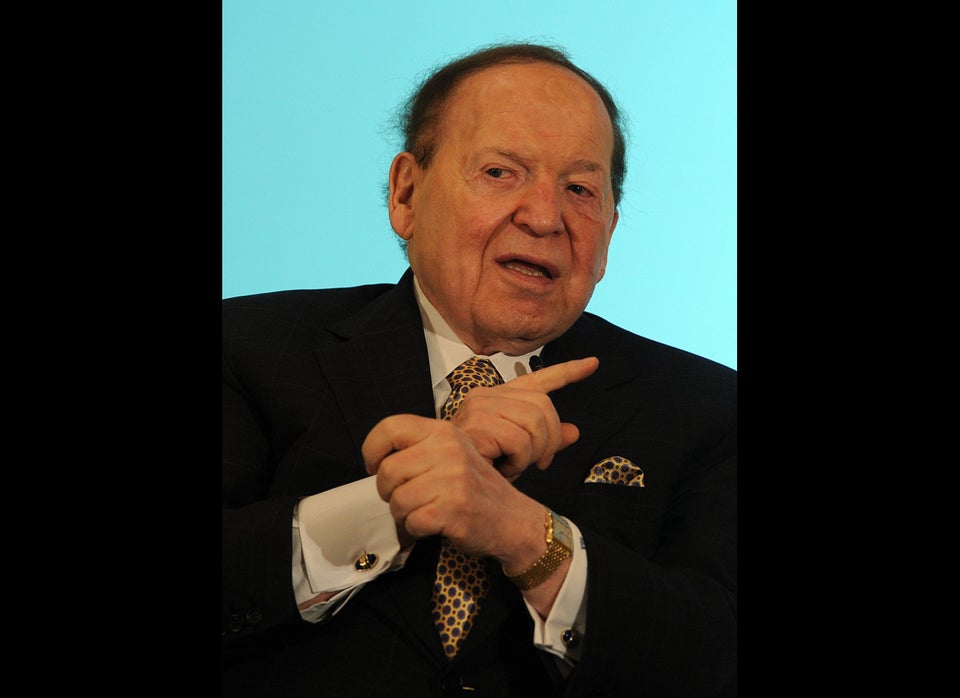 Donors Giving $500,000-Plus To Super PACs