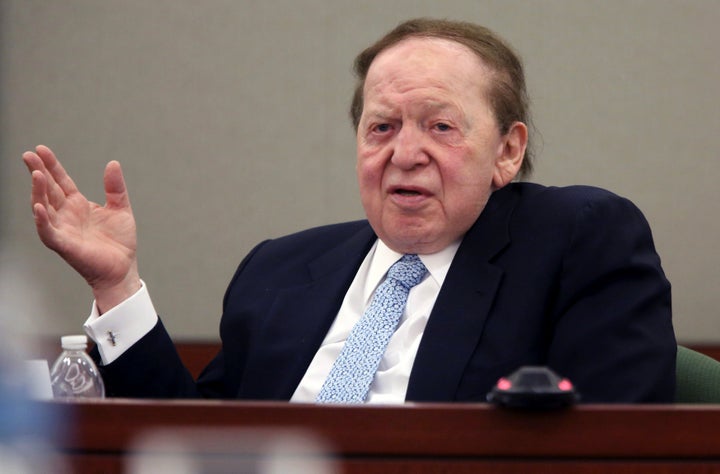 Three months before a mysterious article popped up in an obscure Connecticut newspaper criticizing a judge overseeing a lawsuit against Republican mega-donor Sheldon Adelson and his casino empire, freelance reporter Scott Whipple received a lucrative proposal from his old boss.
Meeting at the small paper's New Britain offices, publisher and editor Michael Schroeder offered Whipple $5,000 to write a piece about Nevada judicial decisions.
This was unusual, to say the least. Whipple, a veteran business reporter who had recently retired, had accepted some freelancing projects from his former employer, but Schroeder had never offered him a sum that large before. And the assignment seemed completely unrelated to the usual issues covered by the New Britain Herald and its sister paper, The Bristol Press.
Whipple, who had spent 17 years at the papers, said in an interview that he asked Schroeder what the job entailed. Schroeder called it a "project" looking at Nevada judges who were handling business cases and mentioned Adelson's name. To get him up to speed, Whipple recalled, Schroeder gave him a 40-page dossier comprising court documents and some newspaper clips.
After mulling the idea for a few days, Whipple decided to pass since the assignment didn't mesh with his reporting experience and sounded unorthodox.
"I couldn't understand the relevance to Connecticut and the Herald," Whipple said with a touch of understatement. Schroeder, he added, asked if he knew of anyone else who might undertake the project. No one came to mind.
Whipple's decision was prescient.
Schroeder's offer to the reporter, which has not been previously reported, turned out to be one of the first acts in an unmitigated journalistic disaster. On Dec. 1, the inflammatory story -- about one-quarter of which focused on the Nevada judge overseeing the Adelson case -- appeared in the two Connecticut papers. Allegations soon arose that sections of it had been plagiarized from other publications. The story was bylined by "Edward Clarkin," a person who didn't seem to actually exist. The name may have been a nom de plume for Schroeder, whose middle name is Edward and whose mother's maiden name was Clarkin. A few of the people quoted in the story have since said they never spoke to anyone from the paper for the article. And the article's extended critique of rulings by Nevada state Judge Elizabeth Gonzalez as "inconsistent" and "contradictory" -- Gonzalez is hearing the suit against Adelson --- struck readers as oddly out of place in a New England outlet.
In three phone interviews in recent weeks, Schroeder declined to answer well over a dozen queries, including questions about the genesis of the story and whether he knew Edward Clarkin. Asked if he valued openness and transparency in the media, he replied, "Absolutely."
Friction between Judge Gonzalez and Adelson, the 82-year-old CEO of casino giant Las Vegas Sands Corp., had developed well before the story's publication. The judge, who sits on the Eighth Judicial District Court in Las Vegas, has been overseeing a high-stakes wrongful termination lawsuit against the billionaire and his company filed in 2010. That suit was brought by Steven Jacobs, a former senior executive at the Sands' most lucrative gambling franchise in Macau, China. In 2015 pretrial hearings, Gonzalez fined the Sands $250,000 for withholding documents and chastised Adelson for his conduct on the witness stand.
"Sir, you don't get to argue with me," Gonzalez said. "You understand that?"
The wrongful termination suit, which is slated to go to trial in mid-2016, includes charges by Jacobs that Adelson and the company had directed him to continue working with a Macau lawyer and legislator despite Jacobs' concerns that payments to that individual might violate U.S. anti-bribery laws. Adelson has vehemently denied these and other allegations of unethical practices, calling the accusations "delusional" and insisting that Jacobs was fired for cause.
But the lawsuit ignited an ongoing federal criminal probe into whether the Sands violated the Foreign Corrupt Practices Act, which bars U.S. companies from using bribery to win business abroad. The Sands acknowledged in a 2013 filing with the Securities and Exchange Commission that it had "likely" violated accounting provisions of the anti-bribery statute, but maintained that it had not engaged in any actual bribery.
Amidst the legal headaches, Adelson recently placed a hefty bet on expanding his influence in the media world with a helping hand from Schroeder.
In late 2015, a mysterious buyer ponied up $140 million to purchase Nevada's largest paper, the Las Vegas Review-Journal. Details of the deal were first uncovered by the Review-Journal itself. They showed that Adelson's family had acquired the paper through a Delaware corporation called News & Media Capital Group LLC. That corporation had been established only a few months earlier, and Schroeder reportedly played a key part as its manager.
Before Adelson's involvement was confirmed, Schroeder had appeared in the Review-Journal's newsroom to discuss the purchase by the new owners. He had told the staff not to "worry who [the owners] are," but just to "focus" on their own jobs -- statements that set off alarm bells.
The ties between Schroeder and Adelson seem to stem from Schroeder's stint as publisher of a now-defunct free daily called Boston Now. The CEO of that daily, Russel Pergament, served briefly as a consultant in 2007 when Adelson, long an ardent champion of Israel, launched a free daily in that country called Israel Hayom. (Hayom is a staunchly conservative paper that backs Prime Minister Benjamin Netanyahu.) Two sources familiar with Pergament's advisory work for Adelson's paper say that Pergament flew to Israel accompanied by Schroeder and spent a few days meeting with Hayom staff.
The relationship grew from there. According to Connecticut sources, starting around 2012, Schroeder's small New Britain and Bristol papers started using material on their religion pages from the fledgling Jewish News Service. Pergament was the publisher of that conservative wire service, which had started up the year before with sizable funding from Adelson.
Prior to the purchase of the Review-Journal last month, several sources familiar with Schroeder's work say that he visited Las Vegas on a few occasions for meetings with, among others, Pat Dumont, a top executive with the Sands and Adelson's son-in-law. The sources say that Dumont played a significant role in orchestrating the purchase of the Review-Journal, while Schroeder served as a front man and an adviser who handled some of the "due diligence" that typically goes with acquisitions.
Adelson, whom several leading GOP presidential candidates have spent long hours wooing him for his big checkbook, paid some $40 million more for the Review-Journal than it had fetched earlier in 2015 when it was sold to another media company. But given Adelson's net worth of nearly $23 billion, the $140 million for the paper was relative chump change -- roughly $10 million less than he donated to super PACs and "dark money" nonprofits during the 2012 elections.
Still, the purchase of the Review-Journal under murky circumstances sparked fear, criticism and concern about the paper's future. In early November, before the purchase was completed, Mike Hengel, the top editor at the Review-Journal, and other senior editors reportedly received a highly unusual order to assign three reporters to observe three Nevada judges, including Gonzales, for two weeks. That order, which came from the prior management with whom Adelson and his family were then negotiating, was issued just two days after a ruling by the Nevada Supreme Court that thwarted efforts by Adelson's lawyers to have Gonzalez removed from the wrongful termination case, according to The New York Times. The Sands' lawyers had argued that the judge's comments and rulings indicated she was biased against the company and Adelson.
Hengel and the reporters were upset by the bizarre assignment, which the editor blasted as a "waste of time and resources." But they effectively had no choice in the matter. The reporters wrote up 15,000 words on the three judges, none of which ultimately appeared in the Las Vegas paper.
Still, the timing of the assignment -- during the negotiations with the Adelson family to buy the paper and right before the publication of the Clarkin article criticizing Gonzalez -- has raised eyebrows.
"This seems to be a misuse of investigative reporters for a largely private purpose," said Jack Coffee, a professor at Columbia Law School who specializes in corporate and white-collar criminal law issues. "This is turning Woodward and Bernstein into private thugs," he added, referencing the Washington Post journalists who uncovered Watergate.
Mark Fabiani, a high-profile crisis manager tapped by the paper following the Adelson purchase, noted that "there were no stories published in the Las Vegas Review-Journal on the court system -- except for the stories written in 2014 and before under the paper's prior owners."
However, Fabiani declined to respond to questions about whether anyone from Adelson's family or their representatives involved in negotiating the purchase raised the matter of the lawsuit or Judge Gonzalez with the then-management of the paper. Fabiani also didn't respond to queries about Schroeder's role in the negotiations.
Since the deal to buy the Review-Journal was announced on Dec. 10, there has been major turmoil in the paper's newsroom. Less than two weeks after the story broke, Hengel announced that he was resigning and taking a buyout. This week, Glenn Cook, who ran the editorial pages, was named interim editor.
"This seems to be a misuse of investigative reporters for a largely private purpose. This is turning Woodward and Bernstein into private thugs."
Schroeder declined to discuss his role, as manager of News & Media Capital Group, in the Nevada paper's acquisition. Asked last month if he thought the deal had been handled according to the open and transparent values that he had just espoused, he replied, "No comment."
This week, however, Schroeder seemed to switch gears, writing a somewhat puzzling apology for running the Clarkin story that caused so much ruckus. The tone was contrite, as though Schroeder had only now recognized the flaws in the article -- including the failure to reveal his ties to an Adelson-backed company, the apparent plagiarism of other published material and the use of the false byline.
The day before Schroeder's apologetic note ran in his Connecticut papers, Fabiani told the Review-Journal that Schroeder was out as manager of News & Media Capital Group (a move that had been hinted at late last year and was greeted well by Review-Journal staffers). Fabiani told HuffPost that neither he nor others with the Adelson family ownership team had suggested Schroeder write an apology. But he declined to say whether he or they had any input in its crafting.
One thing Fabiani did acknowledge was that he had previously done consulting work for Adelson's Sands empire. A well-placed source said that Fabiani's entree into that world was facilitated, in part, by the famed Harvard Law School professor Alan Dershowitz, who has represented Adelson on some matters and recently lost the appeal to have the billionaire businessman's case moved out of Gonzalez's court.
Popular in the Community