 WASHINGTON, Oct 25 (Reuters) - Top Republican donors Sheldon Adelson and his wife gave another $10 million to the "Super PAC" backing Republican presidential candidate Mitt Romney in October, saying they hoped to "level the playing field" with Democrats ahead of the Nov. 6 election.
In a campaign year of unprecedented contributions, Adelson and his wife Miriam have stood out above the rest.
The 79-year-old billionaire chairman of Las Vegas Sands Corp , Adelson emerged as the Republican Party's biggest patron in the 2012 campaign, pouring at least $47 million into Republican coffers with his wife.
The Adelsons gave $5 million each to the pro-Romney Super PAC Restore Our Future, accounting for about half of the fund's cash raised from Oct. 1 through 17, according to Federal Election Commission filings released on Thursday. The filings are the last disclosures before the Nov. 6 elections.
In a statement on Thursday, the Adelsons said they were exercising their "privileges" of free speech to counter the millions of dollars raised by President Barack Obama as well as contributions from liberal billionaire George Soros and labor unions.
"Our family has felt an obligation to help level the playing field by providing support to the candidates and causes on the other side of the equation," according to the statement provided by a Sands spokesman.
A series of U.S. court cases in recent years have shined a spotlight on political spending as a form of free speech.
The rulings spawned Super PACs, outside groups that can raise and spend unlimited funds but cannot formally coordinate with official campaigns.
Soros , a billionaire financier, held the previous political donation record with $27.5 million contributed to Democrats in 2004. In October, Soros gave $1 million to the pro-Obama Super PAC.
The Adelsons have also donated to Super PACs helping Republicans in Congress. They were the largest donors behind the party's convention in Tampa, Florida, in late August.
During the Republican primaries, the Adelsons used their fortune to attack Romney. They gave up to $20 million to presidential hopeful Newt Gingrich, who won the South Carolina primary.
The Adelsons became Romney donors in June when the candidate became Obama's r emaining Republican challenger.
Forbes estimates Adelson's fortune to be $20.5 billion.
In September, Adelson told Politico he planned to spend up to $100 million, or "whatever it takes," to defeat Obama.
Adelson may have given another $20 million to $30 million to fundraising groups that do not need to report their contributors, according to Politico.
Adelson has also used his contributions to push for a stronger U.S. defense of Israel's sovereignty. He is a director of the Republican Jewish Coalition and has called Obama's Israel positions too soft.
In the previous presidential campaign of 2008, Adelson was a much less prominent donor, giving about $100,000 to Republican candidates and party funds, according to the Center for Responsive Politics, a non-partisan group that tracks spending.

Before You Go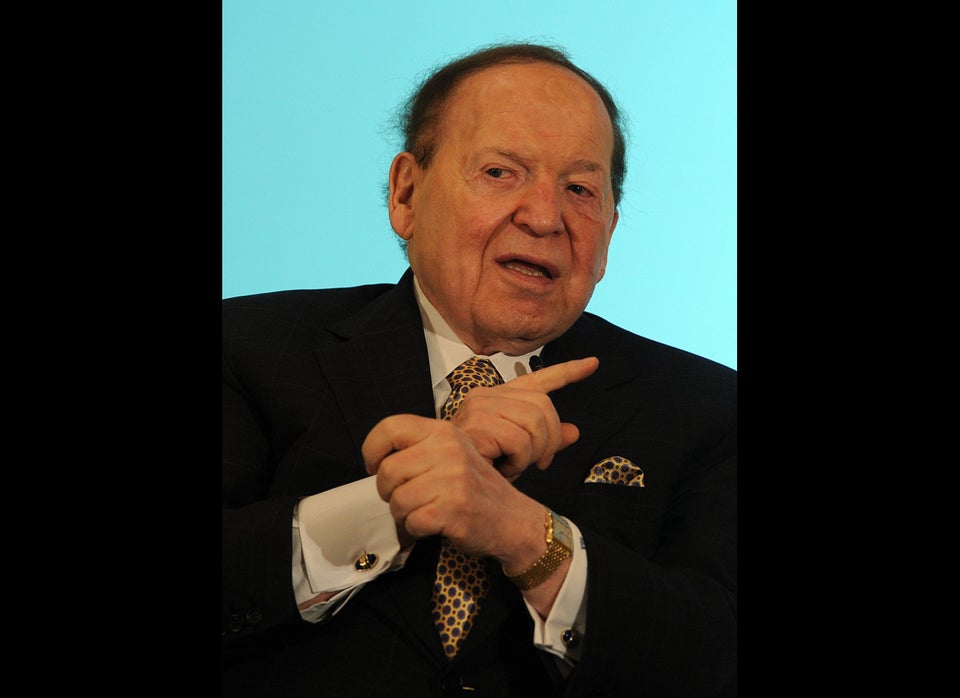 Donors Giving $500,000-Plus To Super PACs
Popular in the Community