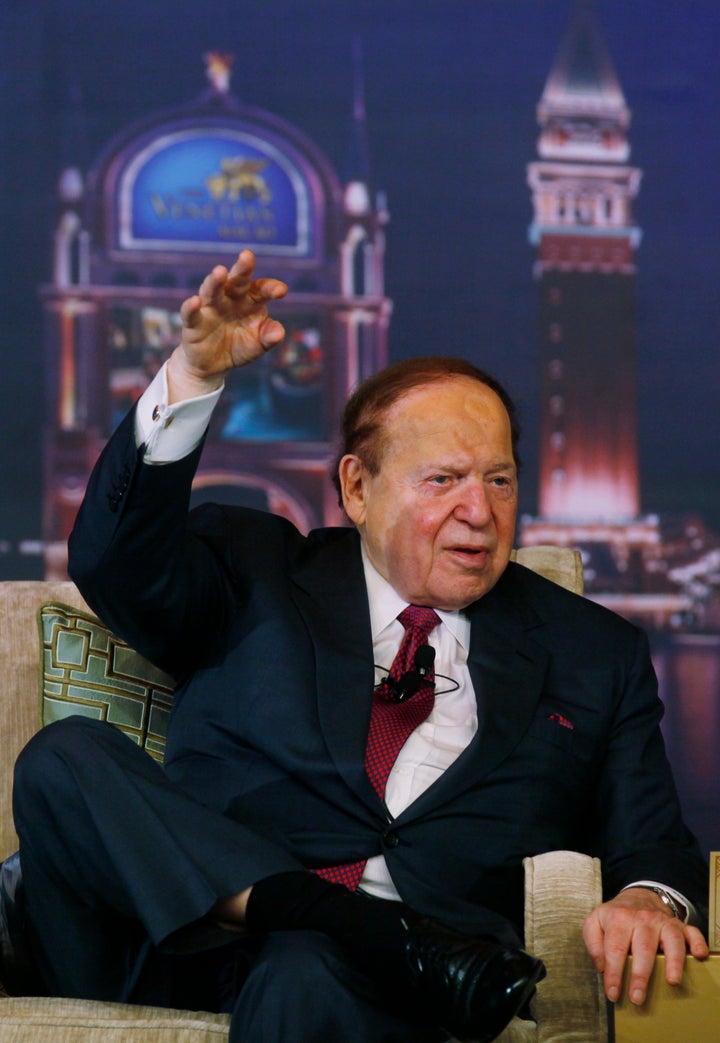 WASHINGTON -- A super PAC launched to protect the Republican Party majority in the House of Representatives received its biggest infusion of cash to date as Sheldon Adelson and his wife contributed $5 million to the Congressional Leadership Fund in February.
The $5 million contribution from Adelson, the billionaire casino magnate who bankrolled a super PAC supporting Newt Gingrich's presidential campaign, launches the Congressional Leadership Fund into the top tier of super PACs just as the general election season begins. The donation, listed in a report filed with the Federal Election Commission (FEC) covering the first three months of 2012, also solidifies Adelson's place as the most influential donor so far this cycle and shows that Republican donors will not focus all of their attention, and money, on the presidential race.
Adelson and his family have now given $21.5 million, the most from any donor, to super PACs during the 2012 election cycle. Previously, his giving focused solely on backing the presidential campaign of his long-time friend and ally, former House Speaker Gingrich.
While Adelson is the primary donor to the Congressional Leadership Fund, there are others who have given to the super PAC since it was founded. The group's spokesman Terry Holt told HuffPost in October that the super PAC would, "leverage the political and fundraising support that there is for the Republican majority in the House." That fundraising support is coming from a number of PACs with business before the House leadership.
The biggest PAC giver is Koch Industries, the oil, gas, and industrial giant, with a $10,000 contribution. A number of other energy industry PACs chipped in with the Nuclear Energy Institute, Valero Energy, Exelon and the Edison Electric Institute each giving $5,000. Other PACs giving included AFLAC, the National Association of Realtors, Bank of New York Mellon, AT&T, CME Group, Home Depot, Davita and AstraZeneca, among others.
The PAC contributions illuminate that the Congressional Leadership Fund super PAC, which has the endorsement of the entire House Republican leadership, will be viewed by corporate and industry interests as yet another place to show support for House Republicans and curry influence through contributions -- just like the leadership PACs controlled by individual members of Congress.
The Congressional Leadership Fund launched in October 2011 with a star-studded event that featured appearances by the entire House Republican leadership team. Since it was formed, the group received contributions from a number of leadership PACs controlled by House GOP leaders, including $10,000 from Speaker John Boehner (R-Ohio) and $5,000 each from Majority Leader Eric Cantor (R-Va.), Majority Whip Kevin McCarthy (R-Calif.), National Republican Congressional Committee (NRCC) Chairman Pete Sessions (R-Texas), Rep. Jeb Hensarling (R-Texas), Rep. Dave Camp (R-Mich.), Rep. Fred Upton (R-Mich.) and Rep. Spencer Bachus (R-Ala.).
The close ties to the House Republican leadership team under Boehner could raise eyebrows as the super PAC moves to spend money in key House races. Super PACs, which are allowed to raise unlimited contributions from corporations, unions, and individuals, are supposed to be independent from candidates and political parties. While they are banned from coordination there are some activities that are allowed, including limited fundraising appeals and appearances at donor events by candidates and lawmakers.
Popular in the Community