 WASHINGTON -- Casino magnate Sheldon Adelson, among those whose contributions are disclosed, is far and away the largest donor to independent political efforts in both the 2012 election and in any single election in modern history. The casino billionaire, along with members of his family, has given $53.69 million to super PACs to help elect a variety of Republican candidates, from Republican presidential hopeful Mitt Romney on down to a House of Representatives race in New Jersey.
The amount that Adelson, the 12th richest person in the United States, has given far exceeds the amounts given by other super PAC donors. At the same time, his $50 million-plus contributions are precisely in line with the demonstrated purpose of the new independent political power of the super PAC. These groups, born from two controversial court rulings -- most prominently the Supreme Court's 2010 Citizens United ruling -- exist almost uniquely as political arms of the very rich and already entrenched interests.
Sixty-seven percent of all super PAC donations have come from just 209 donors, or groups of related donors, giving $500,000 or more. That isn't a small sum of money signaling a grassroots desire to speak out on politics, but an amount that could help swing a House race in the late stages of an election.
(SEE BELOW: A slideshow of the full list of 209 super PAC donors who have given $500,000 or more in the 2012 election cycle.)
"We're certainly seeing a system in which a miniscule portion of the population is giving a lion's share of this money," says University of California-Irvine election law professor Rick Hasen, the author of the Election Law Blog, which tracks, among other things, legal issues around money in politics.
The full numbers are striking. Super PACs have raised $659 million through Oct. 17, the last day that super PACs will disclose before the election. Of that total, $443.8 million came from donors giving $500,000 or more. Those mega-donors' contributions exceed the total amount spent by all outside groups, including party committees, in 2008 -- the last election before the Citizens United ruling -- by more than $100 million.
Wealthy individuals and the corporations they run account for $346 million of the amount raised by mega-donors. Unions donating $500,000 and more have given $75.2 million, and other groups like candidate committees, party committees, super PACs, PACs, non-profits and trade associations giving $500,000 or more have given $22.7 million.
The top three donors, all Republicans, have combined to give in excess of $100 million, more than the next 10 top donors. As this provides more of a voice for these donors, it also, ultimately, provides a new opportunity for influence.
Rep. Peter DeFazio (D-Ore.), a top target of one super PAC donor, conservative hedge fund executive Robert Mercer, in both the 2010 and 2012 elections, previously told The Huffington Post that the efforts to beat him -- over his support for a transaction tax on stock trades -- scared his colleagues.
"After the last election, when I would ask my [colleagues] to cosponsor a speculator tax they'd say, 'I don't really want to make the people on Wall Street that angry and didn't somebody spend a lot of money against you?'" DeFazio said. "It has a chilling effect against some people on legislation."
Prof. Hasen has the same concerns, but doesn't know if it is possible to know the full effect. "How do we know what bills are not passed?" he said. "What legislative plans are scuttled because members of Congress are too afraid of incurring the wrath of a Sheldon Adelson or a George Soros?"
Adelson's contributions account for slightly more than 8 percent of all super PAC contributions and 12.5 percent of all mega-donor donations. A long-time conservative donor, Adelson has made clear what he would like to see from government: lower taxes on the rich and on business, especially business overseas; a hardline position on Israel, opposing a two-state solution, any recognition of Palestinians rights and heightening of tensions with Iran; and the end of a potentially damaging investigation into his company for allegedly violating foreign bribery laws.
The top 10 super PAC donors are split down the middle between Democratic and Republican donors. The Republicans, however, dominate in the amount raised in this group. Adelson, industrialist Harold Simmons, homebuilder Bob Perry, insurance company founder Joe Ricketts and the Republican Governors Association have contributed a total of $122.8 million to super PACs. The top five Democratic donors -- media entrepreneur Fred Eychaner, the United Auto Workers, the National Education Association, Service Employees International Union and retired hedge fund executive James Simons -- have donated just $49 million.
The super PAC fundraising disparity has existed since the inception of the groups in 2010 and trickles down from the difference in partisan giving by super PAC mega-donors. Sixty-one percent of all mega-donor contributions came from Republicans compared to just 37 percent for Democrats. The Republican mega-donors also made up the largest portion of all super PAC donations, accounting for 41 percent.
This has allowed conservative super PACs to spend more than double the amount that their Democratic counterparts have spent in 2012. According to the Center for Responsive Politics, conservative super PACs have spent $331 million to Democrats' $162 million.
Super PACs were first created in the late spring of 2010 by the Federal Election Commission after the Citizens United ruling, which freed corporations and unions to spend freely on independent political efforts and was used as the primary basis for the lower court ruling in the case SpeechNow.org v. FEC.
That ruling, based on the Citizens United assertion that independent spending cannot corrupt, opened the door for individuals to give in excess of contribution limits to political groups, so long as that money was spent independently of political candidates and parties and not contributed to any candidate.
The group that pushed this ruling -- SpeechNow.org -- claimed that it wanted to pool contributions slightly over the legal limit of $10,000 for its own political efforts. Reports indicate that this was, however, simply a planned effort to challenge the legal limits for donations and to open the door for much larger political contributions.
SpeechNow.org is currently a shell, raising no money since 2010.
Correction: Sheldon Adelson and his family have given $53.69 million to super PACs in the 2012 cycle. A previous version incorrectly stated that total as $54.44 million.
Before You Go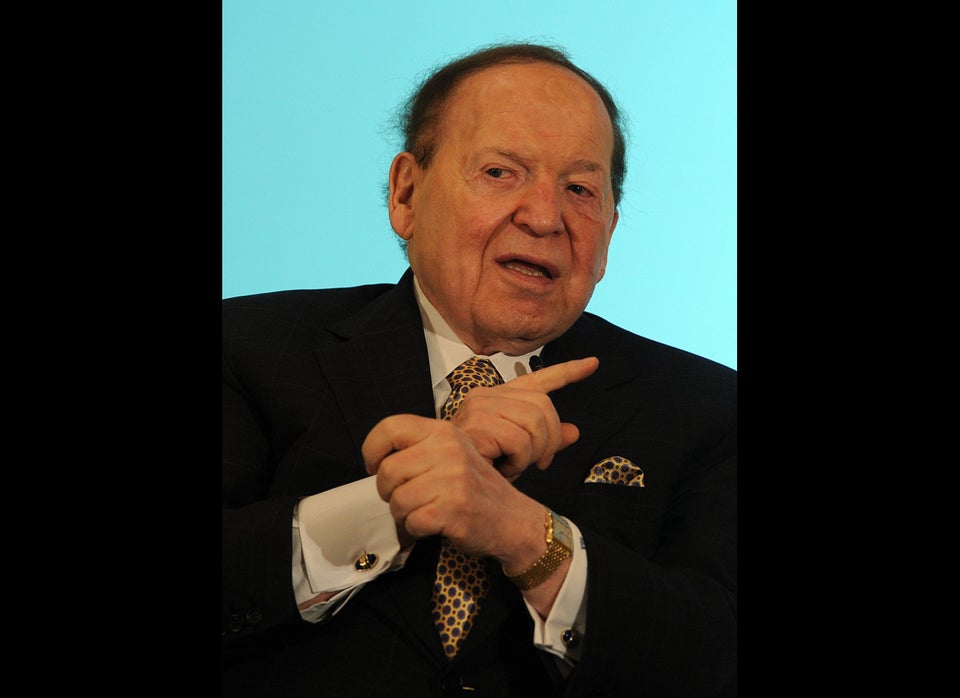 Donors Giving $500,000-Plus To Super PACs
Popular in the Community