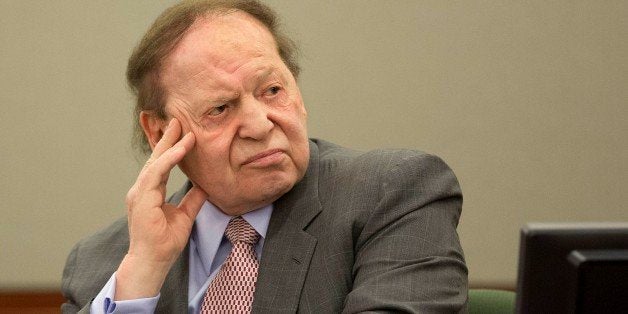 WASHINGTON -- President Barack Obama's push for a congressional resolution authorizing the use of force against Syria could give Republicans positioning themselves for the 2016 presidential primary a chance to audition for some of their party's biggest donors. One group linked with major GOP contributors has made it clear what it hopes to hear.
On Tuesday, the Republican Jewish Coalition issued an action alert to its 45,000 members asking them to contact their congressional representatives in support of the use-of-force resolution. Major GOP donors sitting on the group's board of directors include Sheldon Adelson, who along with his wife pumped more than $100 million into the 2012 election; finance titans Peter Singer and Lewis Eisenberg; former ambassadors Mel Sembler and Sam Fox; and lobbyists Wayne Berman and Mark Isakowitz.
Casino billionaire Adelson, in particular, is noted for his hawkish positions on Israel, Iran and, now apparently, Syria.
The RJC's action alert argues that military action is needed against the government of Syrian President Bashar al-Assad because of "the moral threshold that has been crossed by Syria's use of chemical weapons against its own people" and because of Syria's relationship with Iran. The statement points to Syria's role as a "conduit for Iranian aid to anti-Israel terrorists, most prominently Hamas and Hezbollah," and warns that "the Tehran regime and others around the region are watching closely to see whether the American people will stand behind international commitments."
Even before the Syrian chemical attacks, GOP candidates had already begun auditioning for these big name donors. Just a week after the November elections, potential 2016 presidential contenders flew to Las Vegas to court Adelson, the reigning king of campaign money.
Most recently, Adelson hosted a fundraiser for New Jersey Gov. Chris Christie's 2013 reelection campaign. The fundraiser came in the wake of a public spat over foreign policy between Christie and Sen. Rand Paul (R-Ky.), a possible 2016 candidate and the most ardent opponent of the Syria resolution among congressional Republicans. Christie, for his part, has not made any public statement on the Syria resolution.
In the 2012 Republican presidential primary, Adelson and his family funded a super PAC backing former Speaker Newt Gingrich's campaign with nearly $20 million. At the time, Gingrich explained that Adelson supported him because the two men shared similar views on Israel and Iran.
"Sheldon Adelson's passion in life is [the security of] Israel," Gingrich said when asked about the super PAC support at a forum. He added that Adelson was concerned about a possible "second Holocaust" that might be caused by Iranian nuclear weapons.
During his failed presidential bid, Gingrich came on strong for Israel, describing the Palestinians as "an invented people" and called for moving the Israeli capital from Tel Aviv to Jerusalem.
Sen. Marco Rubio (R-Fla.), another possible White House seeker, has so far taken a more uncertain line, criticizing Obama for failing to lead on Syria for two years and arguing that it may be too late for any good military options now. Rubio has not said how he would vote on a resolution.
The RJC, largely funded by contributions from Adelson, spent more than $6.5 million to try to defeat Obama in 2012. The group's PAC also made $125,500 in contributions to Republican candidates last year.
Calling all HuffPost superfans!
Sign up for membership to become a founding member and help shape HuffPost's next chapter
BEFORE YOU GO
PHOTO GALLERY
2014 Election: $500,000-Plus Super PAC Donors