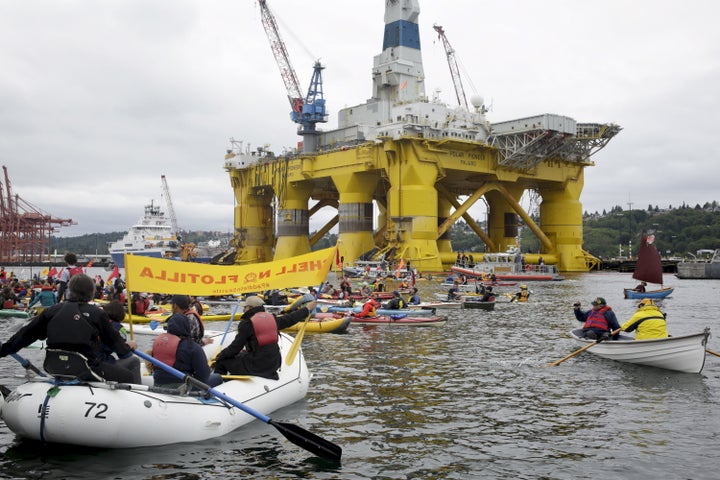 Oil giant Royal Dutch Shell was well aware of the world-altering climate risks associated with carbon dioxide emissions by at least the mid-1980s, according to a trove of internal company documents recently uncovered by a European journalist.
In a confidential 1988 report titled "The Greenhouse Effect," Shell researchers wrote that planetary warming largely driven by burning fossil fuels could "create significant changes in sea level, ocean currents, precipitation patterns, regional temperature and weather" — changes that they predicted would "impact on the human environment, future living standards and food supplies, and could have major social, economic and political consequences."
The researchers went on to warn that "by the time the global warming becomes detectable it could be too late to take effective countermeasures to reduce the effects or even to stabilise the situation."
In a 1998 memo, Shell planners imagine a scenario in which a series of massive storms have ravaged the Atlantic Coast in 2010:
Following the storms, a coalition of environmental NGOs brings a class-action suit against the US government and fossil-fuel companies on the grounds of neglecting what scientists (including their own) have been saying for years: that something must be done. A social reaction to the use of fossil fuels grows, and individuals become 'vigilante environmentalists' in the same way, a generation earlier, they had become fiercely anti-tobacco. Direct-action campaigns against companies escalate. Young consumers, especially, demand action.
In 2012, just two years after the time set in Shell's what-if scenario, Hurricane Sandy actually did batter the East Coast, killing more than 150 people and causing $65 billion in damage. Earlier this year, New York City Mayor Bill de Blasio filed a lawsuit against five major oil companies, including Shell, in an effort to recoup billions in climate change-related costs the city has already incurred and to pay for infrastructure improvements to protect residents.
At the time, de Blasio said the world is facing a "painful, horrible reality" and the city will "no longer participate in a system that endangers our very own people."
"We're going after those who have profited," he said.
The new documents were uncovered by journalist Jelmer Mommers, of Dutch online news outlet De Correspondent, and posted on Thursday by the Climate Investigations Center. The release comes amid a flood of lawsuits in the U.S. and beyond aimed at holding Shell and other fossil fuel companies accountable for the climate crisis, even as the Trump administration works to boost domestic fossil fuel production and roll back the Obama administration's efforts to combat climate change.
More recently, Shell has acknowledged "the significance of climate change" and it was among the multinational corporations that warned President Donald Trump against pulling the U.S. out of the historic Paris climate agreement. But it also spent years publicly denying the key role of fossil fuels. Last year, an educational film produced by Shell in 1991, titled "Climate of Concern," resurfaced showing that the company understood the link between burning oil and climate change going back at least a quarter-century.
When contacted by HuffPost about the newly revealed documents, Shell spokesman Ray Fischer said: "The Shell Group's position on climate change has been a matter of public record for decades. We strongly support the Paris Agreement and the need for society to transition to a lower carbon future, while also extending the economic and social benefits of energy to everyone. Successfully navigating this dual challenge requires sound government policy and cultural change to drive low-carbon choices for businesses and consumers. It requires cooperation between all segments of society."
Meanwhile, all those corporate documents will surely be used as evidence in ongoing and future litigation.
Several environmental groups blasted Shell on Thursday, accusing the company of working to deceive the American people in order to protect its bottom line.
"Just like Exxon, Shell knew about the dangers of climate change and instead chose to embark on a decades-long campaign of deception," May Boeve, executive director of 350.org, said in a statement. "These reports reaffirm that fossil fuel companies have been ― and always will be ― bad actors."
Naomi Ages, acting climate director of Greenpeace USA, said the only difference between Shell and Exxon is that Shell predicted it would get sued. "Just like climate change, it was right about that too," she said.
In 2015, InsideClimate News and the Los Angeles Times published bombshell reports that detailed how Exxon Mobil executives had long been aware of the climate risks associated with carbon dioxide emissions but funded research to cover up those risks and block solutions. The following year, a coalition of state attorneys general — called AGs United for Clean Power and led by New York Attorney General Eric Schneiderman — was formed to crack down on climate fraud. A more recent investigation by the Washington-based Center for International Environmental Law uncovered documents showing that the oil industry, including Humble Oil (now Exxon), was aware of the potential link between fossil fuels and carbon emissions no later than 1957.
Related
Popular in the Community