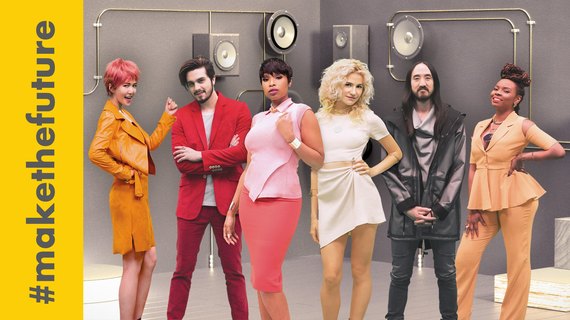 So, over 31M have now watched Shell's very snazzy #makethefuture video. It features a gaggle of uber-cool singers artfully selected to represent the optimum global mix that will mendaciously massage the Millennial generation's cultural erogenous zones (Including Jennifer Hudson, Steve Aoki, Pixie Lott, Luan Santana, Yemi Alade and Tan WeiWei). And in doing so, to paraphrase the late, great Bill Hicks they are doing something unspeakable with a certain subterranean denizen's scaly black appendage of death.
Trilling along to the American Authors track 'Best day of my life' our celebrities are bopping away on a clever 3-D CGI set of animated dioramas. These are showcasing an amazing array of future-thinking technologies with potentially world-changing implications and impacts. It's all so squeaky-clean shiny and bright, like the over-polished porcelain veneers glued to a decaying set of rotten teeth beneath. Because, let's not forget ourselves here, this is Shell.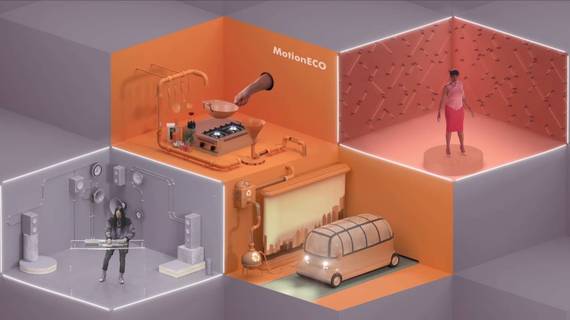 I do not intend to take anything away from the businesses profiled. I've actually worked with a couple of them. They're great people and their ideas are pretty fantastic. Many of them have come from Shell's own 'Springboard' awards programme that promotes low carbon entrepreneurial innovation. Which we at Futerra helped co-create in 2005, and then subsequently stepped away from in 2006.
Because the problem is Shell Springboard is now a corporate figleaf attempting to cover the rather distasteful and embarrassing truth. A useful 'look over there, not over here' distraction. And here's why. It's all about intention and proportionality.
Even though poor old Shell's profits were down 53% in 2015 to a 'mere' $10.7B (part of the Fossil 'Fuelneral' shakedown?). That's still $20,357 profit per minute. So whilst Shell Springboard gives away £350,000 a year in no-strings-attached prizes, that is still just under 22 minutes of profit. Or to put it another way about 17 days pay for their CEO Ben van Beurden in 2015 or a trifling 4 days pay in 2014 (Ben was 'struggling' last year - like the company - as his pay was cut from £20M in 2014 to 'just' £4.7M in 2015).
Shell can argue till they're blue in the face about the 'invaluable' promotional and publicity benefits of the Springboard scheme, but their commitment is miniscule from a corporate oil giant bearing considerable responsibility for climate change, and the now juddering urgency of the challenge in the post-Paris Agreement world. It's lip-service so tight and puckered as to insult the business end of a cat.
A decade ago in it's infancy Shell Springboard was a small but interesting step in the right direction - supporting intermediate stage companies at a crucial stage of the development journey. But the world has massively moved on. Solving big challenges needs big rewards. The Xprize series of awards often involve multiple millions of dollars in incentives. The Virgin Earth Challenge for removing carbon dioxide from the atmosphere is $25M. More directly Patagonia recently donated a whole day's SALES on the notorious Black Friday - which came to $10M - to environmental conservation. Or how about the One Per Cent for the Planet movement which gently suggests donating 1% of annual revenues. If Shell copied Patagonia it's $265B revenues in 2015 would mean a one day donation of $726M. If it followed One Per Cent for the Planet the donation would be $2.65B.
In this context Shell's Springboard programme is risible in it's meanness. This is not a credible commitment to our collective celebratory low carbon climate safe future. It's a clover leaf trying to hide the modesty of a whale pizzle. In funding terms it's not even a whip-round in the pub. If it weren't purporting to represent the 'best day of our lives' this advert might even work as a very dark joke. The painful irony is this polished and preening bit of posturing almost certainly cost considerably more than the whole annual Shell Springboard award scheme itself.
The tragedy is it could be awesome. If Shell Springboard was resourced properly, and persuasively. We constantly challenge our clients on whether their commitments and communications match up. Is their sustainability substantive enough to really sell the sizzle? If not it's greenwash. And for Shell the whole point of a springboard is that it has to have some bloody spring in it. Otherwise it's a plank. And we all know what pirates do with them.
You cannot claim, as one of their PR team did recently that "Shell believes the future of energy is renewable," whilst still largely lumping around the planet extracting filthy tar sands, fracking and coveting Arctic hydrocarbons that are literally unburnable. This is still overwhelmingly their core business.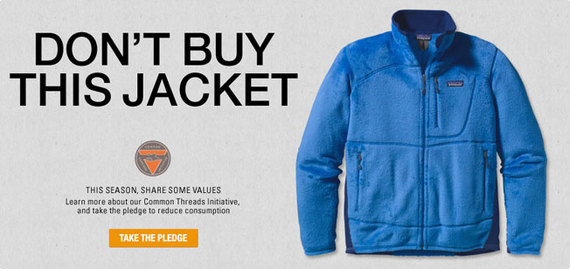 Why #makethefuture when you can just fake it through some duplicity as unfathomable as their deepwater drilling? "The idea is to change the world." Continued the PR guy. On this evidence I wouldn't trust them to change a lightbulb. And sadly this reveals Shell's true intention. On Black Friday in 2011 Patagonia ran a legendary ad with the strapline 'Don't buy this jacket'. It was a challenge to their customers to think twice and consider the impact of their consumption in pursuit of a better world.
Shell's 'Best day of our lives' video inadvertently does something similar. It makes us think of a better world. A world without Shell.
Related
Popular in the Community