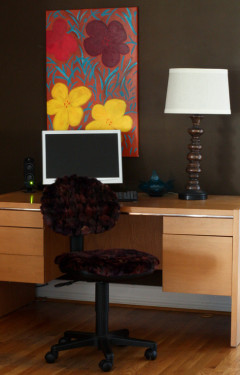 Photo by Shelly Leer
Redesigning a room for under $100 might sound too good to be true, but thanks to ModHomeEc's Shelly Leer, we know it's possible. All you need is a little imagination and a trip to Goodwill. Don't believe us? Keep reading for her shopping break-down.
Painted canvas (which she painted over to make this Andy Warhol-inspired piece): $3.99
So, there you have it, an entire office makeover for under $100 using items curated from Goodwill. According to Shelly, the beauty in spending so little is not only in saving money, but also in the freedom provided. Instead of spending $1000 on a desk and feeling as though you are stuck with it, spend a little less and leave yourself open to change. She's already thinking of painting the walls come spring.
But, rewind, we're still in shock at the price tag -- how did she do it? To get the inside scoop on her Goodwill hunting secrets, we went straight to the source and spoke with Shelly.
What are the major things to keep in mind when shopping at Goodwill?
You need to be able to recognize run-of-the-mill from the unusual. When something stands out, focus on that. If you can't discipline your buying, you may walk out with what seems like interesting stuff at the time, but ends up back at Goodwill in six months -- that still happens to me on occasion. It's better to leave with one or two things you love, rather than a carload of mediocre flotsam and jetsum.
How can you determine what a reasonable price is and what is too expensive?
That's a hard one. As most of us know, Goodwill's prices have gone up over the past few years. Just this morning I stopped at one of my favorite Goodwill stores and saw a glass top end table for $49.99. This wasn't unusual or attractive, but a faux wicker base with glass on top. That was a pass. I have a general rule not to spend over $24.99 on anything, except maybe a nice desk. I've been remaking thrift store furniture for so long, I know that on another day I can find something I love even more, for less. When a price tag comes close to 50 percent of retail, I'm no longer interested.
Any advice on how to spot the potential in a secondhand item?
Before you start buying vintage furniture, go to Pinterest, interior design magazines and blogs and print out photos of furniture you like. Then, be flexible and creative enough that, when you find something at Goodwill that looks similar, give it more serious consideration. Pick it up, wiggle it, sit on it, turn it upside down. Remember, the materials you need for furniture makeovers cost money and take time. I've found out the hard way, if I'm attracted to a piece because it's unusual, well-made and has great potential, chances are somebody else will feel the same way. If I pass, it's likely to sell in a few hours. Honestly, I think that's a good part of the fun of the hunt.
Can you barter? How can you get the best deal?
You can barter a little at Salvation Army, especially if you can point out some flaws or breaks. Goodwill is more rigid. I don't want to give away my secret, but I'll give you a hint: try to talk with the furniture pricer, not the store manager. As for independent shops, you can always barter, especially when you show them cash.
Any funny shopping stories?
I was a little embarrassed when we had my husband's boss and his wife over and they recognized their porch furniture I had bought at Goodwill. The wife said she wouldn't have donated it if she knew how it could be restyled. After the initial embarrassment, I felt rather pleased and proud that I was able to transform their castoff furniture into something modern, refreshed and unique.
Buy things in pairs if they're available. Buy good drum lampshades -- you can always use them. Buy good round or oval mirrors -- they're hard to find. Look at the legs -- I always go looking for furniture legs. I unscrew the legs in the car and drive back around and drop off the hideous table top at the back door. Buy leather coats or garments in unusual colors -- they make great accents for throw pillows and ottomans. And, finally, know when the thrill of the hunt has overtaken rational thinking.
We challenged ourselves to see if our eBay skills were up for the test. Flip through the slideshow below for a closer look at Shelly's office makeover and for our eBay picks.