It was wheels up for around 80 orphan dogs and cats this week as they were flown from overcrowded shelters in storm-hit Houston to new lives in California.
Dozens of animal crates packed the cabin of a donated San Diego-bound Southwest Airlines flight on Tuesday, thanks to volunteers with the airline and various animal rescue groups.
The approximate 1,400-mile trek opened up room in Texas animal shelters needed for pets whose owners have been displaced by Hurricane Harvey, according to California's Helen Woodward Animal Center, which helped organize the move to their facility in Rancho Santa Fe. The animals taking the flight to San Diego were all already in animal shelters prior to the storm, the center said on Facebook.
"Operation Pets Alive! has taken in an overwhelming number of orphan dogs and cats who had inhabited those shelters before the storm and were suddenly facing euthanasia simply because they had no place to go," he said in a release.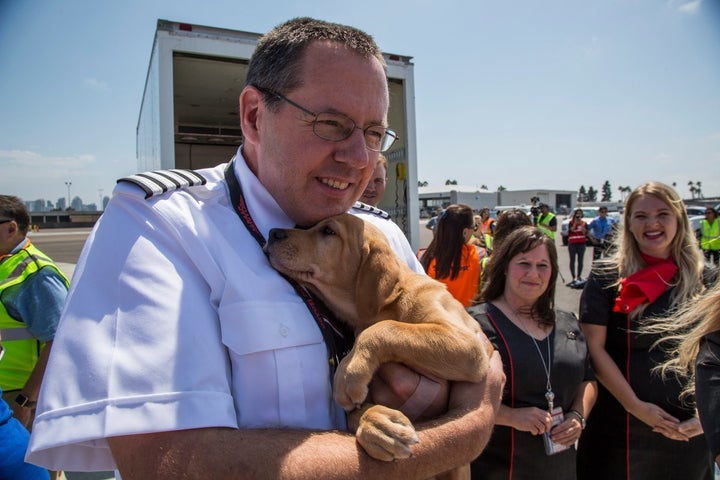 Adorable photos and video shared online by volunteers showed armfuls of puppies and kittens preparing to board crates that were strapped down onto chairs, leading to little yelps above the roar of the plane's engine.
The Helen Woodward Center previously partnered with Southwest Airlines in 2012 to move 60 dogs and cats on a donated charter plane out of New Jersey following Hurricane Sandy. The duo also helped evacuate animals from areas affected by Hurricane Katrina in 2005, according to the center's website.
Jennifer Shorey, the center's director of operations, emphasized the importance of such efforts.
"You look at all of those faces and know that their stay at the shelter was meant to be temporary," she told Fox 5 San Diego. "It was supposed to lead them to forever homes, but when something as devastating as a hurricane hits, so much has to be left behind."
San Diego wasn't the only place that received many of Houston's four-legged evacuees.
Charity group Wings of Rescue also flew 180 dogs and cats from Texas to Waukegan, Illinois this week in hopes of finding them new homes, Chicago-station WGN-TV reported. The group is planning more flights for hundreds of animals in Florida as Hurricane Irma barrels towards its coast.
Many animal shelters around the country have been participating in similar efforts since Harvey hit. Those wanting to help animals affected by the storms are encouraged to adopt or temporarily foster pets, which frees up more room in local shelters for animals left newly homeless or separated from their owners.