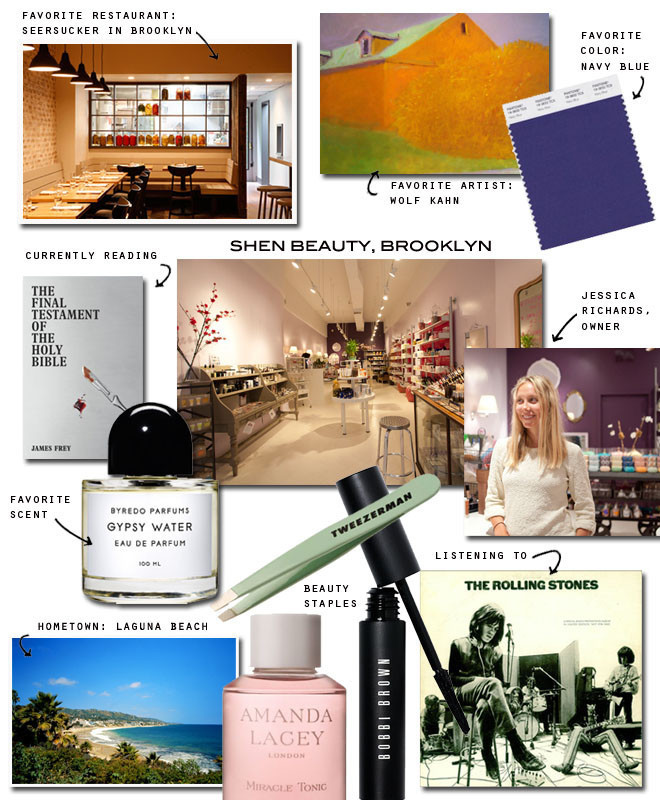 When former stylist Jessica Richards opened SHEN Beauty in Brooklyn last fall, she filled a much-needed gap: The Cobble Hill boutique stocks hard-to-find lines from RMS (Gisele Bundchen and Miranda Kerr are fans), My Face Works (Jason Wu swears by their masks) and Amanda Lacey (the new skincare line from Gwyneth Paltrow's facialist). Richards -- who was born in Laguna Beach, and looks more laid-back surfer than Brooklynite -- tends to focus on organic brands and loves to support local lines more than anything. But she's still made room for more well-known (and much-loved) beauty essentials from Neil George, Mason Pearson and Compagnie de Provence.
SHEN -- which carries a variety of organic fragrances, as well as men's and baby products -- just launched their web store this week, so if crossing the bridge to Brooklyn isn't an option, you can still load up on their selection of well-edited beauty staples online. We stopped by the Court Street boutique to chat with Richards on everything from her medicine cabinet essentials to how she spent her summer vacation to the brands she can't keep in stock.
Where do you live:
Carroll Gardens, Brooklyn.
Hometown:
I'm from Laguna Beach, California.
Favorite color:
Navy blue.
Favorite fragrance:
I have two favorite fragrances: Byredo Gypsy Water and Amanda Lacey Agrumi di SIcilia
Favorite lipstick:
Favorite Lipstick is Lipstick Queen Medieval, and the other is Ilia Shellshock
The most solid beauty tip you've learned so far:
British aesthetician Amanda Lacey taught me about seriously massaging my face, whether it be when I am using her Cleansing Pomade (my hero product, a solidified oil) or after cleansing, and taking a minute or two out of my day to really massage my face. This helps with lymphatic drainage which releases toxins out of your body, which in turns gives you much clearer skin.
Favorite restaurant:
I have two. Either Seersucker in Carroll Gardens, or the much more traditional Bar Pitti in Greenwich Village.
In California I have to say Il Sole in LA, or La Serena in Laguna Beach. Too many good ones to choose from.
Favorite artist:
My favorite artist at the moment is Wolf Kahn, we just bought one for our bedroom and waking up every morning to it is like heaven!
Last trip you went on:
Earlier this summer, I went to London with my friend Jessica Stam for 3 days. It was fun and exhausting, as it was so short. We were both going for work, so we decided to make it a little girls trip. Before that it was a family vacation to St. Martin, we rented the most beautiful house. My son and my boyfriend and I had the most relaxing time.
Contents of your travel dop kit:
My travel dop kit contains a mini Amanda Lacey Cleanser, my One Love Organic Skin Shammy (best thing ever!), Antonia Burrell moisturizer, always a pair of tweezers, a mini Kahina Giving Beauty Argan oil, a mini Adara coconut oil, my RMS Un-Cover up in 22, a Bobbi Brown mascara or a by Terry mascara, and of course my Anastasia brow powder in Golden Blonde and a spooly brush.
Favorite movie:
Favorite new release is "Crazy, Stupid, Love." Julianne Moore is really believable when she cries. The rest of the cast was great, too. Favorite old movie is probably "Pretty Woman" -- I remember watching that all the time growing up!
Five medicine cabinet staples:
RMS Coconut Oil: this is a great make up remover which she sells it as, ADD COMMA but it has many uses, great on calming frizzy hair, great on diaper rash, great on cuts and great on very dry skin! I am a huge fan of coconut oil. This one in particular because it's all organic. Coconut Oil also has a natural SPF in it.
Tweezers: I think I must have 20 pairs of tweezers! Ones that light up, one that are different colors, ones that are curved, needle nose, flat tipped. I use tweezers for everything and NEVER leave home without a pair!
Invisible Zinc Environmental Repair Serum: It comes in this very convenient stick with a pump at the end, and it has a metal roller ball that rolls over your skin. I use it after I've been out in the sun, and even on my son if he gets a sunburn. It's an intense antioxidant treatment formulated with calendula, rosehip oil, aloe vera and green tea extract which repairs and soothes damaged skin.
The item you can't keep in stock:
At the moment it's Mrs Whites "Un" Stung Hero, an all natural bug spray that smells like lemon tea. It actually works and we are the only place to carry it in the States, so people are ordering 6, 12 and even 24 bottles at a time! If not for the summer, the one product we never have enough of is Amanda Lacey's Cleansing Pomade. Once you start using it, you can never go to another cleanser. We warn people but they don't believe us, and then blame us for their new-found addiction...
Music you're loving right now:
I absolutely love Adele's new album, how can you not? I also am a huge fan of the Rolling Stones, so they're my all-time classic favorite!
What are you reading right now:
At the moment I am reading James Frey's new Book, "The Last Testament of the Holy Bible," it's fab..if you like his style of writing. I just finished reading the Keith Richards book "Life," which was really great.
The makeup trend that truly looks good on everyone:
The natural approach. A little RMS concealer, a little mascara and an eyebrow. For evening, a nice bold lip like Lipstick Queen's Red Sinner! Exaggerate your natural self, don't cover it up. Makeup is fun, but can also be disastrous.
New brands you're excited to be stocking at Shen:
We just started carrying Savane, a seriously organic skincare line from South Africa. The entire line is based on plants indigenous to South Africa. The ethos, the line and the people involved are all around amazing! Another line we are bringing in is Suti Skin Care from the UK. Suti is pure, honest, holistic skincare founded on the principles of aromatherapy, homeopathy, organic farming and crystal healing. The products are fantastic and the packaging is absolutely beautiful. We will be the first stockist in the US and have the exclusive on this, same with Savane.