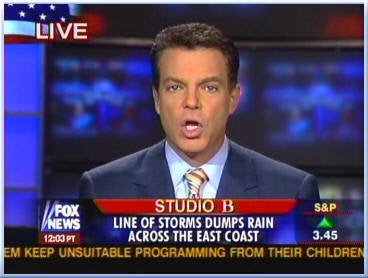 Shep Smith sure does get paid well, but working for Fox News may be costing him his sanity. Today, on Studio B, as he closed an interview with the ex-husband of Debra Lafave (you know, Florida's Mary Kay Letourneau), Shep suddenly lost it, announcing in his best monster truck "Sunday! Sunday! Sunday!" voice...
"Much more on this new development [transform into monster truck voice] AS SKY FOX FLIES OVER THE RESTAURANT WHERE DEB LAFAVE WORKED [transform back to normal anchor voice] (before we got to show the picture of her on the motorcycle again)"
Is Shep tired of working in an Ailes-style tabloid newsroom, where even hostage situations are turned into car chases? Or is he just having fun (albeit, at the expense of a man who thought he married a high school hottie but wound up marrying a child predator)? We pull the video, you decide.
Related
Popular in the Community