When Shepard Fairey was growing up in Charleston, South Carolina, and showing the early signs of an affinity for subversive art, his parents warned him that he was hanging with the wrong crowd. Turns out they were only sort-of right.
"I was creating the wrong crowd," Fairey now says with a grin.
The street propagandist-turned-cultural icon has spent most of his life doing just that, combining the social commentary of his revered punk rock with the aesthetic vision of his art-world idols in works ranging from small stickers to mega-murals that adorn the skylines of major world cities. There might be no better name, then, for a coffee-table book about Fairey's work than Covert to Overt, released last week in the midst of new gallery exhibits in both New York and Los Angeles.
The 256-page book is filled not only with spectacular photos of Fairey's output over the past five years, but also fascinating narratives written by both the artist and guests like comedian Russell Brand and punk legend Jello Biafra. Though Fairey's work is visually stunning, both when viewed in person and in the book's photos, it is through these written passages that the true intent of Fairey's work becomes evident: he simply wants to make art that touches people.
His occasional gallery forays notwithstanding, Fairey acknowledged in a live-audience conversation with musician Moby earlier this week in Los Angeles that he prefers street art because "it exists where people live their lives." From the subtle sticker campaigns of his youth to today's mammoth murals - including multi-story masterpieces in cities across the globe -- Covert to Overt serves as a multi-sensory chronicle of both the evolution and vitality of Fairey's street art.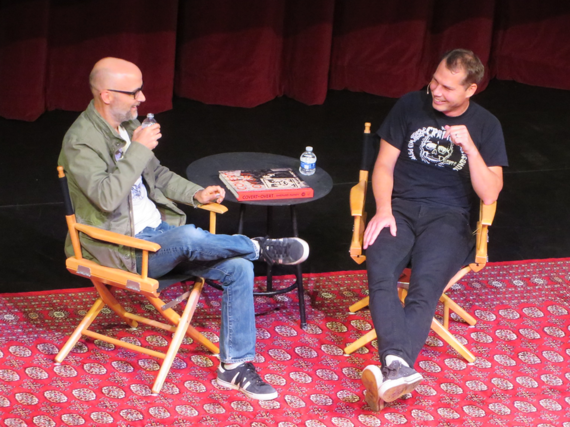 On stage with Moby, Fairey explained that the book's title was intended partially as a nod to his transition from a small-time artist "living in squalor" to a cultural icon whose name has become as big as the buildings that now boast many of his more recent works. Perhaps more importantly, however, the title also highlights the shift in popular acceptance of his work: once a frequent target for law-enforcement officers in cities around the world, Fairey and his art have gone from being scorned by city leaders, to endorsed (and even commissioned) by them.
Though he now ironically enjoys the support of many within the very political system that some of his best work has railed against, Fairey still creates unsanctioned public art. And while he has plenty of fans among those in power - Fairey told Moby that, while on the campaign trail in 2013, current L.A. Mayor Eric Garcetti (jokingly?) promised to safeguard him from prosecution related to street art -- not everyone has been so tolerant. In Detroit, where last spring he completed an authorized 18-story mural, Fairey is still facing felony charges related to unauthorized public art he put up while in town.
Despite his massive success, Fairey has remained committed to his anti-authority roots, not only through continuing the guerrilla approach to street art that launched his fame, but in his undying love for, and devotion to, punk rock. Covert to Overt contains dozens of images related to the music that helped him develop both a social conscience and an urgency to express it. Whether creating posters in tribute to acts like the Sex Pistols or album-cover sized Obey Records prints, Fairey has clearly not forgotten where he came from. Among his most fun on-stage exchanges with Moby were his recollections of attending punk-rock shows in the 1970s and '80s, as well as the album-cover art of influences like Jamie Reid (Sex Pistols) and Winston Smith (Dead Kennedys).
Fairey is nothing if not dichotomous: after all, he is the guy who both created the iconic "Hope" poster for Barack Obama's 2008 presidential campaign and pointedly expressed discontent with his presidency earlier this year. Painted as an out-of-bounds vandal by officials in one city and lavished with praise in another, Fairey continues to straddle the line between fighting the power and being one with it. Covert to Overt does little to push him toward one side or the other, but the ambiguity of his intentions and acceptance, as well as what it all means, gives his audience something to talk about. Which, in the context of public art, is ultimately all that Shepard Fairey wants.
REAL LIFE. REAL NEWS. REAL VOICES.
Help us tell more of the stories that matter from voices that too often remain unheard.